Remember when I was going to write a wedding related post every week or so?
Well that didn't happen. I think I've somehow gone 2 months without continuing on the story of our wedding day.
And darnit, I need to finish this before our first anniversary (at which time I'll probably recap the whole darn thing again because I'll be so sappy and emotional about how the whole thing is over and I just want that week back!)
So, we left off with the bridal party taking awkward official pictures at sunset.
It was finally time to get the actual party started!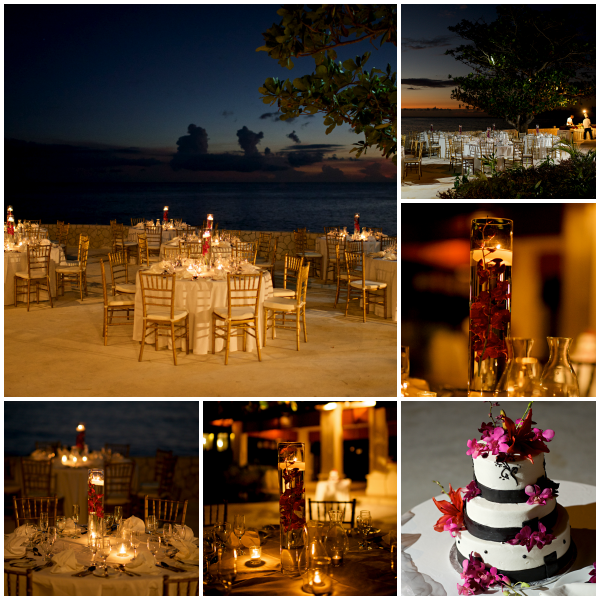 My wedding reception was one of the prettiest sights ever. I didn't see them setting up the whole thing, and by the time we were done with pictures it was night and the candles were lit and it was so freakin' romantic.
Truly, it was better than I could have ever imagined.
Plus, the cake was phenomenal. I didn't really give any direction to how I wanted it to look and I was a bit nervous… but it looked (and tasted) wonderful!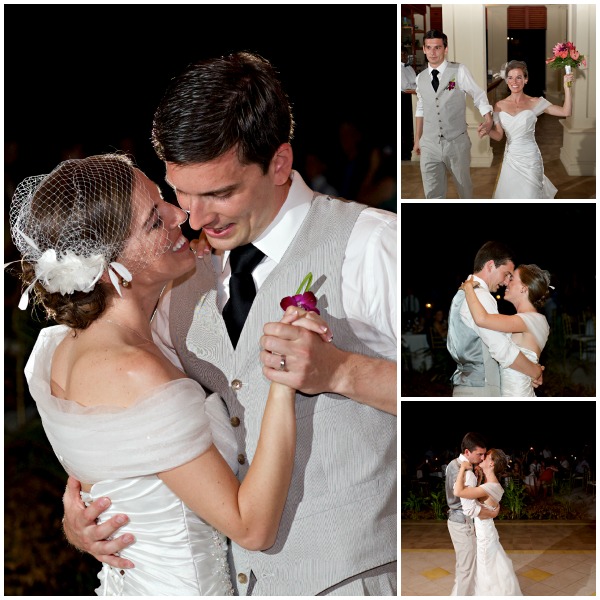 Then the wedding party was announced and we walked in and immediately started our first dance. We danced to 'God Gave Me You' (the country version sang by Blake Shelton). That song has special meaning to us, not because it was the first one we danced to as a couple or anything like that, but because I truly think God gave me the Husband on a silver platter (or something similar). He was the perfect man at the perfect time and is more than I deserve or could ever have asked for. And that concludes my mushiness for the day.
The important thing is that we danced to the song and then we were ready to eat (after the Husband's sister said a wonderful blessing/prayer over the food)!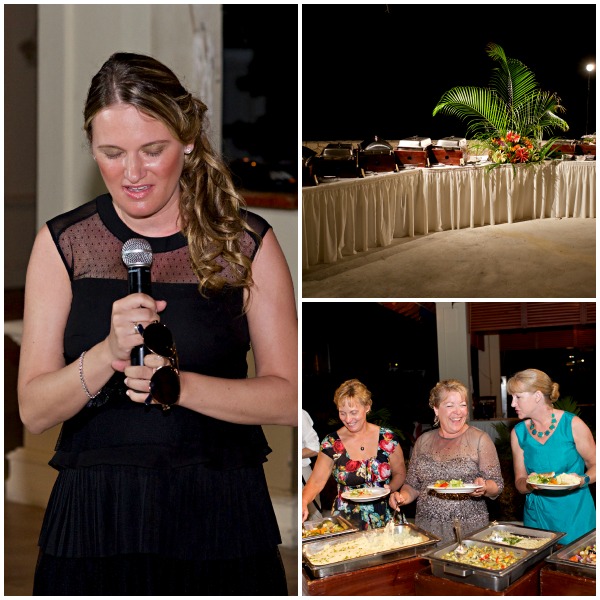 We did a buffet style of dinner (we did the same for the rehearsal dinner) and it turned out perfectly. Of course I can no longer remember what we even ate… but I know that no one went hungry! (Thank goodness, considering the amount of drinking that was happening!)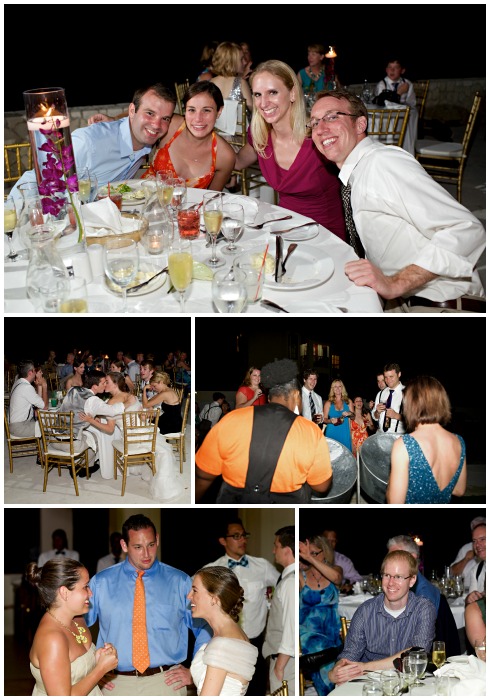 We even had time to socialize with our friends a bit in between the meal and speeches / dessert! It's amazing how many details of the wedding I've forgotten (like who I even sat with at dinner!) but come flooding back when I see the pictures… I absolutely love seeing the photos of the guests!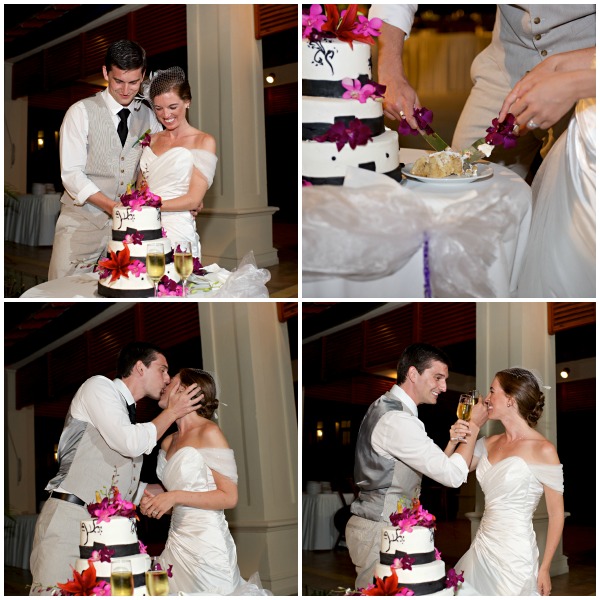 Before I knew it, it was time to finish dinner and cut the cake and drink some champagne! The Husband put some frosting on my nose (or maybe cheek?) and then kissed it off. What a gentleman…. kind of.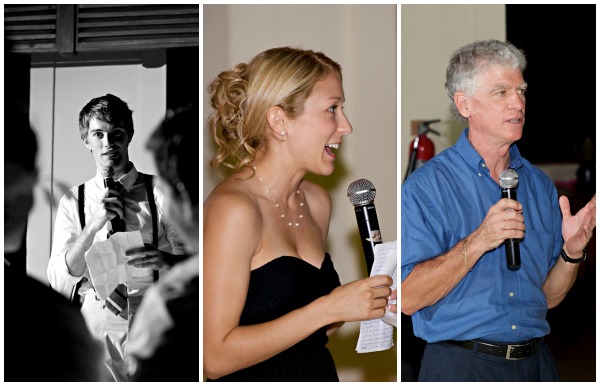 The best man, maid of honor, and my dad all gave great speeches. (Although I will say that my dad clearly didn't pay any attention to the time limit I gave him). The Husband even teared up while his brother was talking – which is the sure sign of a job well done!
I absolutely love speeches at weddings, because I think they can really tell you a lot about a couple and their relationships with people, so this was one of the things I was most looking forward to at my own wedding (although I didn't tell the speakers that… I mean how's that for pressure?!) – and our loved ones did not disappoint!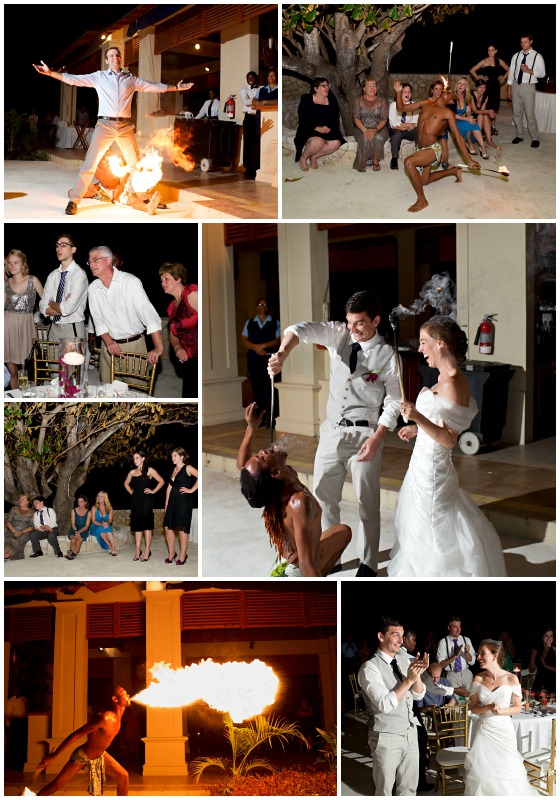 Well, after we all finished our desserts, it was time for everyone's favorite part of a wedding… the fire dancer!
Just… wow.
I didn't even know I wanted a fire dancer until the wedding planner was all like "so, do you want a fire dancer?"
How could I say no to that?!
I had no idea what to expect, but this man was entertaining for sure.
I'm fairly certain the guests were feeling a mixture of horror and awe, and that in itself was worth the price. He even had some audience involvement that involved him blowing fire through the legs of a guest and allowing the Husband and I to shove a lit torch down his throat. I was terrified that we were going to cause some serious damage to the poor man, hence our looks of relief when it was all over!
Is that enough pictures for one day?! I think so. The only recaps I have left to do are the dancing (get ready for that one…) and the day-after pictures!
So far we've covered…
Professional pictures of the bridal party.
… and today was dinner/the beginning of the reception!
Thanks for sticking with me through this trip down memory lane!
Cheers to love and weddings and marriage!