Now that it's August (but how?!) I'm starting to feel like summer is ending, even though it seems like it just started!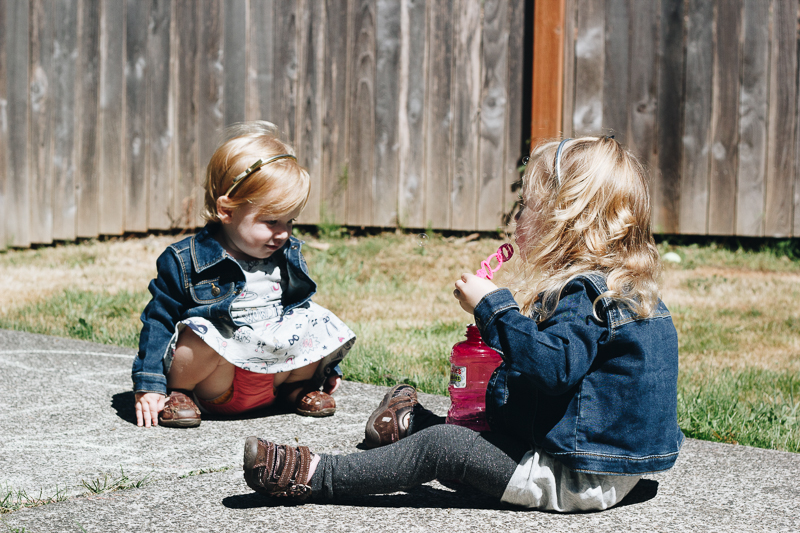 Thankfully, school doesn't start until after Labor Day here in Seattle, and even more thankfully,  Clara's preschool has drop-in care all summer, so if I really start to get anxious for her to go back – she can – but otherwise we have about a month left before our schedule gets more hectic.
My goal last year was to simply survive, but this year I'm being slightly more ambitious with my goal setting.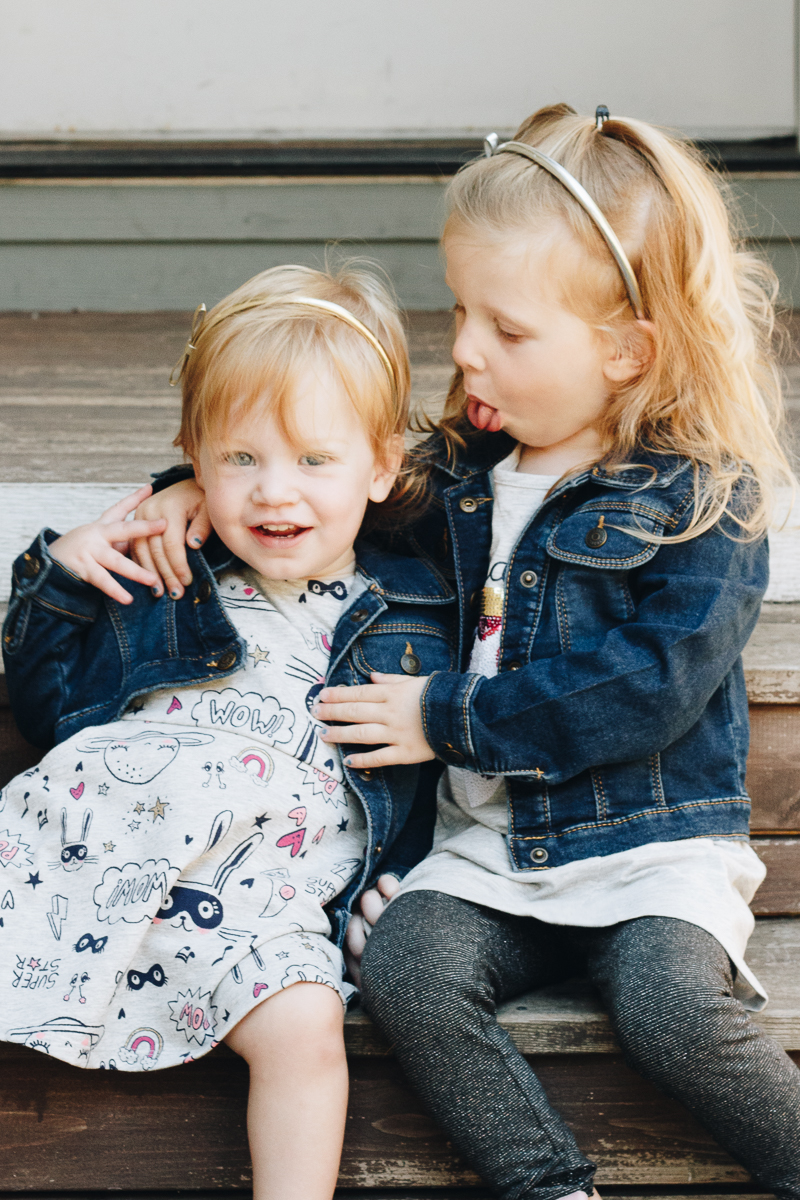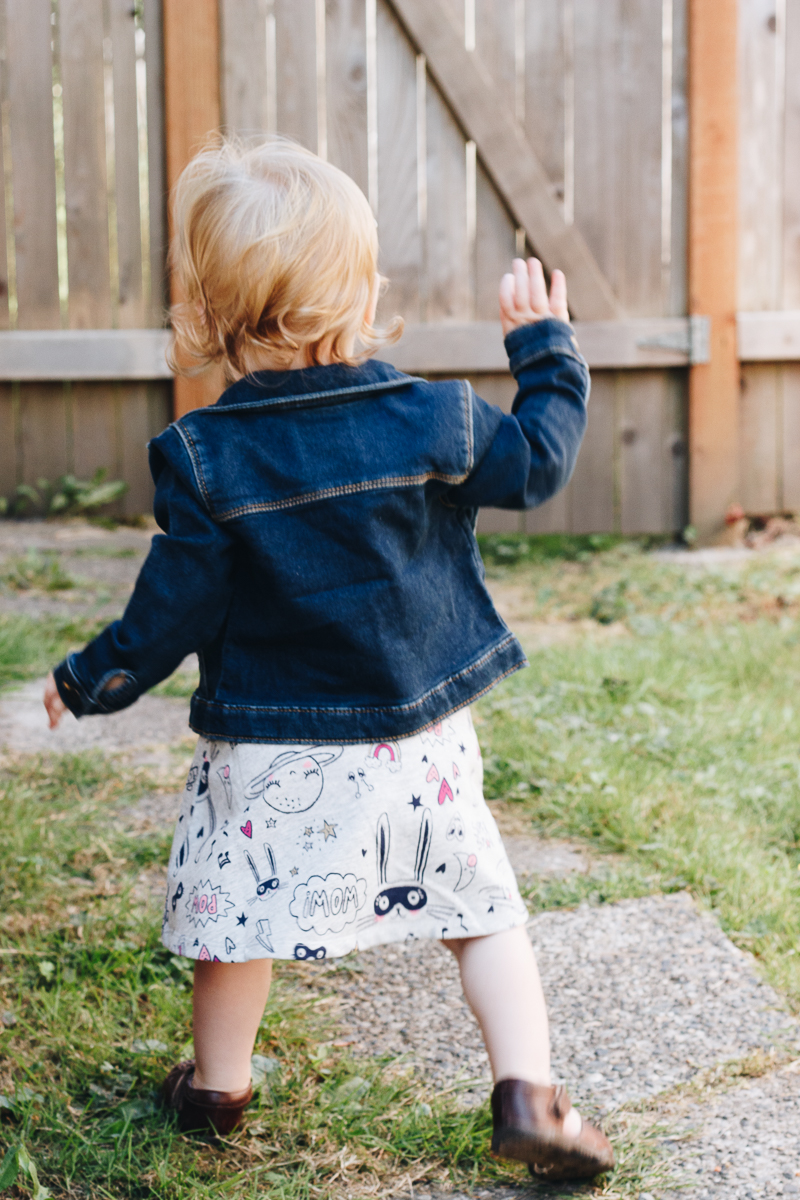 ______________________
My goals for the fall / school year are to be intentional and to create memories.
To be intentional
To continue limiting screen time, to only sign up for activities that we really love (and not too many of them!), to practice learning activities (like letters and numbers) with Clara at home, to read as much as possible, to spend 15 minutes of quality time with each girl every day, and to encourage Clara to tell me all about her day every day.
To create memories
To spend time outdoors every single day (even when it's rainy and dark!), to plan trips and adventures as often as possible, to create a schedule for our week ahead of time so we always have a plan, to see friends frequently, and to be as positive as possible so that our experiences are more fun than stressful.
______________________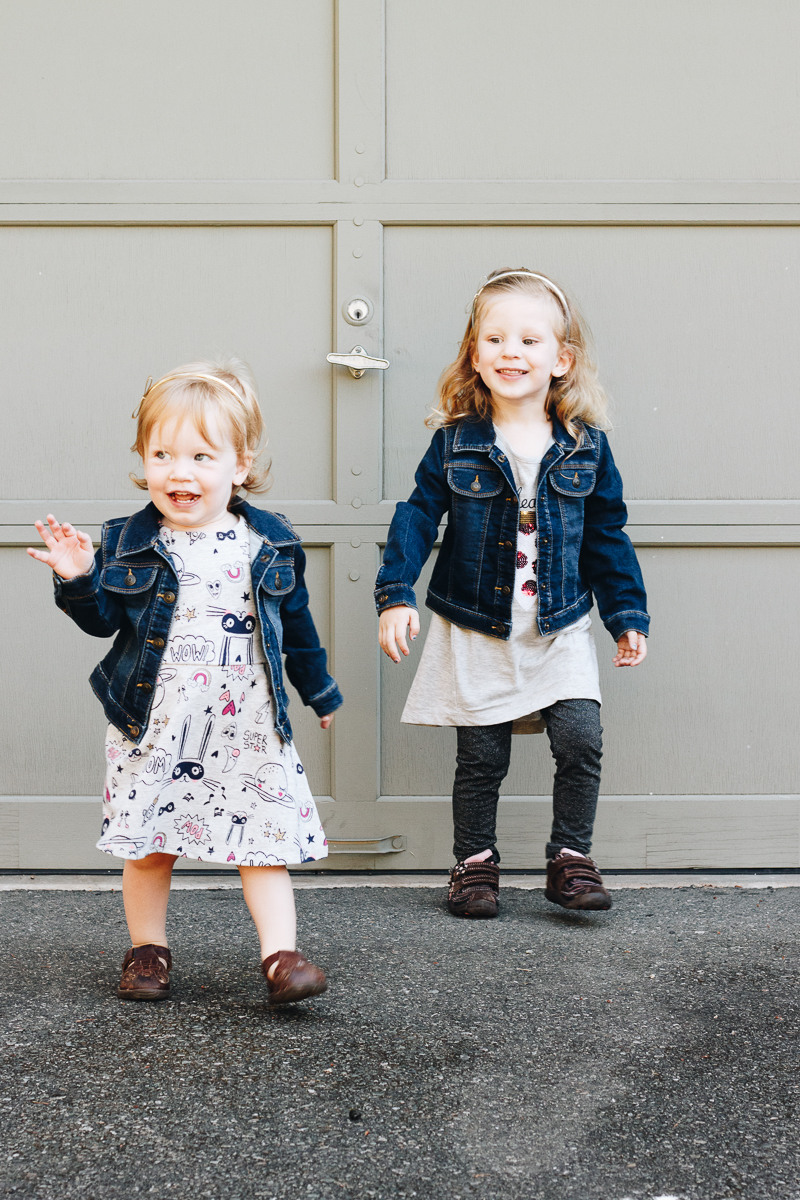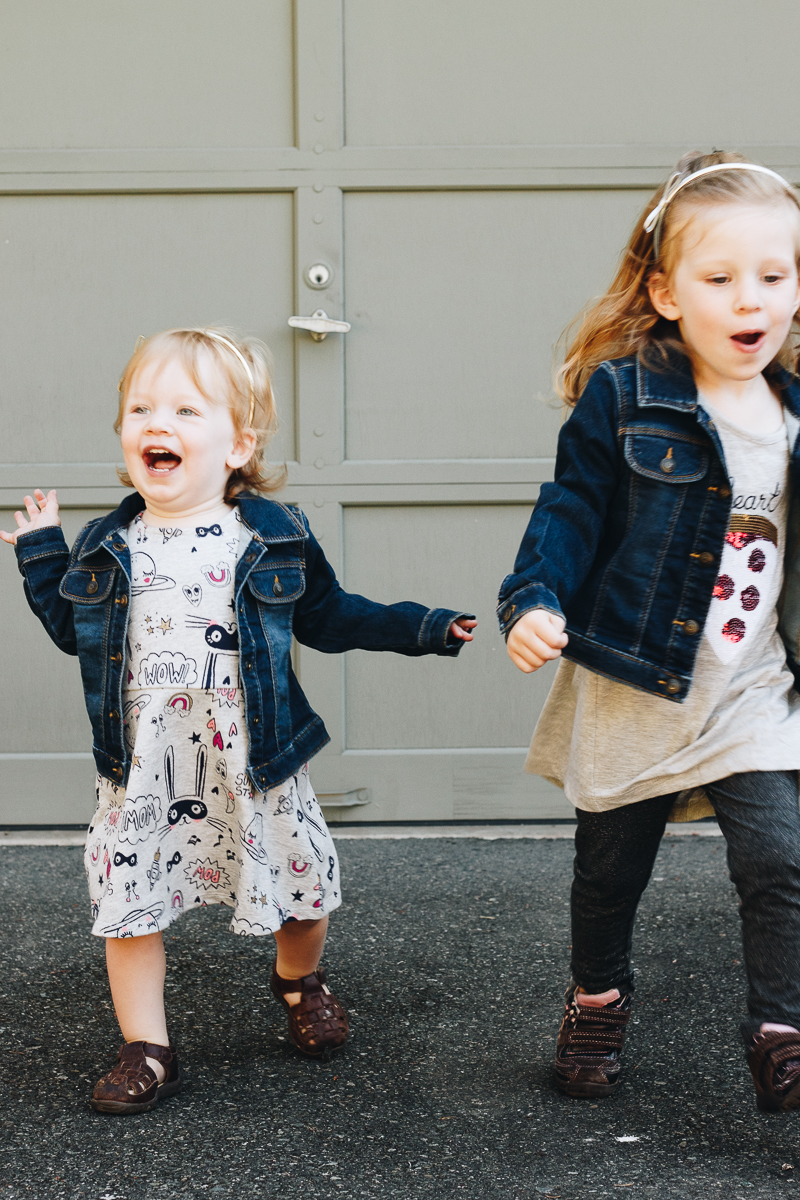 I asked them to please stand still by the garage door so I could snap a quick picture before we left for the day… and this happened. How do other bloggers do this?! Candy bribery?
I asked Clara what she would like to do in the fall and she said, "Well… in the winter can I go hiking and sledding please? In the fall I would like to go walking and find where the school camp is." (I have no idea what a school camp is but I guess we'll find it!)
I'm glad we're on the same page! Lots of hiking and exploring it is! Maybe I'm finally, finally rubbing off on her.
And of course, a new season means new outfits and I could not help myself – I had to get the girls matching denim jackets. Now that Isabelle is wearing toddler sizes, I can really take full advantage and match the girls more often than I probably should. I can't help  myself, I really can't. 
I can't get enough of fall clothes. It's all about layering in the PNW, so our fall clothes are actually also winter and spring clothes, which makes my frugal heart happy – as long as these girls don't keep growing! I feel like Isabelle is growing out of clothes monthly, but Clara is nice and steadily only changing sizes every year, earning her favorite child status in the clothes category.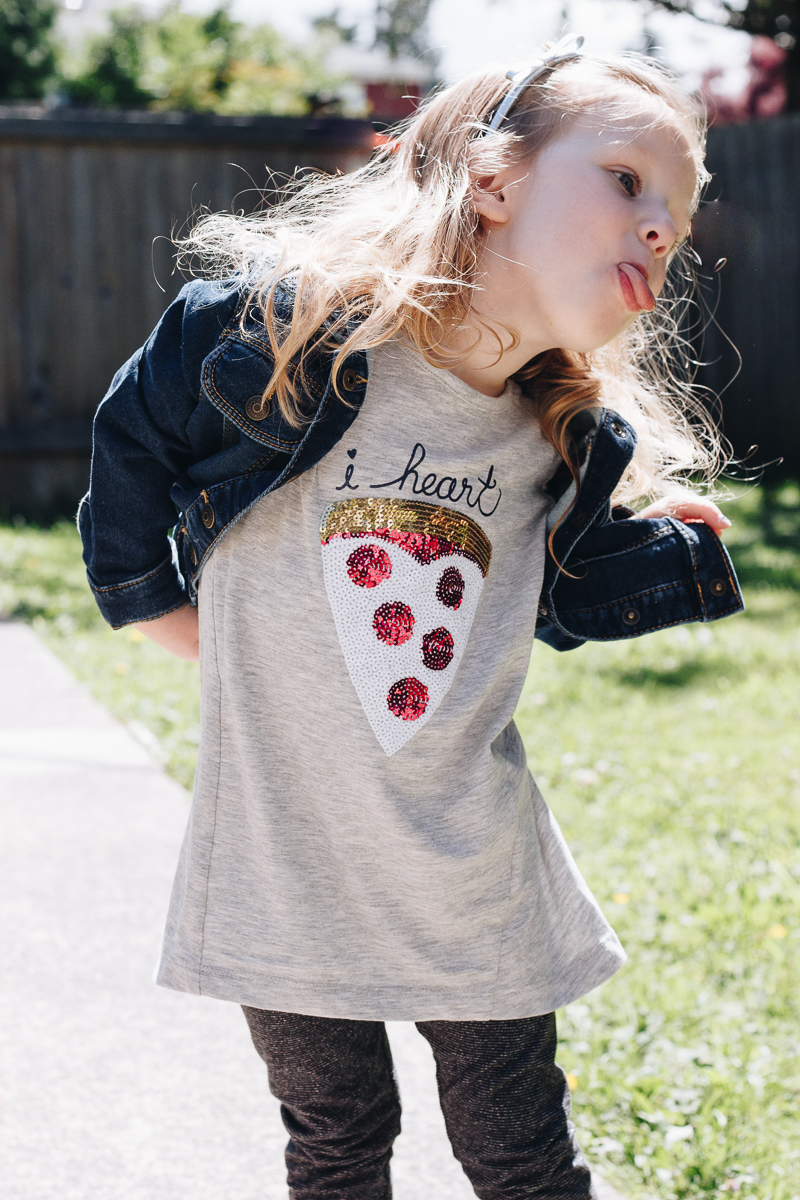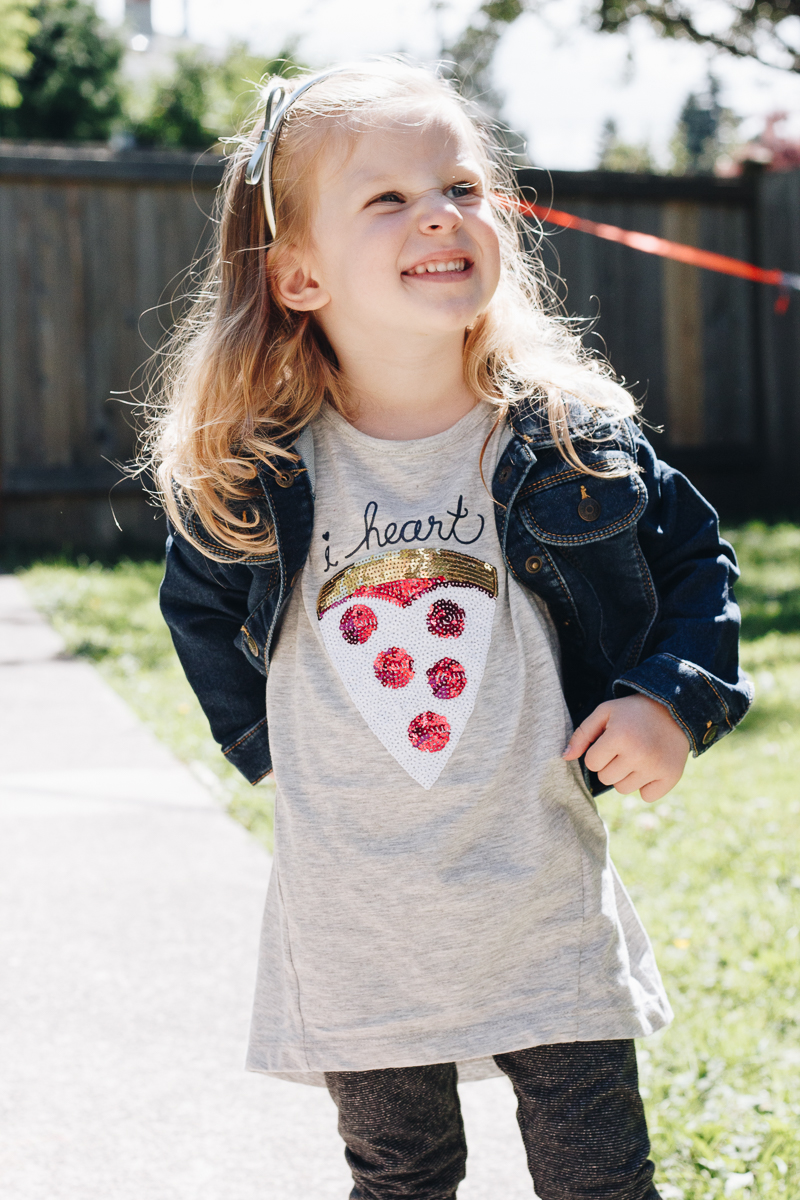 I also got Clara a shirt that says "I heart (pizza)" and her face when she first saw the shirt was priceless. Her immediate reaction was, "MOM! You got me a shirt to wear when I eat PIZZA?!" Why yes, child, I did. I may just be nominated for mom-of-the-year (for my family, at least) after all.
Here's to hoping these clothes (and goals!) last the entire school year! Don't forget to check out Gymboree for your back-to-school needs!
Do you have any school year goals for your kiddos?!
This post was sponsored by Gymboree, but all opinions are, of course, my own!