Well, I lived to tell the tale of my first backpacking adventure! There were so many things I learned this past weekend… so many. The main one being that I have zero survival skills.
I feel like I could never possibly recap the experience to do it justice, but I'm going to try to cover the basics.
My friend and I left Seattle on Friday afternoon and got to the Snowgrass Trailhead at about 4:30 PM. Our plan was to do the 20 mile Snowgrass Flat – Cispus Basin – Nannie Ridge Loop in the Goat Rocks Wilderness. After stuffing all of our supplies into our bags (which made me completely nervous since we hadn't double checked everything before we left the city and I was convinced I was forgetting something or that not everything would fit), we set out.
The trail was pretty much uphill through a forest for the first 5 miles. We went from 4600 feet elevation to 6400 feet elevation, and ended up at a wonderful campsite where the Snowgrass Trail meets the PCT. We were happy to discover that the smoke had lifted enough on Friday night so that we had views of Mt Adams from our campsite! Of course, we called it Mt Rainier the whole time we were there because we forgot which direction we were facing, but someone kindly informed us it was actually Mt Adams. Whoops.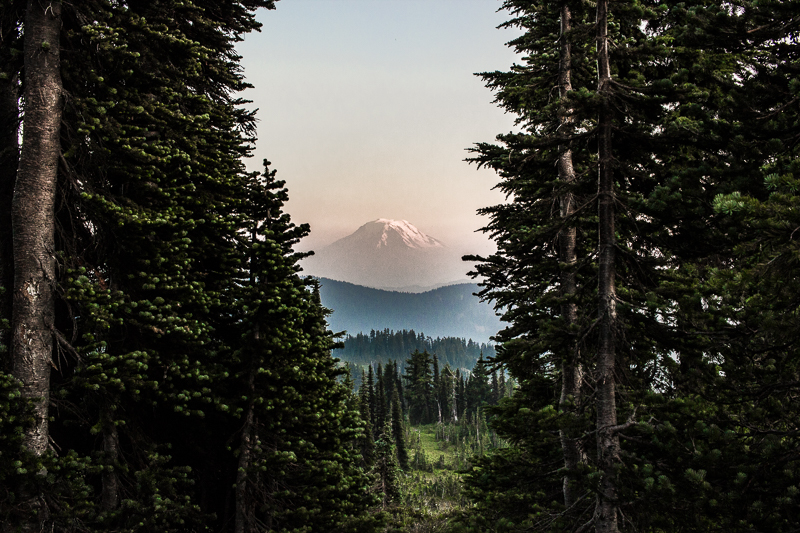 The first day was hard (even though we only went about 6 miles) because of the elevation and because we were in a rush to get to set up our tent and eat dinner before it got dark out. We succeeded! Plus, the wildflowers up at Snowgrass Flats (near where we camped) were GORGEOUS and the smoke actually added to the whimsical mood. It was honestly stunning and no picture will do it justice.
I loved setting up camp and watching the stars come out and seeing the other campers' headlights down the PCT. It was a pretty fun first night of backpacking! We ate instant couscous and fresh veggies and called it a night! The night air was a bit cold, but we had the appropriate gear, so we woke up quite warm!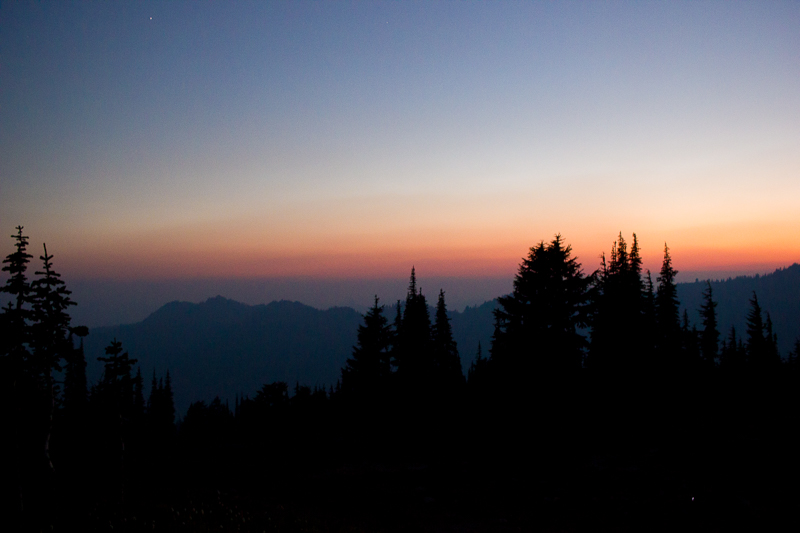 The next morning we drank our tea/coffee, took down our tent, ate some granola bars, and hit the trail! We walked on the PCT through Cispus Basin & Cispus Pass, and once again, nothing I will be able to describe or show in photos will do that place justice. Even without the gorgeous mountain views (hidden by smoke), it was a beautiful place. We walked along a huge basin with creeks and waterfalls and wildflowers and we said hello to other hikers… (who were all still in good spirits because it was the morning…) and we even talked to a few hikers who were hiking thousands of miles on the PCT. It was quite the morning!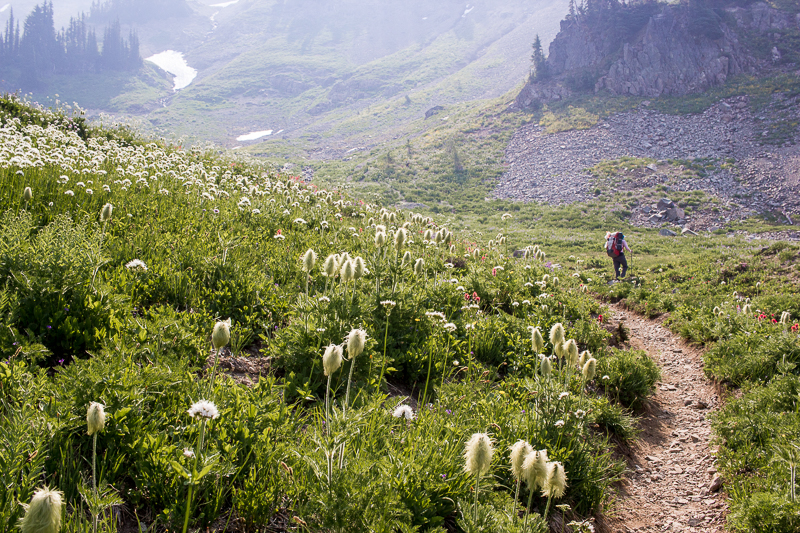 We eventually made it to Sheep Lake about 6 miles later, and stopped for lunch and a quick dip. It felt great to get those darn hiking boots off and to soak our feet! Plus I was beginning to loathe the heavy pack at that point and was looking for any excuse to put it down and rest a while. The wildflowers were gorgeous near the lake but the bugs were quite feisty.  After our lunch of torilla + peanut butter + honey, we headed off again down Nannie Ridge Trail towards Walupt Lake. It was another 5 miles down to that lake, and it was a brutal downhill. Uphills are hard, but downhills are hard, too!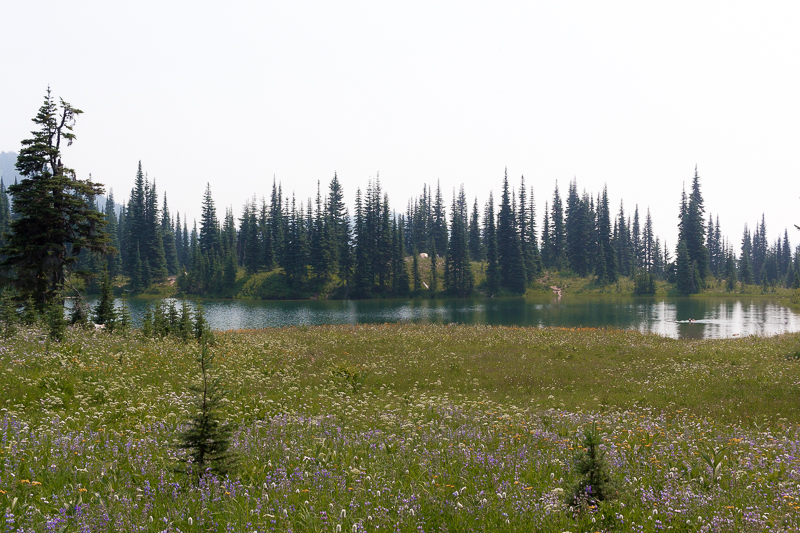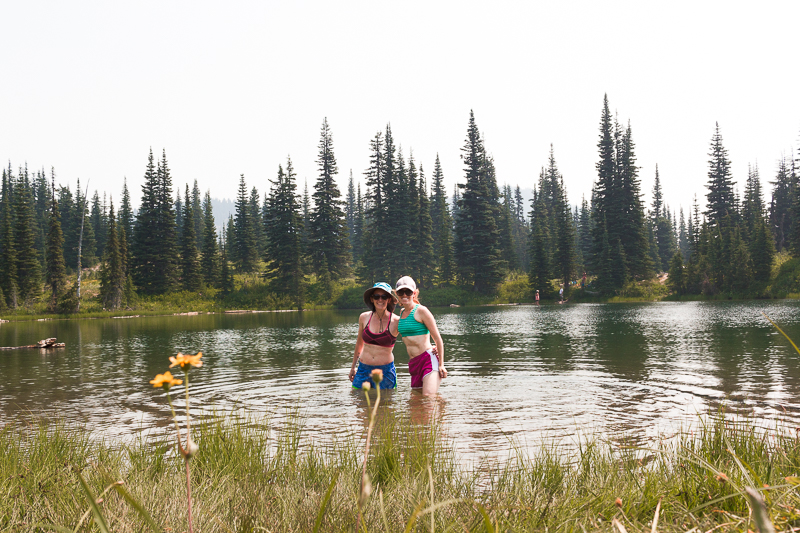 After 11 miles (total), we found the lake and a campground nearby. We didn't want to sleep at the campground, so we found a place to setup our tent in the woods nearby. It was actually a really peaceful place to sleep – in the middle of trees and really near a lake. We got some water from a nearby creek, ate an early dinner, and let our aching bodies rest in the tent while playing cards for a while before early bedtime.
The next morning we slept late (yay for the trees blocking sunlight!) and started out once we had packed everything up and I had chugged a coffee. We had a 6 mile hike back to our original trailhead, which included a river crossing and overgrown trails. It was not my favorite 6 mile hike, that is for sure! Plus, the bugs ate me alive, even though I was wearing pants and a long sleeve shirt and bug spray.
I was never so happy to see a car in my life (once we finally, finally arrived at our original trailhead) and put that 35 lb pack down!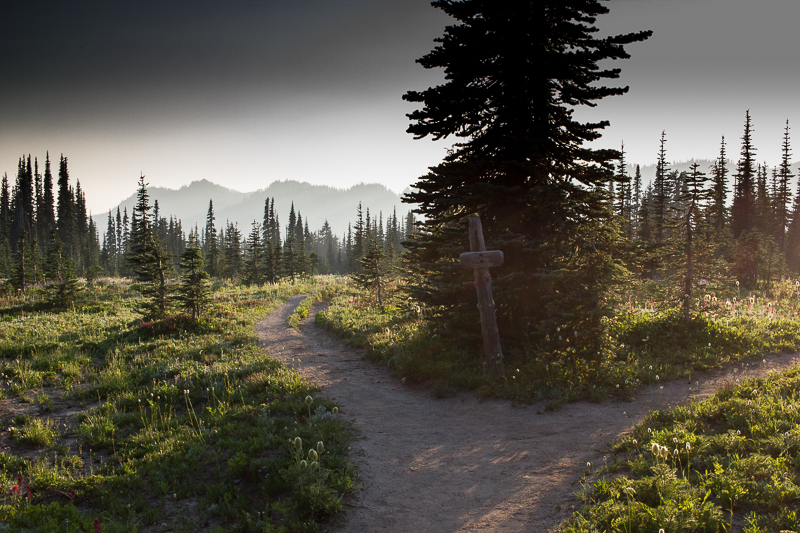 It was a gorgeous, uncomfortable, adventurous, relaxing, exhausting weekend! I'll do a post on what I learned later this week – because there are many, many things. But overall, I would definitely go backpacking again! I'd do it a bit differently, but I absolutely loved sleeping in such a gorgeous place that could only be reached by hiking. It was really a special experience!
Have you ever gone backpacking?! Would you?!