If you're like most Americans, fall means football season. And I must say, I view it that way, too. However, I'm married to a former college hockey player, so to us September means preseason hockey has started and October 1st will be the first home game of the regular season for the Chicago Blackhawks. My brother-in-law was forced kind enough to offer us two tickets to accompany him and his girlfriend to the first home preseason game this week, so of course we took him up on it.
Although, I'm not really sure he exactly offered to take us. This is how the conversation went (from what I overheard):
My Husband: Oh you're going to the Blackhawks game? Awesome?!
His brother: (I'm assuming he says something about extra tickets)
My Husband: Wait, you didn't invite us?! We would have invited you! (This is a big "maybe" in my opinion)
His brother: Really?
My Husband: Of course!
His brother: OK, you can come.
My Husband: Didn't you already ask someone to go?
His brother: Well yeah, but it's just some guy on my hockey team. I'll take care of it.
… All that matters is that we got to go.
And the Blackhawks beat Detroit 2-0. (Because as the chant goes… "De-troit sucks!" Sorry to all you Detroit fans.)
Anyway, I'm pretty sure going to a hockey game means summer is officially over… noooooo!
On that happy note, let's move onto Friday Fours.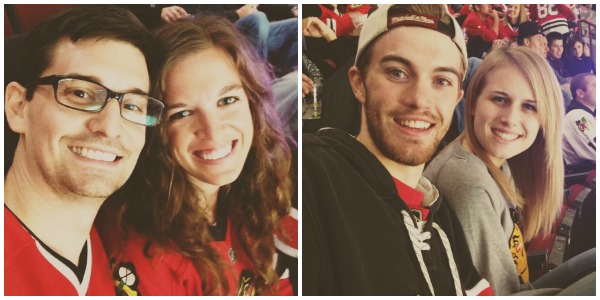 ____________________
4 Favorite Things:
Leaves that are already starting to change colors.
The incredibly long hockey season that makes it possible to go to games in May and then again in September.
My football survivor league (waaaaay easier than Fantasy Football!)
Seeing my college roommate who just moved back from Madrid!
4 Confessions:
I love rain storms. As in really, really love them. Yesterday the Husband and I were meeting with our church group (as we do every Wednesday evening) and we were sitting in an apartment downtown witnessing a full lightening display out of the apartment windows. It was gorgeous.
Sometimes I feel like I should be doing more with my life. I can't help but feel like this is the time I should move to another country, or even city, explore new places, take more risks, etc. At this time of unemployment weeks go by and I suddenly feel like I haven't been doing anything. It's a very frustrating feeling! However, I know that the Husband and I travel a ton, are very involved in our community/friends/family, and enjoy each day, so I know in my heart that it's not really wasted time.
I'm visiting a best girl friend in St Louis this weekend but I really don't know if I'm more excited to see her or her son! I just love my friends' kids, they're such a reflection of the people I love!
I'm not ready for fall. AT ALL. Summer, please stick with us just a bit longer! I have things to do, places to explore, drinks to enjoy on patios, a tan to get!
4
Links

Articles:
4 Posts I Wrote This Week:
____________________
The Husband are off on a mini-road trip to St. Louis… wish him luck in the car with me for that long – I have lots of things I want to talk about!