If you haven't read yesterday's post, you probably should to get a bit more context behind my resolution for 2015.
Go ahead, I'll wait.
The highlights of last year

included doing new things. We traveled to places we had never been before, both in the US and across the ocean. We made it through (and even enjoyed) pregnancy and the labor and delivery of Clara. We welcomed friends' babies into our lives and celebrated their small milestones. I stood next to my best friend as she said 'I do.' We became parents and I transitioned to being a stay-at-home mom. Tim turned 30 (just last week!) and is embarking on a brand new decade. We attended baby showers and birthday parties and all things celebratory. We spent time at church and with our church group and with friends and family and felt surrounded in love.
It was a good fantastic year, and I'm honestly not sure 2015 will be able to top it.
Last year at this time I knew 2014 would bring a lot of transitions: new jobs, new baby, new apartment, new travel plans…
I don't have any of those certainties about 2015, which makes me a bit anxious in itself.
You see, I thrive on new experiences and adventures. I love life changes. I'm sure 2015 will throw me a curveball or two, but we don't have any 'major' plans like we did in 2015.
So this year I'm choosing the word…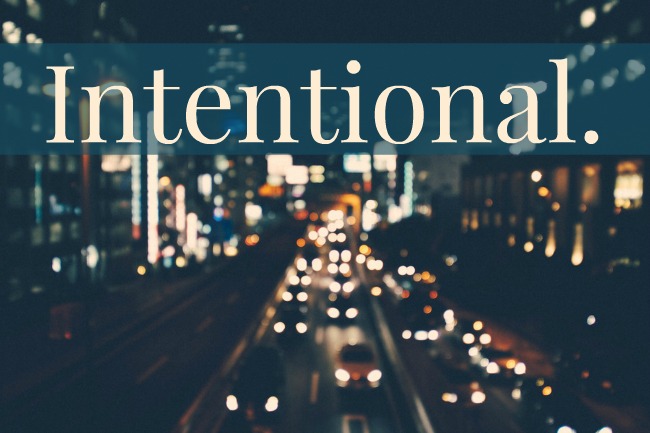 To me, this word means to live each moment with purpose.
To spend time on things worthy of having time spent on them.
To turn the TV off in favor of conversations and cooking and doing things around the house.
To entertain guests more often in order to increase the amount of time we spend with loved ones and show hospitality.
To take pride in my home by cleaning it and decorating it and making it lovely.
To dress in a way that makes me feel good, instead of putting on whatever is the easiest to get out of my closet/drawers.
To eat healthily (and cook more frequently).
To exercise in order to feel great, but not to any extremes.
To spend time thinking about things that need to be thought about, but not to waste time with thoughts about the past or future.
So that's my goal for 2015!

I want to be intentional with my precious time. I don't want to spend time mindlessly going through my phone to distract me from my present. I want to

do more

instead of becoming overwhelmed about what I

should

 

be doing. If someone were to ask me about why I chose to do something (no matter how small), I want to be able to respond genuinely, instead of answering that I made a decision because it was the easiest or most obvious thing to do.
Feel free to hold me accountable, friends.
Whether or not you chose to pick one word to focus on in 2015, think of one now! What is it?!