If there's one area that I've found it hard to focus on over the past few months, it's marriage.
Once upon a time (pre-Clara), Tim and I were really decent at prioritizing marriage and thinking about how to improve our relationship. However, lately it's taken a bit of a back seat. Not that we don't value our marriage – we do – but it's harder to find the time and energy to really focus on how to be better spouses when so much of our time and energy revolves around our baby.
I know, I know, everyone says that marriage changes once a baby enters the picture, right?! It's true, though.
Last year (pre-baby) we were part of a small group through our church that met every week. We also went to a marriage retreat through the church, where we had a lot of time to discuss some challenging areas in our relationship and brainstorm how we could improve them. We were already pregnant at the time of the retreat, so we felt a bit more urgency to tie up some emotional loose ends before becoming parents. We also went on regular dates to ensure we were always communicating with one another.
(If there's one thing Tim and I do well, it's communicate.)
This year (2015) already looks a bit different, though. We aren't a part of the same church small group. We've decided not to go to the marriage retreat because it's just a bit too soon for us to feel comfortable leaving Clara with someone overnight. We definitely don't have as many opportunities to go out and enjoy each others' company, with friends or by ourselves, as we have in the past. However, starting a few weeks ago we've been intentional about going on one date night a week, sans Clara, so we can talk about ourselves and our relationship. Thankfully, we haven't had any major issues to discuss, but it is nice just to catch up.
It's not like Tim and I don't see each other during the week – Tim works from home often and I'm at home with Clara, cooped up more than I'd like to be. But somehow the conversations we have never tend to go very deep. Without prompts of some sort, we tend to avoid the heavy stuff and instead stick to what's easiest and most comfortable to talk about. When we run out of things to say, we turn on the TV or focus our attention on Clara, who is always ready to unknowingly diffuse boring or tense situations.
This is why Tim and I enjoy reading certain (good) books about marriage, to give us a reason to discuss the 'harder' stuff. In the past we've read this one but found it to be repetitive, even though other people seem to love it. We absolutely loved this one that we listened to (yay audiobooks!) in the car on a roadtrip. *Sidenote: don't all great conversations seem to happen on roadtrips? I love long car rides because Tim is trapped with me in a small space and we can really get into some great discussions! And our latest read has been: Team Us: Marriage Together, which we also really enjoyed.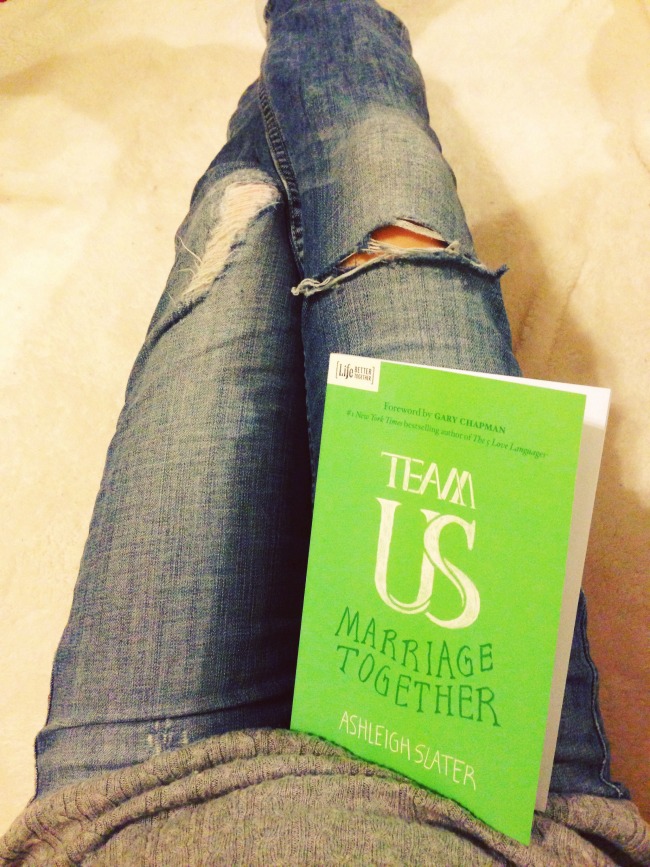 I liked this book because it was relatable. Team Us: Marriage Together

is written by Ashleigh Slater, who writes (seemingly fairly candidly) about her marriage with her husband (who chimes in once in a while, too). While reading through the pages of this book I sort of felt like I was in a small group, listening to a couple's struggles. I always find it beneficial to hear that other couples struggle with the same things that Tim and I do, because it makes me feel much more normal. I like having thoughts like this one: 'Oh, Ashleigh's husband, Ted, has a flexible work schedule and chooses to wake up too late and then work too late and this drives Ashleigh nuts?! Sounds familiar.'
But I digress. Besides a level of transparency (although I will say that it definitely isn't deep, it's more like an overview of Ashleigh & Ted's experience with common marital problems such as conflict and communication and friendships and family and parenting and setting expectations… so basically everything that can affect a marriage, but there is no deep dive into any particular issue), I like that there are discussion questions at the end of each chapter that couples can answer together on a date night, or if you're me and Tim, while sitting on the couch drinking wine after Clara goes to sleep. Even though Tim didn't read through this book with me (he isn't a reader, unfortunately), we still went through the questions together and we had some great conversations.
For example, the questions in the first chapter include:
If you were to compare marriage to any sport, what would it be and why?
What are two or three ways you're intentional in your marriage? Brainstorm a few ways you can do better.
What does grace look like in your marriage? How do you practice it? Discuss a time this week when you could have offered grace, but didn't. What is a specific way you can do better next time?
Is there something trivial that you let disrupt unity in your marriage? Discuss a recent 'blowup' and how it could have been avoided.
Are you poised to assume the best of each other? What types of situations result in knee-jerk reactions from you? What can you do to change this?
This is pretty good stuff, right?
Between the chapters of 'Team Us' and the questions contained in each section, I really think this book has given me us some great points to think about and it has also given me some practical ways to cultivate and strengthen the unity in my own marriage.
Was this book Earth-shattering and did it change the entire way I think and feel about marriage? Heck no.
However, I strongly believe that all marriages need to be worked on with love, intention, and prayer, and this book is a tool that can be used by (busy) couples to really get into some great discussions about strengthening their relationship.
I plan on writing more posts about how we're intentionally trying to work on our marriage this year, since this is my year of 'intentional' living! But for now…
If you would like a copy of this book, "TEAM US: Marriage Together", leave a comment on this post by Saturday at 12pm EST, and I will use a random number generator to select a reader to receive a copy!
*
Many thanks to Propeller Consulting, LLC for providing this prize for the giveaway. Choice of winners and opinions are 100% my own and NOT influenced by monetary compensation. I did receive a sample of the product in exchange for the review and post.
Only one entrant per mailing address, per giveaway. If you have won the same prize on another blog, you are not eligible to win again. Winner is subject to eligibility verification. US and Canadian residents only.