Weeks ago (before our lives turned into complete chaos), I promised to write a post with some tips on camping with toddlers, and today I'm going to deliver!
Now, I'm going to say right now that we've gone camping a grand total of ONE time with both our girls, so I am far from an expert. But, we did survive the trip and I did learn some things! (Sidenote, this advice is all for car camping! I haven't braved backpacking with littles and I probably never will!)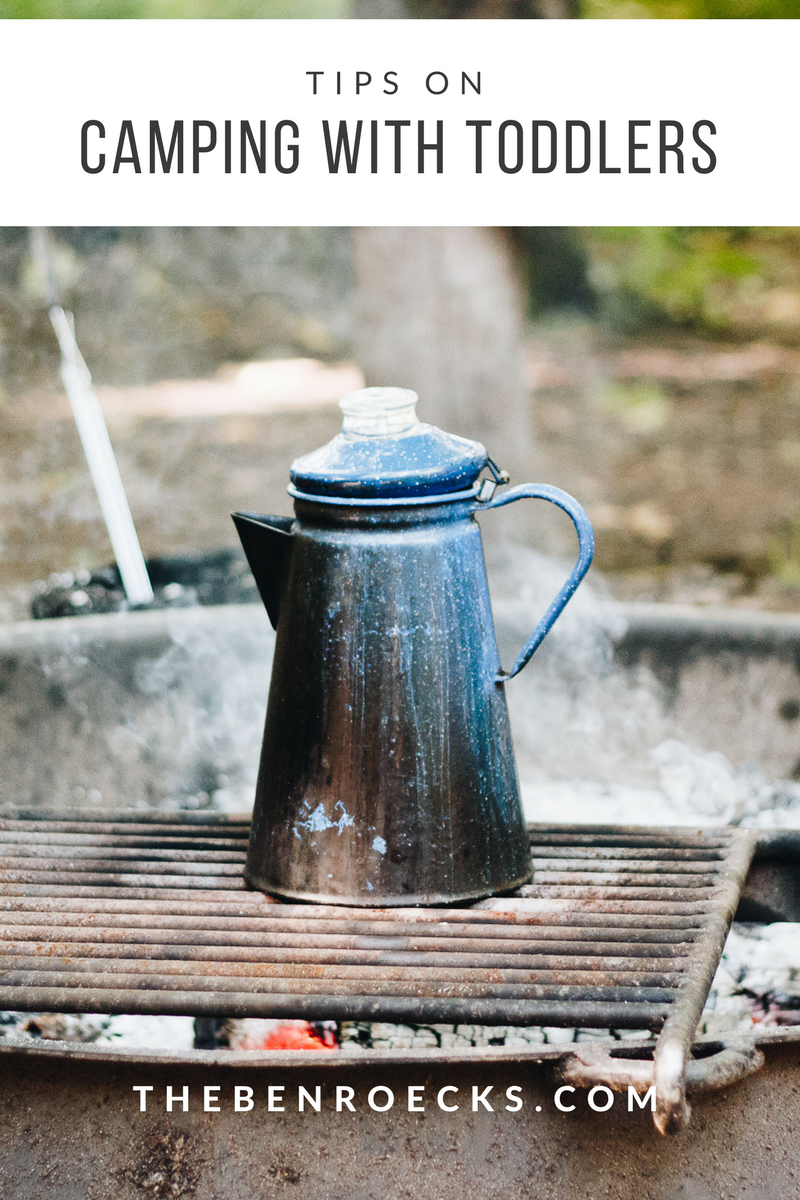 11 Tips for Camping with Toddlers:
1) Bring a toddler potty.
Even if your kids aren't still potty training, if they're at that stage where 'holding it' might be an issue, bring a toddler potty so that they can go to the bathroom right outside your tent. This helps in the middle of the night and also during the day, as our toddler isn't quite old enough to squat in the woods by herself, but she could use the toddler potty independently.
2) Find a campground with running water.
We didn't use showers while camping, but we would have if we were there just one more day! I loved having the option of using flush toilets and taking showers at the campground.
3) Go with friends.
I'm not sure our camping trip would have been as successful if it had just been our family of four going. It was nice having some adults to entertain kids while others set up tents and made food and cleaned dishes… it was less work for everyone having a village camping together (at a group campsite).
4) Camp near a town.
One afternoon we drove into town for ice cream, and it was a nice little break away from the campgrounds. While there are definitely reasons to 'get away from it all' and I know that some people camp to be out of town and out of cell service range, I think it's ideal for a toddler camping experience to be near things to do, just in case you start going a bit nuts at a boring campsite.
5) Bring a tarp to put on the ground to keep toys in one area.
This is especially useful for crawlers!
6) Select a campground that has activities. 
We camped very near trails and a beach. There was even a playground! Basically, it was toddler paradise which meant that it was easy to entertain our little ones while also doing things we love doing. I definitely recommend staying somewhere that offers a few different activities for the littles to enjoy.
7) Stay close to home. 
At least for the first trip, stay within 2 hours of your home so that if all heck breaks loose, you can drive back pretty easily. I think this will just ease your mental stress more than anything. Let's say it starts pouring rain and you're miserable and you decide to abort the entire mission, it will be easier to do if you don't have a six hour drive ahead of you.
8) Bring a swing or hammock.
If you have toddlers who don't want to stay in one spot and are too old for a traditional pack n' play, bring a swing or hammock and tie it to a tree so you can throw them in it while you're trying to cook or set up a tent or any activity in which you may not be paying as close of attention to little ones.
9) Pack snacks.
A lot of snacks. Favorites for us were yogurt, fresh fruit, granola, trail mix, cheese sticks, crackers, ANYTHING. I also advise bringing meals premade so you can serve them just like snacks, with almost zero prep work. We all know that when toddlers say they're hungry they mean like NOW, so it's nice to have food ready-to-go without needing to bring out a grill or make a fire.
10) Relax the bedtime routine.
Our babes all went to sleep as the sun was setting (which is late here in the PNW – after 9pm in the summer!) and everyone was fine. Even if your kiddo normally falls asleep before 7pm, just know that you may need to relax that schedule while camping because there is just too much fun to be had and too much sunlight for kids to feel tired at their normal time. I'd advise you to not stress about the bedtime and instead focus on having fun until your kids show pretty clear signs that they're ready for bed and will be able to fall asleep easily.
11) Have low expectations.
As with all things with toddlers, have low expectations and hope to be pleasantly surprised! I really thought none of us would sleep a wink, and we actually did pretty well! The first night was rough with both girls, but it wasn't completely horrible and by the second night they didn't wake up at all in the middle of the night. Clara even managed to sleep until after 8am even though the sun was up before 5am! If you go into the experience just hoping to survive, make some memories, and hopefully sleep just a bit, I think you'll come out of it really excited with how great the trip turned out to be.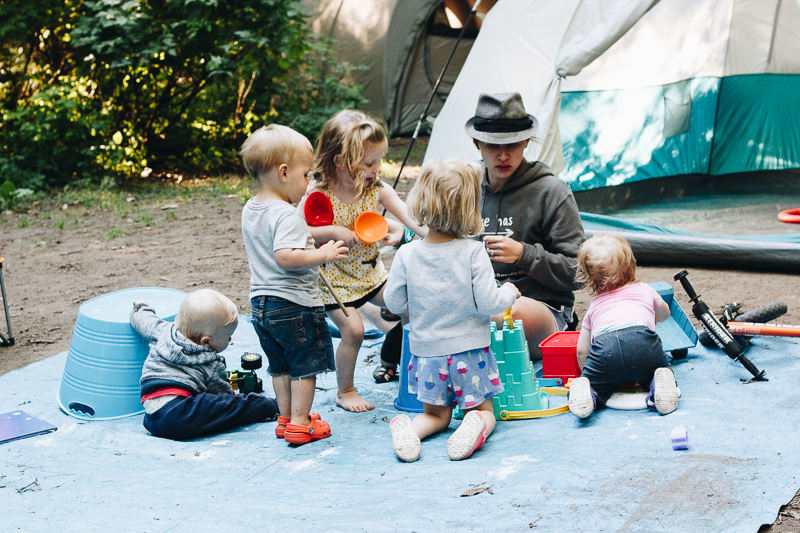 I'm sure I'm forgetting some important things, per usual, so let me know in the comments what tips you have!
Have you gone camping with young children?! What have your experiences been like?