If there's one thing I've learned over the past few years (OK, really over the past lifetime or so), it's the importance of community.
Whether that community is comprised of long-time friends or family or team members, or a different group of people – being a part of a group of people is vitally important to me as a person, and to the Husband and I as a married unit.
We have different communities: I have a women's church group. We have our married couples' church group. We have our families. We have separate groups of long-time friends. The thing that I love about these groups is that within them there are common goals and interests, and it truly feels like coming home when we get together.
Take my church groups for instance. We see each other every single week of the year – which is more than I see any of my other friends! We come together to talk about God, life, and anything else that is on our hearts. In our married church group we talk about marriage and our consistent efforts to become better spouses. These people know about our successes and failings and are endlessly supportive and loving to us. And it's nice to have a group like that, who can love without judgement because the goal is to all become better Christians, people, and spouses – and with those common goals, there's no room for pettiness or superficiality that often stunt adult relationships from growing (at least in my experience).
I think family and groups of long-term friends can have the same effect, if there's a common goal at the center of the relationship. I don't think it always has to be a large goal – sometimes the (implied) goal is to have a healthy and growing relationship through fun times and glasses of wine and respect for each others' lives and families! We have both single and couple-friends who love us individually and as a couple, which is a wonderful blessing to have in our lives. It's easier to be strong as a couple when there are great people around us, both supporting us as individuals and our relationship together. And when we hang out with these people, we (I think I'm speaking for both of us, at least) feel quite at home. We feel like we can be honest and say our true feelings and talk about struggles and not just rainbows and butterflies and the good times.
You know?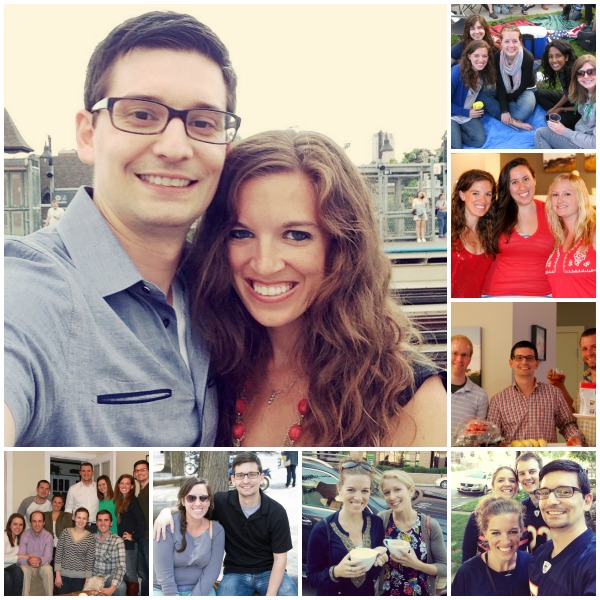 Some happy memories from over the last few months!
So at this time of year, I'm thankful for friendships and relationships that make me feel at home. And I'm especially thankful for those people and groups in my lives who love not just me or the Husband, but both of us separately and together. I'm thankful for the people I can share life with – the good, the bad, and the ugly. And I'm thankful for the people who make me a better person by offering advice, laughs, a glass of wine, a great meal, or kind words on a hard day.
Because everyone needs a group of people surrounding them (even if it's long distance!), and I know not everyone is blessed with that gift – so I don't want to take these relationships for granted.
So I guess the message here is – if you are part of that group for me or for anyone else – keep on keepin' on! Being a great friend or an awesome family member is so important and I know I don't acknowledge these people enough in my own life. (New Years resolution – 2014!)
And if you notice someone struggling to find community, reach out to them! It's the time of year when loneliness is especially felt by people who may be lacking close relationships in their lives, which opens opportunities for us to reach out to those people and brighten someone's day just a bit.
Who are you especially thankful for this week?!
Cheers to authentic relationships!