One of the questions every pregnant woman gets asked over and over again is 'do you know what you're having?!' which I'm assuming refers to gender and not something more general… like whether it's a baby human or just a very large cheeseburger.
The Husband and I have decided not to find out what gender our little one is. We know (s)he is a healthy little fetus (as far as they can tell at the 20 week ultrasound), but we have no idea what gender Baby B is. I prefer to think that the gender changes just about daily. Some days I feel like it's definitely a boy – other days I think there's no way Baby B can be anything other than an adorably squishy little girl. That's why we have different nicknames to use, depending on whether we think it's more likely a guy or gal that day.
Of course, when we tell family and friends that we're not finding out the sex of the baby, we get mixed reactions (of course, when don't we get mixed reactions about a decision we make?!).
Usually people our parents' age think it's awesome that we're doing things 'the old fashioned way' and are waiting to find out.
People our age usually say they would never be able to handle the suspense of not knowing the baby's gender until the birthday.
In all honesty, before getting pregnant I thought 100% for sure that I'd find out our baby's gender as soon as possible. I mean, I'm a planner by nature and I generally like to be able to see my future pretty clearly. Although, let's be honest, it never looks like the reality! But, as soon as I got pregnant I changed my tune. I knew right away that I definitely, without a doubt, did not want to know the baby's gender.
The Husband did say that he would like to know the gender, but he had no strong preferences, so he agreed that we could wait – and now I think he would say that he's super happy about that decision.
At this point there's no turning back – we saw the final ultrasound at 20 weeks and won't have the chance to see Baby B again until (s)he's in our arms which will be in approximately 115 days… not that I have a countdown app or anything! (Whoa, that's a crazy thought, we're almost in the double digit countdown.)
Was this the right decision for us?
I actually can't answer that yet, because my mind could very well change in the next 16 weeks or so. But I can tell you why we made the decision not to find out the gender ahead of time.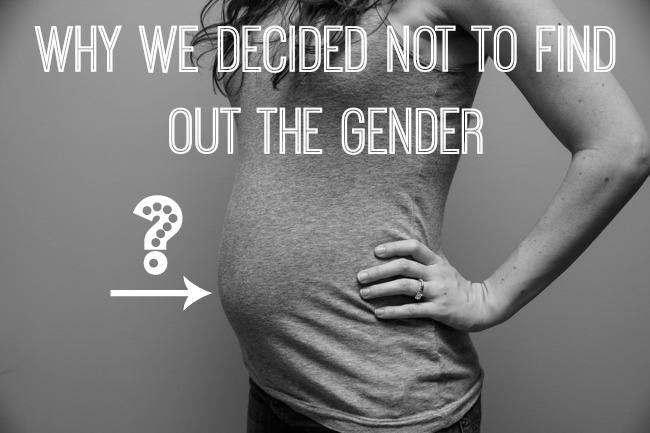 Baby B is just hanging out in there… gender already decided, just not known by us!
1.) We want the surprise! There are very few surprises in life anymore. This is especially true of good surprises. The last big surprise in my life was when the Husband proposed, which was pretty freakin' amazing. I expect this surprise to be even more fun. I'm already jealous that the Husband will (most likely) be the one who gets to announce the gender and the name to our family and friends in the hospital – I can imagine it's such a neat moment.
2.) I want gender neutral baby things. I try to be minimalist and practical by nature, so I want to buy all gender neutral baby items. I mean, we're going to need them for baby #2 one day! Not that I'm going to buy all gender neutral clothes or anything like that (let's not get carried away!) but for the big stuff, I like that no one (including myself) will be able to buy very gender-specific things. This is especially true of anything pink and frilly. I mean, don't get me wrong, I like a little bit of pink in my life, but I don't want 80 bijillion tutus or hair bands or pink versions of sports jerseys… I'm just not that girl, so my baby won't be that baby.
3.) We don't have a gender preference. Neither the Husband nor I have a preference as to whether we have a boy or a girl. I would say we just want a healthy baby, and of course that's the hope, but we will love our baby whether it's male or female, healthy or not healthy! We have no preferences, we're simply excited (total understatement) at the opportunity that God is giving us to become parents. I would absolutely love a mini-me and I think the Husband would be wonderful with a baby girl, but I also think a baby boy (mini-Husband) would be so fun (although probably also very destructive)! Our families haven't mentioned any gender preferences, but my immediate family all thinks this baby is definitely a boy.
4.) We're focusing on living in the moment. I've been really trying to do this since the first day I found out I was pregnant (since I'm consistently battling with anxiety and I did NOT want this to be an anxious time in my life). I want to experience and enjoy every day for what it is, instead of trying to plan too far into the future (which is crazy for me, since I'm definitely a planner by nature.) To me, this means focusing my energy on this pregnancy instead of the baby that will be in our arms in July (or maybe June!). I really don't even feel pregnant most of the time. I mean, I'm very aware that I'm pregnant, but friends keep telling me they forget I'm pregnant and no strangers have really brought my pregnant state up to me, so I still feel very 'undercover' about the whole thing. This means that it's easy for me to experience this pregnancy mostly privately with the Husband and with our closest family and friends, which is really nice! However, I think it also makes the whole 'having a baby' thing seem verrrrry far away! I feel like I should still be in my first trimester instead of in my 24th week. Yikes!
5.) We enjoy playing out hypothetical situations with ourselves and our family members. From the very beginning of our pregnancy, people have asked us what gender we think Baby B is and they have also given us dozens hundreds thousands of name recommendations. And I love considering each of these possiblities! Sometimes I picture us with four girls (well, not all at once, but eventually), other days I think about us having three boys… sometimes one boy and one girl… etc. The possibilities are still endless at this point! (Except we know we're not having multiples… much to my mother's dismay.) I'm also excited to set up a gender poll so that our family and friends can officially guess the gender of Baby B before (s)he is born. It's the little things that I'm looking forward to, which I'm anticipating will make this whole process even more fun.
Strangely, not finding out the gender of Baby B has not been a 'difficult' experience. I don't spend a lot of time wondering what we're having nor wishing I knew. The Husband and I also use 'he' and 'she' and other gender pronouns interchangeably, so I don't feel like I'm calling my baby 'it' or anything less-than-human. At this point, I'm loving the mystery of the whole thing and am completely enjoying where we're at. I love each and every day of this pregnancy and am not rushing Baby B to get here just yet (but I'm sure by the end of the third trimester I'll be feeling differently)!
I'll keep you posted as to whether I'm still happy with our decision in a few months!
What about you, did you find out your baby's gender ahead of time? Do you plan on finding out the gender when/if you get pregnant (again)?
Cheers to life's (happy) surprises!