Vacation recaps are not my personal favorite posts to read, so I'll keep this one (relatively) short and sweet.
The Husband and I decided to go to Savannah and Charleston on our first 'babymoon'. (Yes, we are taking two! I mean, why not?!)
In my mind, this was going to be a super-relaxing trip in which we would walk around, enjoy the sunshine, eat an ice cream or two, maybe get a massage (for me), read some books…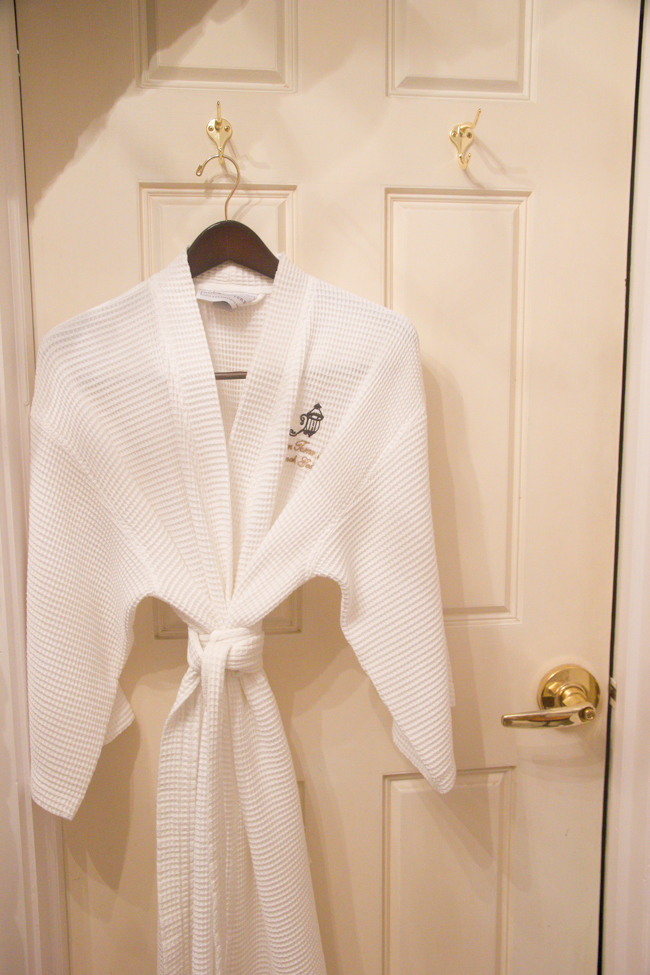 I pictured myself wearing this for the majority of the vacation. FAIL.
It's like I forgot who I was dealing with (myself) when I pictured this vacation.
I am incapable of relaxing on vacation. I've always been that way, I just can't help it! The exception are beach vacations. Give me a beach (or cliffs, as the case may be in Jamaica) and a tropical drink and a book and I can relax for a week on end. However, when I'm in a new city, I get overwhelmed by how much there is to see and any notion of relaxing goes right out the window.
Here's how we spent our days:
Savannah
We flew into Charleston and then drove the 2 hours to Savannah on Thursday morning. We checked into the lovely Hamilton Turner Inn, which is a haunted bed and breakfast in the heart of historic Savannah. It is actually located right next to Flannery O'Connor's childhood home! Our room was small, but comfortable. Plus, we had our own entrance from the outside, which I really enjoyed!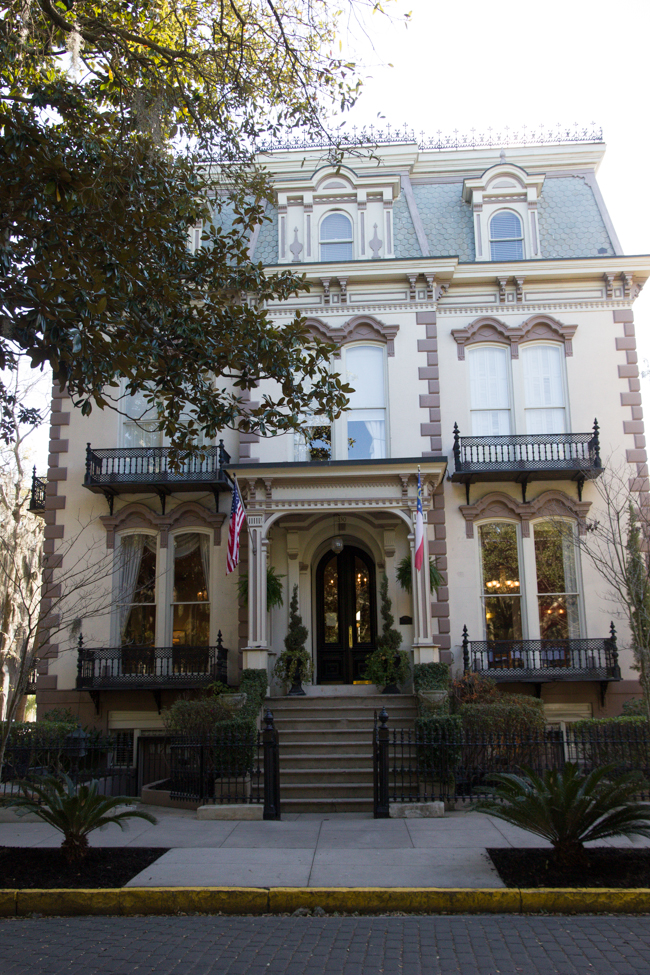 The B&B we stayed at in Savannah!
We dropped our things off at the B&B and spent the rest of the afternoon walking around the 22 squares in Savannah. We saw Bay St along the river. We saw fountains. We walked through Colonial Park Cemetery (I am obsessed with old cemeteries, for those of you who don't know). We also walked around Forsyth Park and watched all the action going on there.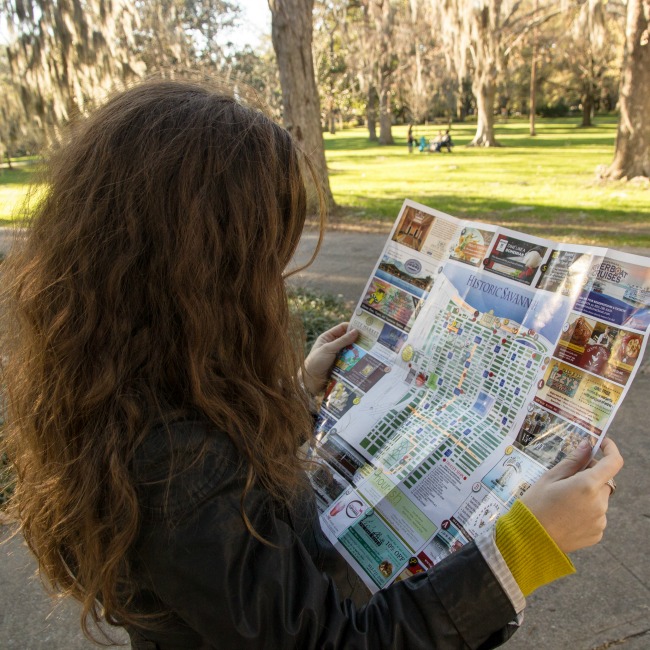 For our first dinner on vacation, we ate at the Olde Pink House and my dinner was out-of-this-world delicious. We had delicious homemade rolls (including cornbread, of course), calamari, seafood entrees, and some sort of crazy-good pecan and vanilla dessert.
After we awoke from our food coma on day two in Savannah, we went on a quick jog and then rewarded ourselves with breakfast at the Inn. Then we were off on a day of touring! We started with a trolley tour around the city. It was definitely informative, although it was a lot of information to take in all at once, and to be honest, I'm not sure I remember much of it!
We then drove to Bonaventure Cemetery for a walking tour of the cemetery, which was amazing. It's a beautiful cemetery and I loved hearing the stories about the prominent and well-known citizens of Savannah! It was such a pleasant way to spend an afternoon.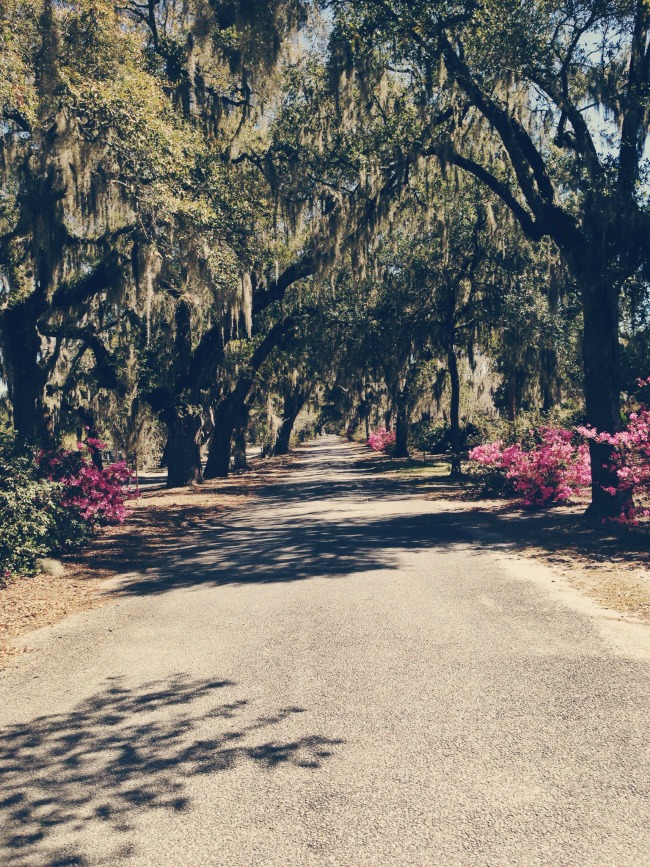 Once we were all toured out, we drove to Tybee Island in search of even more seafood! We stopped at a little seafood restaurant and ate the most delicious shrimp & artichoke dip as well as some she-crab soup. Mmmmm was it good! (I always know a meal is good when I remember what I ordered at a place days later without needing to look at photos!)
We finally declared ourselves done eating our way through the Savannah area, so we drove to Charleston. Actually, I drove to Charleston. This is how you know the Husband was tired from all the touring in Savannah – he actually let me drive!
Charleston
We reached Charleston on Friday night (still the second day of our trip). We checked into the very gorgeous and fancy (in my opinion) Harbor View Inn, which is located (as you can imagine!) right on the harbor in the historic part of Charleston. We had just enough time to grab some gelato next door and walk around a bit before heading to bed. (Also, this hotel offered cookies and milk in the lobby each night – they were delicious and I took full advantage… often. Multiple desserts are very, very necessary on vacation.)
On Saturday we woke up and went on another jog. Running is (without a doubt) my favorite way to see a new city! Unfortunately, this baby does not love running and the exercise left my hips and legs and abs quite sore! Or perhaps my body was sore from all the walking. Either way, I was quite worn out and could only run for about 30 minutes.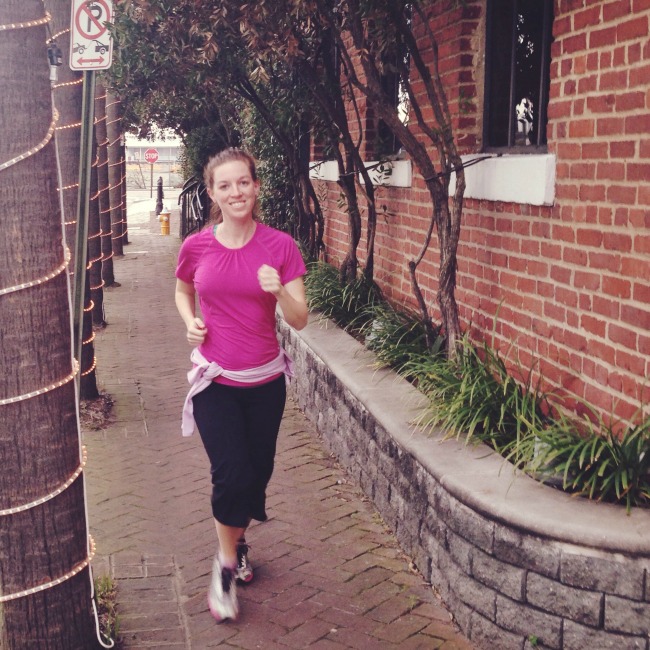 My form is way off and I'm annoyed at being photographed and I'm moving quite slow… but you get the general idea!
After our run, we had room service delivered (complimentary with the hotel stay!) to our room and enjoyed a nice little breakfast in bed. Then we went for brunch #2 with the Husband's cousin and his wife and new baby at Red Drum in Mount Pleasant. I had the best french toast and we had amazing conversation!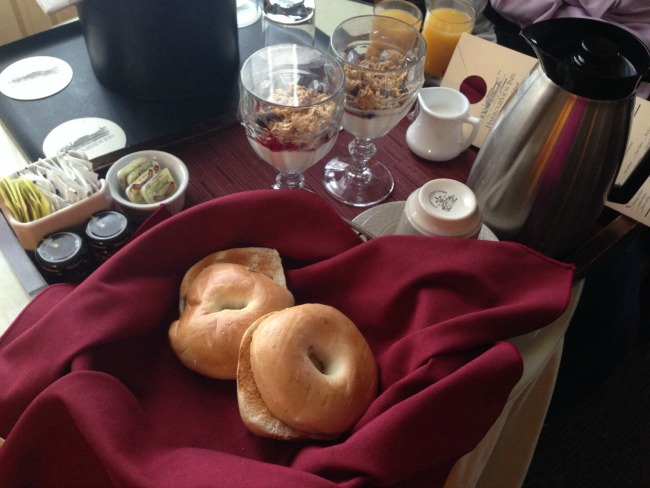 A bit of breakfast before brunch! Because that's what vacation is all about – dual breakfasts.
We all spent a few more hours visiting, and then off the Husband and I went on a walking tour of Charleston with Charleston Sole (can you tell I love my historical tours?!). We had a fantastic tour guide and we learned soooo much about the city in just a few hours. Charleston is so small compared to Chicago! (And Savannah is even smaller!)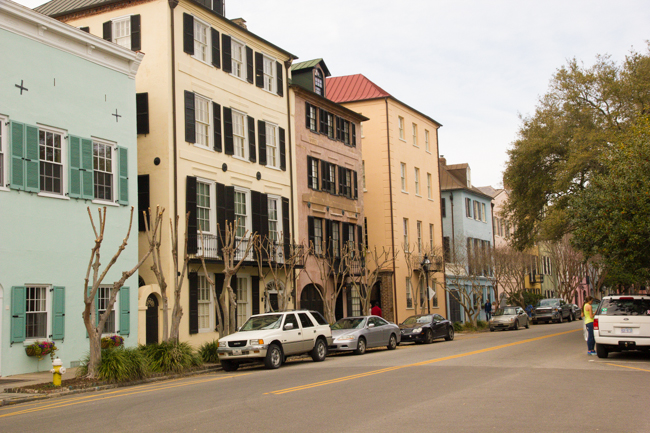 Rainbow Row in Charleston.
By the time we were done with our walking tour, it was time to grab some wine (for the Husband) and cheese (for me) in the hotel lobby before heading to dinner at Poogan's Porch. Dinner was delicious, although not especially memorable, I must say. Maybe it's because I don't eat meat and am limited to seafood options, but while I found the food really delicious, I wasn't as blown away as I was hoping I'd be. I still can't think of what we had for dessert… but I know I loved it!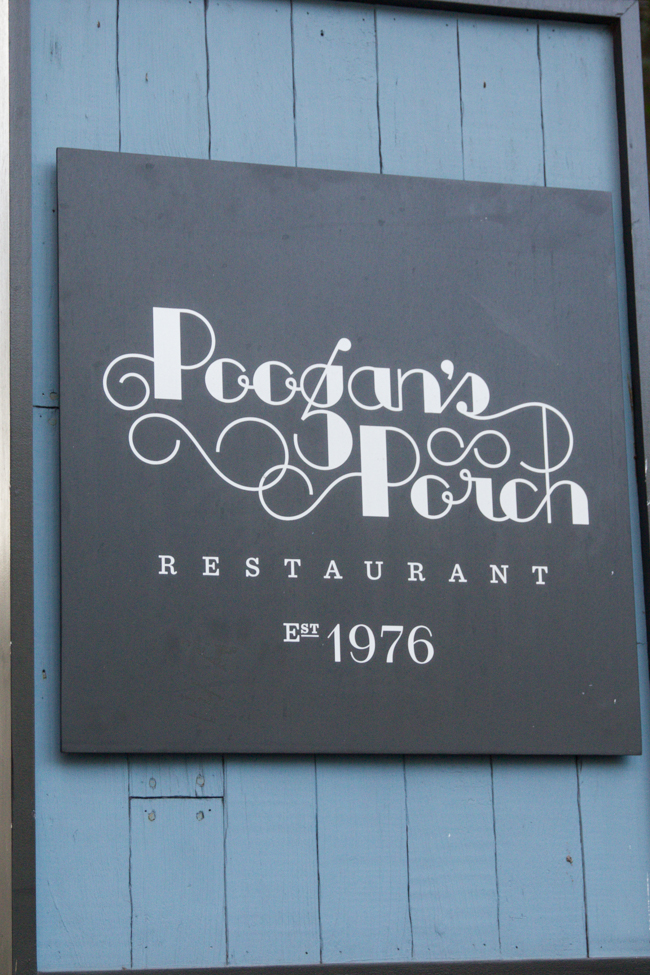 Once again, a food coma set in and we slept in really late on Sunday. The sleep was very, very necessary, as we were exhausted from all the activity of the prior three days. We didn't get out of bed until 11am, and then we walked around town before stopping at Sweetwater Cafe in the French Quarter for breakfast/brunch. It was a rainy day and we enjoyed sitting and chatting and drinking sweet tea. I had a grilled cheese and she-crab soup and it really hit the spot, let me tell ya!
Then back to Mount Pleasant we drove to spend the afternoon with our cousins! It was so nice being able to talk to the Husband's cousin's wife about her birth experience with little Lucy (and, of course we finally got to meet Lucy who was born in mid-December). Christina had such a positive labor and delivery experience and I can only hope for the same for myself in about 15 weeks or so! Plus, she answered my thousands of nosy questions.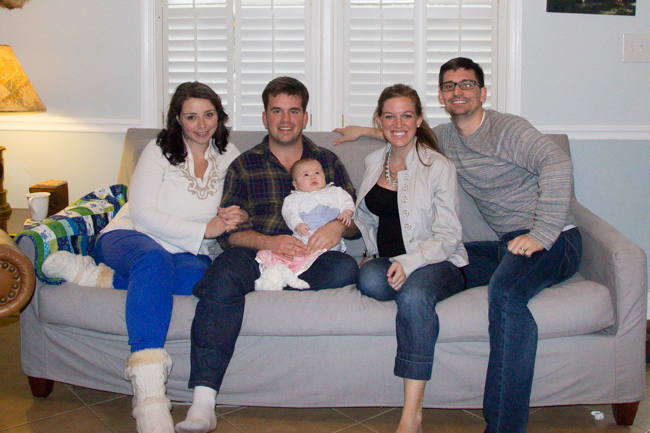 We loved spending time with this (our) family!
For our last dinner in the south, the Husband and I went to 82 Queen. What a way to end the trip! I had the best she-crab soup and then shrimp and grits of my life. I wish I had taken a picture of them but I was a little too eager to dig straight in. Then we split a piece of pecan pie for dessert. I basically licked both forks and the plate clean. I wish I were joking, but the Husband actually called me out for licking the forks, so I guess I wasn't that sneaky! I was letting none of that pie go to waste.
Finally, we headed back to our room and retired for the night.
And just like that, our vacation was done.
On Monday morning we woke up before 5am and drove to the airport to take the first flight out back to Chicago. (Because we were dedicated to work yesterday, darnit! Someone needs to make the money to go on these trips!) I was less than thrilled when I got off that plane and it was 19 degrees outside. Luckily, it's supposed to warm up this week – thank goodness.
Enough about the weather, though. The point is, our weekend away wasn't quite as 'relaxing' as I had intended, but it was perfection.
The Husband and I spent a lot of quality time together. We had time to talk about life and explore new places and eat delicious food…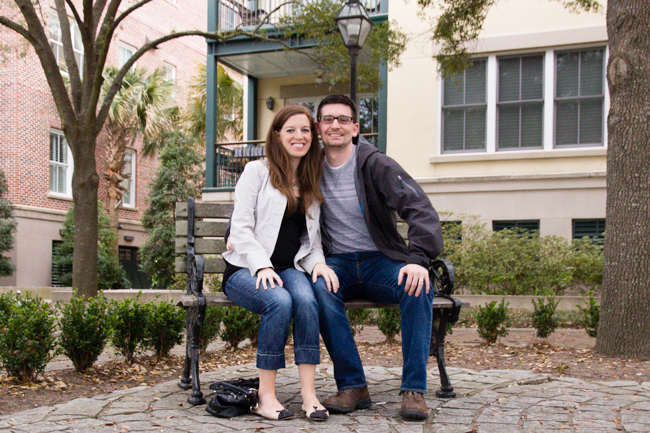 It was honestly everything I could have hoped for in a mini-getaway!
Now we just have to get back into the swing of this 'real world' thing. Wish us luck!
Cheers!

(Follow along on Bloglovin' | Twitter | Pinterest | Instagram | Facebook *brand new*)