… because every vacation needs five recap posts, right?! I'm kind of sorry guys, really I am. I don't even love vacation recaps as it is, but since the Husband and I spent 12 days in 5 different cities (4 different countries), I'm hoping someone out there finds these interesting or useful or better yet, that it motivates you to get your booty to this part of the world!
Our final destination was Prague, and I'm so glad we ended our trip in this beautiful and fascinating city.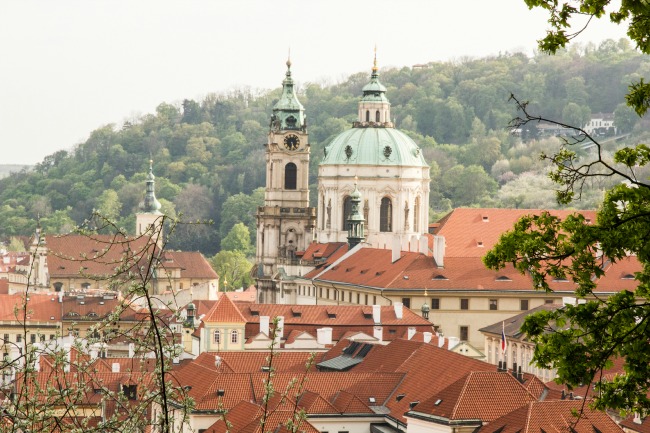 Highlights:
Following a random man around the (very confusing) cobblestone roads upon our arrival. Let me set the scene for you: we had gotten in a

huge

bit of an argument in the last few cities because the Husband was in charge of making sure we could get to our hotels from the train stations in each city, and he had been failing. This was most evident when we showed up in Budapest with not a clue of how to get to our hotel and no map and no money (in the correct currency) and it was just a freakin' mess. He promised to do better (this was our only fight of the whole trip!) and Vienna and Prague were much easier and he looked at directions ahead of time and life was good. Except that in Prague the streets are crazy confusing until one gets oriented. Anyway, it was pouring down rain when we got to Prague, and quite chilly, and the roads were all cobblestones but around and around the city we walked! We tried to follow the directions but the streets were seriously impossible. So, we sought shelter under the small overhang of a building and tried to figure out the directions again. Well, a very nice man who lives in Prague but is from the Ukraine asked us if we needed help and then offered to lead us to our hotel. I think he was actually the leader of tour groups, which were canceled that day due to rain. Well, this many had no idea where he was going either, because we followed him one way, then had to turn around and followed him another way… it was freakin' hilarious. I loved every second of it. (I also wasn't the one carrying the suitcases, the Husband had to do that since I was struggling with mine on the uneven roads.) We eventually found our hotel and realized that it's basically the easiest place to get to ever, once you just learn the few 'main' streets of Prague and identify a few landmarks. Oh, adventures!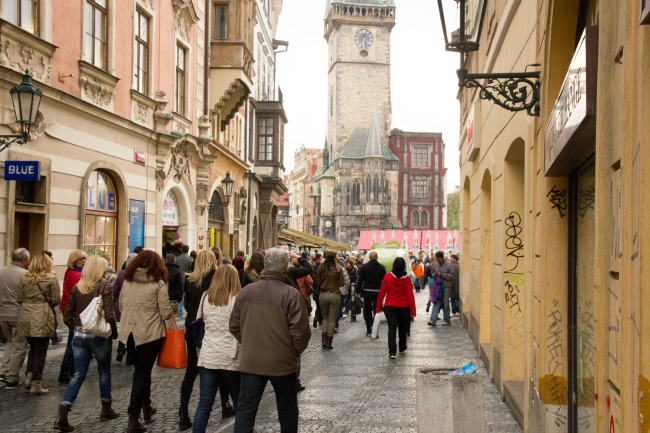 Maybe it was because it was Easter weekend, but the (cobblestone) streets of Prague were packed with tourists!
Touring the inside of St Vitus Cathedral and being in awe by its size and the importance of some of its treasures. We also enjoyed exploring the other buildings on the Prague Castle grounds, including the Old Royal Palace.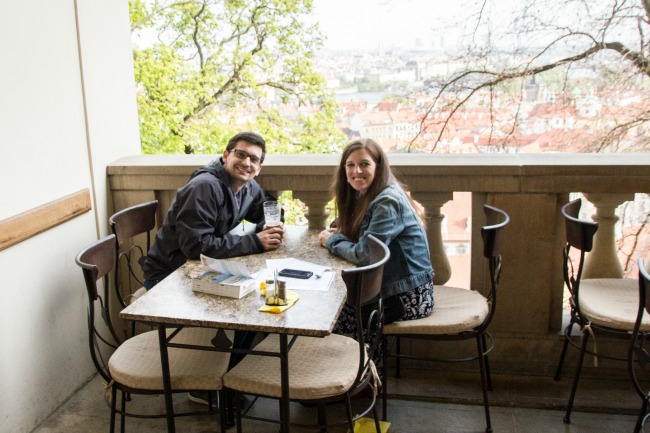 We ate lunch enjoying the views and overlooking the Charles Bridge! It was fantastic.
Walking around the Old Jewish Quarter (and being inside the synagogues) and learning more about Jewish culture than I ever knew before. The Pinkas Synagogue was one of the more moving sights of our entire trip. Written on the interior walls of this synagogue are the names of about 100,000 Jews who died in the Holocaust. We weren't allowed to take pictures of this, but it was quite chilling, to say the least. This is especially true since many of these people died at Auschwitz, which we had seen about a week earlier. There was also art work done by children in the Jewish Ghetto before they were transferred to the death camps… it was just so sad, but it definitely made an impact on us and I'm so, so glad we spent time in that part of the city.
Seeing the Old Jewish Cemetery. I love a good cemetery and this one did not disappoint! Another highlight of the Jewish Quarter was seeing the cemetery, which is where Jewish people were buried from the 13th-18th centuries in Prague. Since they didn't have very much land to bury the bodies, the bodies are actually about 8 deep, so even though there are only 12,000 headstones in the cemetery, researches suggest there are actually 100,000 Jewish people buried here. Fascinating!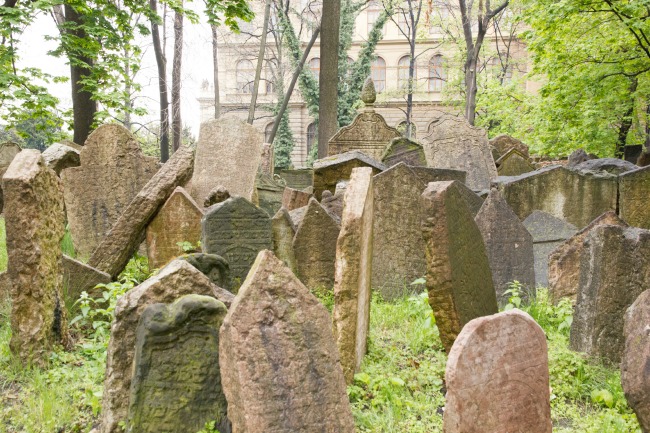 Old Jewish Cemetery… see all the jumbled headstones.
Crossing the Charles Bridge as many times as possible, along with swarms of other tourists.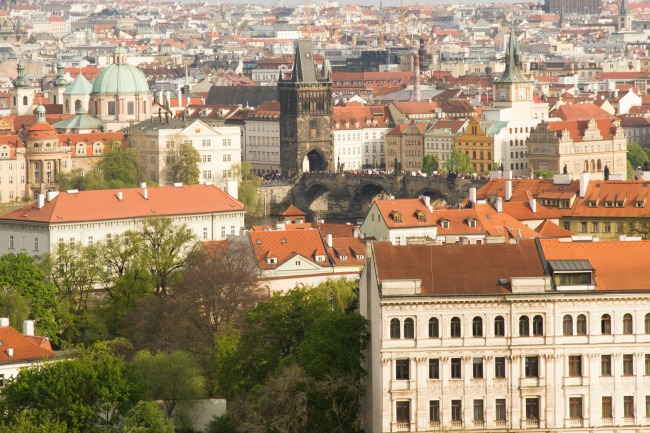 Can you see the bridge and all of the tourists walking along it?!
Holding hands and walking around at night. Prague is a gorgeous city at night and we took full advantage! Plus, we enjoyed great weather there so it was perfect for grabbing a gelato and seeing the city sights all lit-up once the sun went down.
Meandering through Old Town Square and seeing all the stalls set up and eating sausage… The square is a beautiful part of Prague and it was filled to the brim with vendors selling all sorts of deliciousness! The Husband enjoyed sausage while I snacked on doughy treats.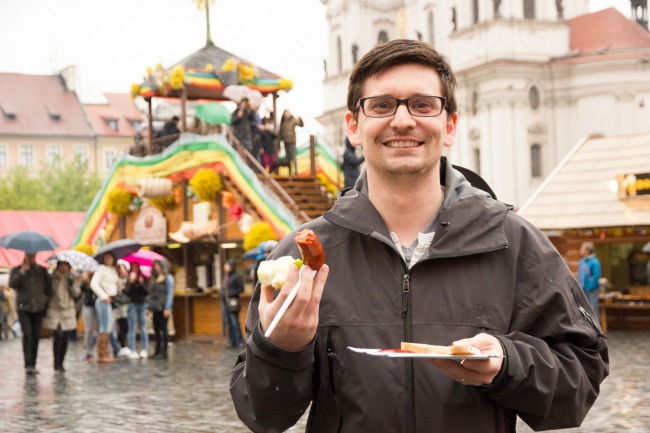 Evidently you don't put the sausage on the 'bun', instead you take a bite of sausage, then take a bite of the bread.
Taking advantage of the exchange rate. Prague was the cheapest country we visited on the trip, because the dollar is stronger than the Koruna. This meant we ate (especially) well, and for not much money!
Do you know what my favorite part was not…?! Leaving. I almost cried when we had to pack to go to the airport. Seriously. I had such a great time on this trip and it was very, very necessary.
If you ever get the chance to visit Prague… just do it. Seriously. And of course, let me know if you are planning a visit and have more specific questions! I'd love to help!
Cheers!

( Bloglovin' | Twitter | Pinterest | Instagram | Facebook )