I had big plans for this weekend. I didn't have many 'actual' plans, so I was going to do many, many productive things. I was going to install a new blog design, go shopping for maternity clothes, maybe get my hair cut, do my nails, etc etc etc.
Big plans, people.
This is what actually happened:
// On Friday, the Husband and I went to my brother-in-law's college lacrosse game. It was the first time I had ever seen one and it looks like quite an aggressive sport! It was a beautiful day and it was nice to spend it in the sunshine.
Ah, sunshine. You warm my heart.
// I proceeded to fall asleep at 8pm that night. And I slept until around 10am on Saturday. I don't know if third trimester (pregnancy) fatigue is a thing, but for whatever reason I was exahusted.
// I went to barre class (at Pure Barre) on Saturday morning and it was wonderful to get my body moving again. I'm feeling stronger and stronger, which is wonderful after taking so many weeks off of exercise during the first trimester and well into the second.
// My mom came into town that afternoon and (together with the Husband) we looked for cribs at Buy Buy Baby. We didn't find anything suitable, so the search shall continue another day.
// The three of us met up with my brother and we went to Karyn's on Green for a wonderfully vegan (and healthy) dinner. I really enjoyed the restaurant and we will for sure be returning.
// The Husband and I went a little outside of the city to a bar to celebrate my college roommate's 28th birthday. Wow, I feel old even typing that…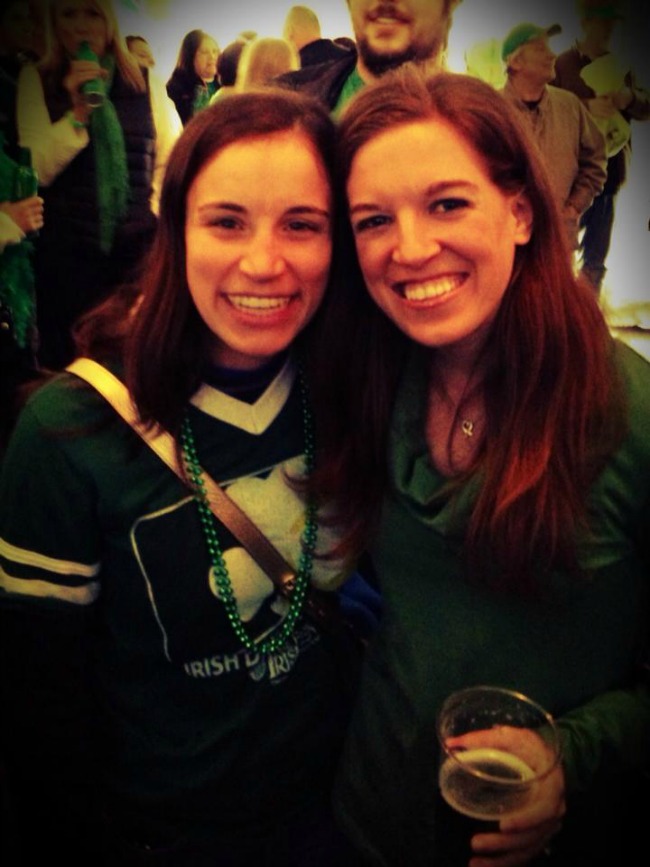 Happy birthday, Deanna! I'm so thankful for the 10 years of friendship we've enjoyed!
// On Sunday morning I went to prenatal yoga class at Bloom Yoga Studio. If you are pregnant and not going to prenatal yoga, you are missing out, my friend! The further along I get in this pregnancy, the better I feel during class.
// We watched the Blackhawks win game 6 (and therefore the series) over the Blues. Round 1 of the NHL playoffs are in the books, and we live to see another day/game!
// I caught up on reading blogs and cleaned up my inbox and responded to a few emails and basically got my technical world under control.
// I began Hypnobabies self-study, which is going to take quite a bit of time to do every night, but I think it will be very, very worth it.
// I wrote in my pregnancy and regular journals.
// I went to sleep before midnight, ready to start a new week!
… Which just goes to show that the best weekends are sometimes completely unscripted and happen out of necessity rather than planning.
My weekend was quite wonderful.
I hope you enjoyed a similarly awesome weekend full of sunshine and everything happy.
What were you up to during this last weekend of April?!
_____
Oh, speaking of sunshine and happiness… summer is approaching and I'm participating in this giveaway that I hope you enter! :
_____
Cheers!

( Bloglovin' | Twitter | Pinterest | Instagram | Facebook )