It's so strange to think that a month ago I was already anticipating this post, because I was anxiously waiting to see what July was going to have in store for our family. I mean, I knew we'd be having a baby, so that part wasn't really a mystery, but everything else sure was!
But before I get ahead of myself, in case you missed our other monthly recaps…
In July we…
Walked

Waddled around our neighborhood quite a bit to get 'Bumpy' to move on out of my uterus. We also had sex, but we all know that didn't work.
Both worked from home and enjoyed some extra time with just the two of us.
In my free time, I booked (and went to!) acupuncture appointments, massage appointments, chiropractor appointments… you get the idea. None of that worked, either.
Went to a friend's BBQ to celebrate the Fourth of July.
This was our last family-of-two picture taken – still 9 days before Clara was born!
Watched the fireworks on the Chicago lakefront with great friends. They were beautiful, per usual (the fireworks, that is, although our friends looked pretty great, too).
Said 'hello' and 'goodbye' to

our

Clara's estimated due date. It turns out that doctors aren't so great at predicting those types of things.
Went to more than our fair share of doctor's appointments once we reached and surpassed the 40 weeks pregnant milestone.
Ate dinner (with my family) at the Chicago Diner, which will always have a special place in my heart because they have the best milkshakes ever and they just-so-happen to be vegan!
Welcomed Clara Jane into our family. We found out she was a (beautiful) girl and that her birthday will forever be July 13th – which were the two biggest mysteries of my last 9+ months – SOLVED!
Entertained lots and lots of visitors, both in the hospital, and at our home.
Continued going to church group and church every week, in hopes of keeping some normalcy in our routine and also to remind ourselves where the focus should be in our lives/relationship, even though it's easy to get distracted during pivotal life events.
Spent time with each other, with family, with friends, with Clara, and really just filled our lives up with as much love as we could handle! I can't believe the amount of people we saw in July – what a blessing!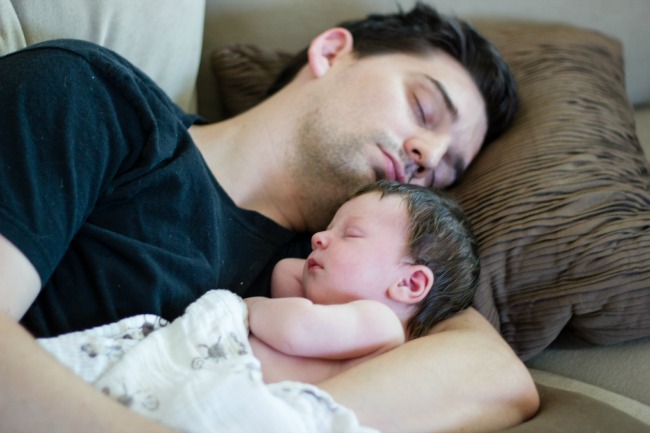 A lot of our time was spent watching Clara sleep. She's just too precious!
Finally went to DQ so I could get the S'more Blizzard I've been craving ever since I heard it existed.
July was truly a month to remember, that is for sure!
Cheers!

( Bloglovin' | Twitter | Pinterest | Instagram | Facebook )