We're marching our way through 2014, and it's going by way too quickly for my liking. (This would explain why we're over a week into September and I didn't realize it… whoops!)
If you missed them (or are a relatively new reader here) you may want to check out the recaps for:
January / February / March / April / May / June / July
In August we…
Started feeling more competent as parents, even though at any given time we had some form of bodily fluids on us (from Clara, of course). After the first four weeks, parenting got a bit different around here. Clara started being awake more and that made life more fun and challenging for us in the month of August!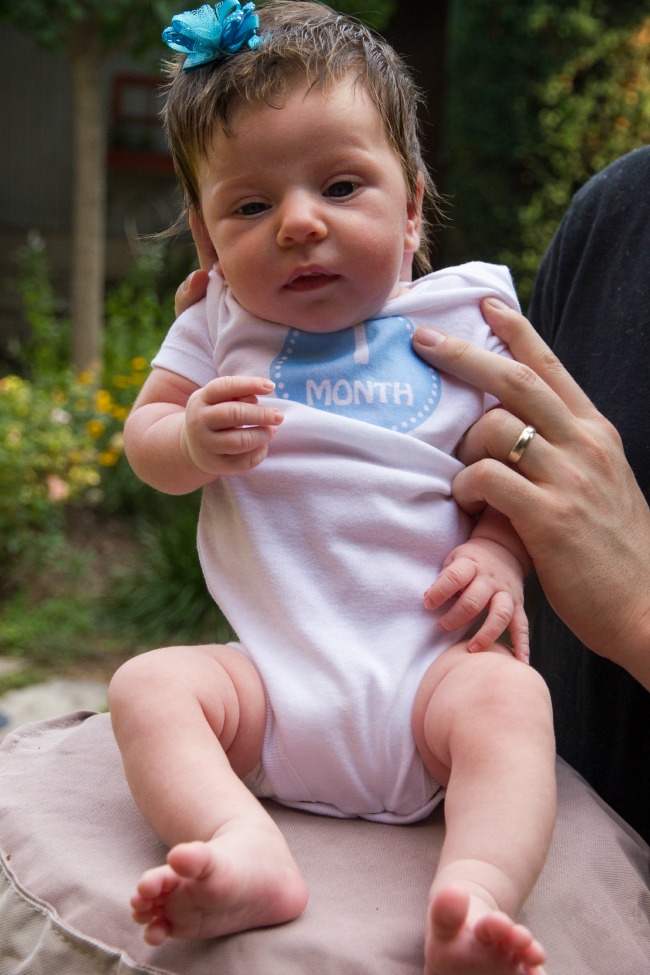 Clara turned one month old in August!
Spent time with relatives visiting from out of town. Tim and I are blessed with large families so it seems like there's always someone to introduce Clara to!
I went jogging for the first and second times. I assure you, it wasn't pretty – at all. BUT, I absolutely loved having an opportunity to get out of the house and enjoy some time by myself. I ran/walked a few miles one day and ran a full 1.5 miles the next time. This is another reason I hate this c-section recovery, my incision still freakin' hurts and I'm still not as mobile as I want to be. I just want to be able to run a few miles, darnit.
Went out for drinks with Clara in tow. We finally decided to take advantage of the fact that I started feeling better and Clara continued to sleep for large periods of time, so we could easily take her with us on some dinner and drink dates with each other and with friends.
Continued attending our church small group and enjoying the fellowship of other couples.
Rode bikes for the first time (together) all summer. We rode to a park to eat dinner (BBQ) with friends, and I felt such a sense of freedom from riding around and from being away from Clara for a while.
Finished watching all episodes of 'Modern Family' and 'House of Cards'.
Tim started CrossFit and is on a mission to become super-buff. I can't say I'm disappointed!
Took Clara with us to a park to watch 'Catching Fire' with hundreds of others of Chicagoans. (Well, basically Tim and I went on a movie date and Clara came with us. She wasn't really interested in the movie.) One of my favorite things to do in the summer in Chicago is to enjoy a nice movie in the park while drinking a beer and snuggling with my husband. This time, we brought Clara along and she quite happily hung out the whole time. She barely made a peep and stared at us the entire time and it made my heart incredibly happy that we had such enjoyable family time.
Met with our doula for a postpartum visit. I'll write a post later on why I'm so incredibly glad that we had a doula with us during our pregnancy journey, but the postpartum visit was especially nice because we were able to talk about the difficult labor and delivery and she was able to fill in the gaps of what I remember. Also, she reassured me that with everything she knows and heard, she doesn't think it will be impossible for me to VBAC in the future. Yay!
Booked our first trip that we'll be taking in a few weeks with Clara – Portland, Oregon… here we come!
Watched the Air & Water show from an amazing penthouse (roof) downtown. We stood on the roof and drank beers and conversed with other people and watched children run around and squirt each other with water guns and hoses… it was a truly urban 'backyard' experience.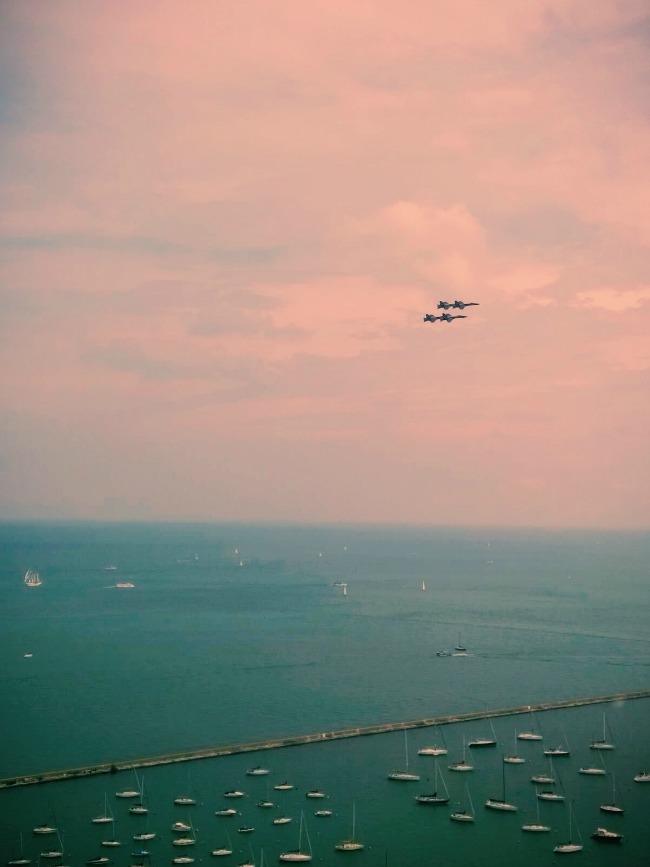 (To follow along with our month in real-time, I recommend following us on Instagram.)
In September we're looking forward to a trip to St. Louis for my best friend's wedding, time outside, spending time with family and friends, and enjoying new adventures as husband/wife and father/mother.
Cheers!

( Bloglovin' | Twitter | Pinterest | Instagram | Facebook )