*This is not a sponsored post, I just love this too much to not tell you about it.*
Something you may not know about me: I have no loyalty when it comes to workouts and/or gyms.
Once upon a time I was a runner. I ran in junior high, high school, college, then I ran marathons, then I got burned out.
I switched over to boxing (I only hit heavy bags, not people!) with a bit of yoga sprinkled in.
Then I decided Crossfit was for me, until I got halfway through my pregnancy and then I called that quits, too.
Then I moved on to barre classes and prenatal yoga until I got too pregnant to move easily.
I was always annoyed with all of these gym options for one reason or another. Either the gyms/studios were expensive or the schedules weren't right or I'd get bored of a certain type of workout… And drop-in class rates in Chicago are really expensive – about $20 per class at least, so I rarely tried out new studios. Plus, a few years ago I traveled 100% of the time for work, so I was constantly spending a ton of money to be a member at gyms/studios that I could only use on the weekends.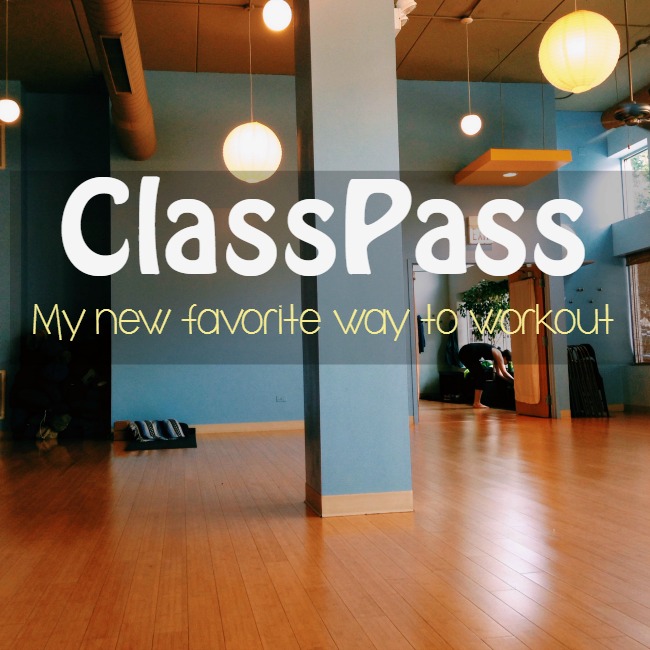 Well, problem solved my friends, because ClassPass just came to Chicago, and it's already in a bunch of other cities including:
Atlanta • Austin • Boston • Charlotte • Columbus • Dallas/Fort Worth • Denver
• Houston • Los Angeles • Miami • Minneapolis/St.Paul • New York • Philadelphia
Phoenix • Portland • San Diego • San Francisco • Seattle • Washington DC
Basically, I pay $99 per month (in some cities it's only $79) and I can go to an unlimited number of classes from hundreds of studios in the area. The only restriction is that I can only go to three classes at any one studio per month. If I was still traveling for work (seriously, where was this plan when I traveled every week for my job!?) I could go to any classes in that city, as well, assuming ClassPass was there, of course.
Well, this might be the best thing that's ever happened to my workouts.
ClassPass has forced me to get out of my comfort zone and try new things, while also allowing me to visit some of my favorite studios that I already knew I loved (Pure Barre)! Either at night or in the morning I go onto the app or website and filter the classes to what I'm interested in for the next day or so. I look by times and locations and type of workout (I usually stick to barre or yoga for now, but that will change in the future).
There are so many class options that I actually feel really guilty if I don't sign up for something. Then I register for a class, go to the class, and get my sweat on!
I really can't emphasize enough how excited I am about this. I've only been a member for a month (and over the holiday season, too!) and I've tried out 4 new gyms and gone to 7 classes. I think next month will be even more productive, though.
For those of you who like lists, here are my pros & cons.
Things I Love:
There are a ton of studios that are participating in ClassPass.
The price is substantially cheaper than an unlimited month at almost any of the participating studios.
I've found some classes that I absolutely will return to.
I can try out a new class for 'free' and not feel like I'm wasting money if it's just not my thing. (This hasn't happened to me yet, though).
Their website/app make it super easy to see all the classes available in a specific area of Chicago, or at a certain time in all areas of Chicago, or just a complete list of all yoga/barre/pilates/etc classes happening that entire day… basically I can shop around for classes that completely fit my schedule that day.
This has forced encouraged me to get out of my comfort zone!
Things I Don't Love As Much:
If you won't be attending a class you need to cancel your registration 24 hours ahead of time or incur a $20 fee. While I understand why they do this, it's hard for me to predict if I'll be able to go to a class, since my mom schedule can change at a moment's notice!
Class sign-ups must happen at least 2 hours in advance, so deciding to go to a class last minute just isn't possible.
$99 is still more expensive than a 'typical' gym membership. However,

(I personally think this price is well-worth what I'm getting. If I had used the drop-in rate for the classes I went to, I would have paid $155 instead of the $99 I paid for ClassPass. Win!)
I highly encourage you to try this plan out, I don't think you'll regret it! Plus, if you sign-up by January 18th, you can get $50 back (and I can, too, if you use
this link
).
I'm going to write another blog post on the various gyms I've tried out this past month or so and what I thought of each of them, but until then…
Happy sweating!