It's Sunday night and I'm stuffing myself with leftover Thai food and my baby is in bed and my dog is cuddled next to me and Tim is on his laptop watching some TV show. Life is good over here! But this post is really about last week even though now we're technically into next week which makes it this week… Gosh, procrastinating can really make things confusing.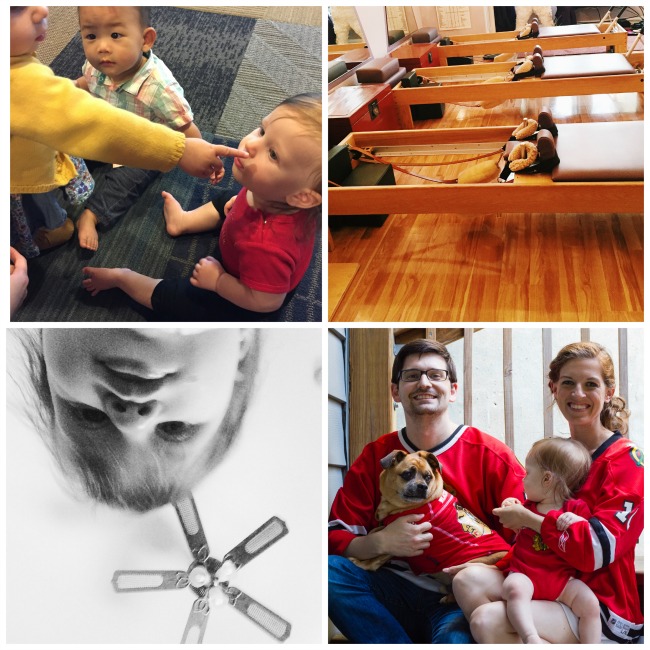 This Last Week In Photos:
The babies in our small group are so interested in each other now that they're getting older and increasingly mobile and realize other little babies exist. So stinkin' cute.
I've recently started going to the occasional Pilates class and I enjoy it! Sometimes I take the equipment classes (which really intimidated me at first) and sometimes I take the mat classes.
Clara isn't allowed to play with my phone, but when her uncle comes over to visit, she's allowed to take as many selfies as she wants.
The Blackhawks are in the Stanley Cup Finals which means everyone is wearing Hawks gear in Chicago! I love it.
Worth Reading:
// "We value things differently thanks to the Internet, a magical thing that allows us to research, source and acquire things almost instantly. With so much on offer, the end game is not to simply own the thing, but to actually do something with it. Everything starts to boil down to the experience itself. We might even take a nihilistic approach to the things we own. What's the point in owning all this stuff. We're just going to annihilate ourselves via climate change anyway, right?" (here)
// "Online wedding site The Knot reports that the average wedding in the US costs a whopping $31,213 in 2014, not including the honeymoon. According to the Slate calculator, eloping with an equivalent investment instead would have practically doubled that sum in five years, to $63,911." (here)
"As a country, couples living in Mexico stay together for about 12 years on average. However, recent studies have shown that most couples are breaking up within two years of matrimony. To remedy this, many Mexican lawmakers suggested temporary marriage licenses in 2011, so couples have an easier time with their likely divorce." (here)
// "'Did they do it standing up? Did they squat? These are good questions, but all we've got is speculation,' says John Long, paleontologist and author of The Dawn of the Deed: The Prehistoric Origins of Sex. 'The biomechanics of a big dinosaur like that indicate that they were quite capable of squatting.'" (here)
// "People have always loved eating, and photographers have long recognized the inherent beauty of food. But smartphones with pin-sharp lenses and apps that make editing as easy as swiping and tapping turn anyone into a food photographer. There are more than 178 million photos tagged #food on Instagram and 56 million tagged #foodporn. People are obsessed with photographing what they eat, something professional chefs are catering to—and learning from." (here)