Well I've been putting off this 'announcement' for a bit of time until it became official, official (meaning that the paperwork had been signed and our families had been informed and the dates had been set…)
But all of that has been finalized so now I'm happy to share that Tim and I (with Clara and Ozzie, of course) are moving to Seattle!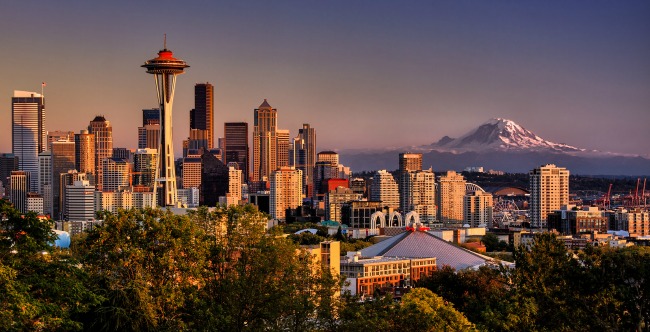 We'll be leaving Chicago in a week. Yep, one week.
This has all come about fairly suddenly. Tim started applying for jobs a while ago and the interview process took weeks, but once a job offer was extended, we were basically given two weeks to pack up and move across the country. Gulp.
Of course, I have a lot of feelings about this whole thing. Lots and lots of feelings. Mainly, I'm excited because I love change and the thought of a new adventure. Tim and I have lived in Chicago for our entire relationship, and it will be fun to live in a new (and very different) place. Actually, Tim and I have lived in the Chicago area for practically our entire lives, so this will be really different for us. On the flip side, I'm sad to be leaving our great community in Chicago, including most of our family members.
Plus, I love Chicago. It's absolutely one of my favorite cities in the world and I've been extremely fortunate to be able to call it 'home'. It's definitely going to be a bittersweet farewell.
There are a lot of logistical things we're still trying to figure out (like where we're going to live and other minor details), and a million appointments and things we need to do before we officially zip our suitcases and head to the airport. Not to mention all of the goodbyes we need to say… That's all going to be tough stuff, so keep us in your prayers!
But, more excitingly, if you live in the Seattle area or know people who do (especially awesome people), I would love to hear from you! Tim and I really don't know a soul out there… well, Tim knows a handful of souls and I know no one, so I would love to have a head start in knowing people I can grab a coffee/meal/martini with!
Phew, I'm glad I've gotten this off my chest… Tim and I have seriously been talking/thinking about this move for all of September and it's been impossible to write blog posts and not mention it. Hence the lack of posts in general.
I'll be better this month. Probably.
Except that we move in a week so I guess I shouldn't promise anything.
Or I'll be posting all of the time because I'll be friendless and stuck in my apartment with a toddler all day and night and this could become my only outlet… 
Three cheers for a new adventure!