This is the first Christmas that Tim and I will be celebrating alone! At home! And by 'alone' I mean "alone" with our two small children and dog.
When we lived in Chicago we spent Christmas Eve and Christmas running around between our house and our parents' houses to see everyone and hand out gifts and eat cookies and spend quality time.
Last year we traveled back to the Midwest for the holidays and did much of the same.
But this year it's all just too much. Traveling all day with 2 small children across a few time zones just seemed like too much trouble for this season. It will happen again in future years, but not this year.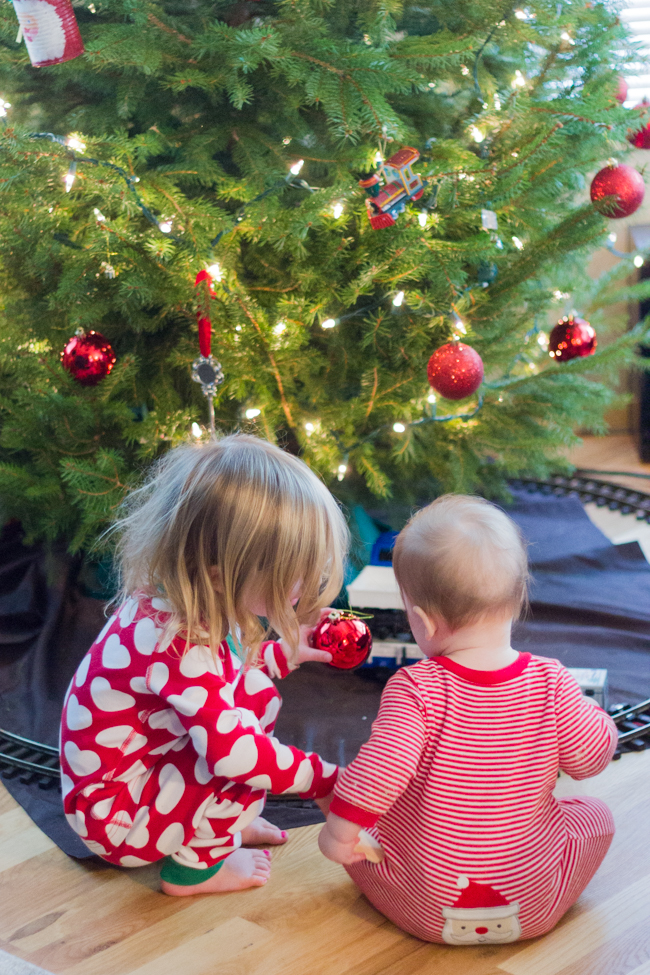 Clara instructing Isabelle how to take ornaments off the Christmas tree. And probably other important life lessons.
This Christmas I'm hoping to spend some time in the snow (mountains!) with my family. And maybe drink some hot chocolate. And listen to Christmas carols. And open a few presents. And take things just a bit slower.
This weekend will be our own little winter break, which is needed after the hustle and bustle of the last few weeks dies down! All of the waiting in lines at the post office and grocery store and running errands and taking pictures and addressing/sending cards and seeing all of the things… after all of the holiday busyness is over we're left with nothing to do but attend Christmas service at church and spend quality time with each other, and of course make a few Facetime calls to loved ones.
I love the holiday season, but now I'm ready for it to wind down. (As long as everyone keeps up their Christmas lights – they're so pretty! Oh, and if Starbucks keeps the holiday spice flavoring for my flat white!)
I hope you're enjoying your Christmas Eve Eve!