If you follow me on Instagram, you may have seen that we went camping this past weekend.
It was our first time camping since our honeymoon (where we spent 2-3 nights camping in the Serengeti), and obviously our first time ever camping with toddlers.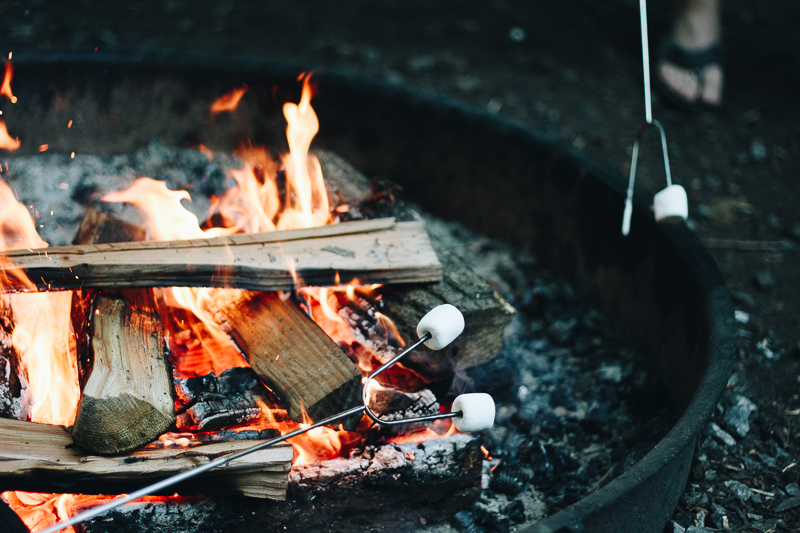 I tried s'mores with Reeses for the first time and my life will never be the same.
Oh what an adventure it was. Meaning, packing was horrible but once we got there it was absolutely wonderful.
I know nothing about camping. Nada. I had no idea what to bring or how many clothing layers we would need or what would make me comfortable or basically anything at all.
Food? What do vegetarians eat when they're camping?! No clue.
Luckily, we went with 5 other families who are camping pros, so they covered all of the main stuff. And, it turns out everyone in the PNW camps regularly, so I was able to easily borrow all of our gear from a friend. (I'm telling you, we are surrounded by a fantastic community here and we keep finding all of our needs met!)
Still, packing the morning of our departure was stressful and I vowed (yet again) to start packing for trips the night before. Crazy idea, I know.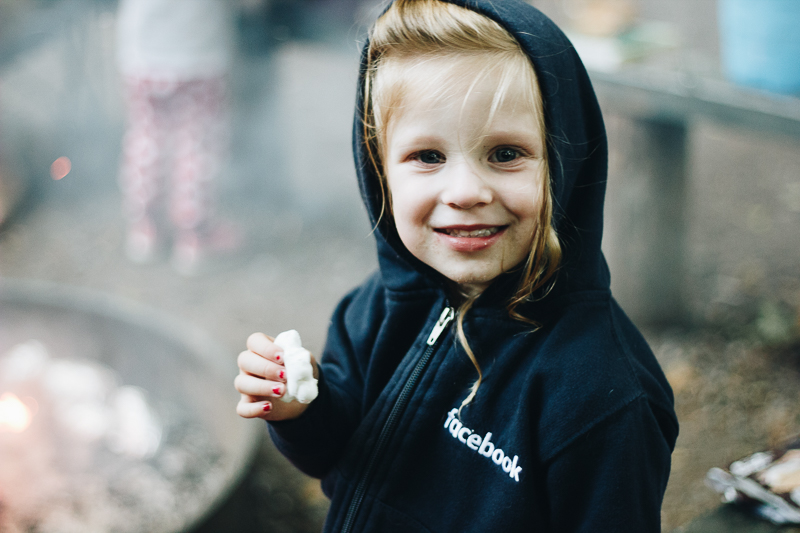 Marshmallows were her favorite part of camping. That, and the swings we hung at the campsite.
This past Friday we drove about 1.5 hours up north towards Bellingham, WA to Larrabee State Park for our camping adventure. We arrived, found the group camp site (highly recommended!), and the rest was a blur.
Fond memories of our first family camping trip include:
S'mores. So many s'mores.
Watching our babies crawl around in the dirt and love every second of it.
Playing on the beach. Our friends brought a paddleboard and Clara went out on it… I was so proud of her for being brave!
Eating delicious food. It turns out that even vegetarian can eat well while camping!
Good conversations around the campfire.
Hiking to Fragrance Lake (carrying a very-heavy Isabelle on my back).
Waking up at 5am with a wide awake Isabelle. Unfortunately no one else was up that early and I don't know how to make a fire nor coffee. It was the two longest hours of my life. I was cold and caffeine-deprived and hungry and alone with a baby who wanted to happily roll around in dirt. Sigh. Every time I heard another baby cry from inside a tent I was hopeful that another parent would come wandering out to join me, but nope, all of those babies went right back to sleep. Lucky other parents! But really, it was really peaceful in an uncomfortable sort of way.
Seeing our toddlers read to each other and swing in the hammock and run around outside all day long. It is really fun to watch kiddos thrive outdoors. My girls love being outside and to watch them in their element is a treat.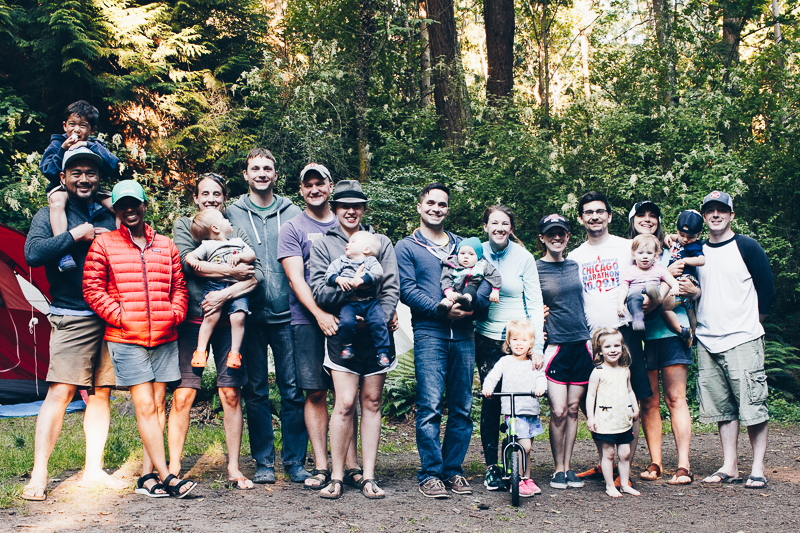 I should mention that the group we camped with was comprised of 12 adults, 8 kids (a 5 year old, almost-4 year old, almost-3 year old, almost-2 year old, 18 month old, two barely-1 year olds, an almost-1 year old, plus one baby on the way). And two dogs. Basically, it was toddler/baby mayhem. I'm surprised any of us got any sleep – but we did! Well, kind of. The first night I was freezing (I didn't borrow the right sleeping back for the cooler temps), so I only fell asleep after hours and hours of tossing around. But the second night a friend gave me his sleeping bag and I slept super-well! Lesson learned. Our kids all slept pretty well, too! Clara even slept in until almost 9am, when I finally woke her up. I think the fresh air definitely agrees with them, and honestly I was so worried that Isabelle would be screaming all night and that wasn't the case at all.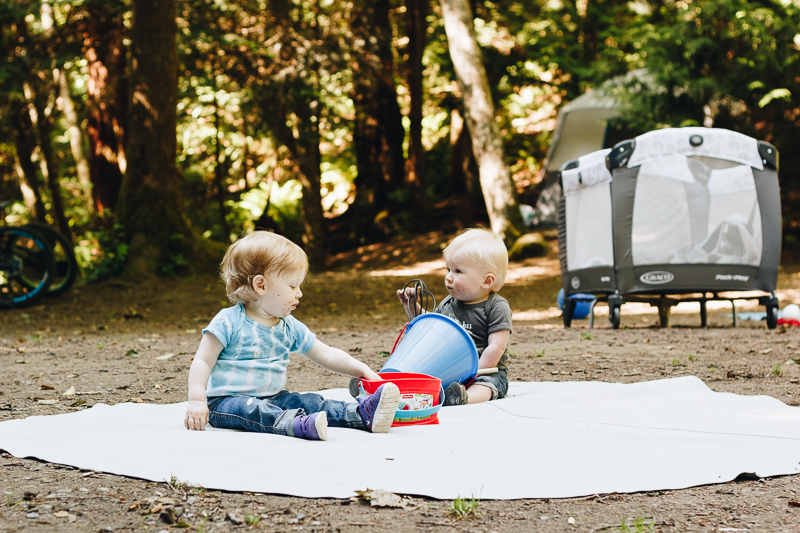 Camping was one of those experiences that I truly did not think would be worth it. In fact, whenever someone mentioned camping with babies I was like "WHY?!" It seemed like a surefire way to torture yourself. But now I know why people go – it is awesome.
Granted, I think the best way to camp with really young kids is to go with other families, because otherwise it would truly be a ton of work. For instance, I was able to relax a tiny bit while some parents cooked and other parents watched multiple kiddos. I can imagine if it were just Tim and I camping it would have been a ton of cooking, cleaning, setting up, and watching the kids… with barely a moment to just sit down. I appreciate that I truly felt like I could breathe during this camping trip.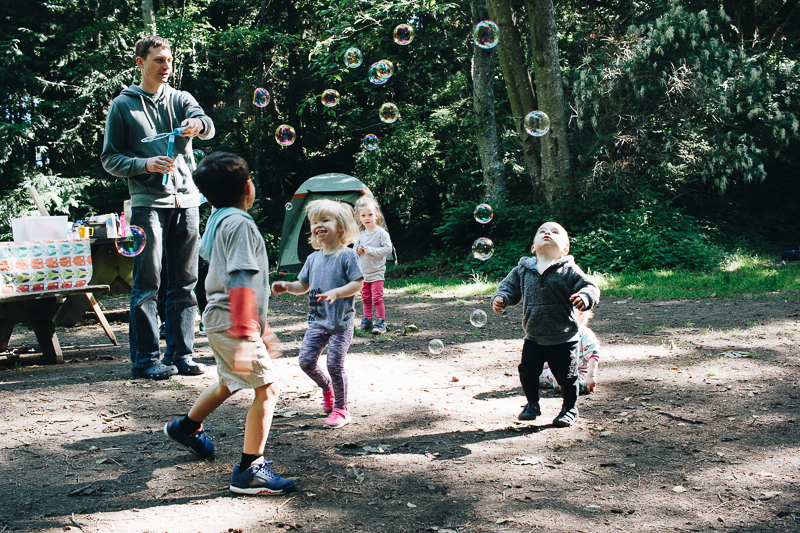 I'm going to write another post about more lessons learned and tips on how to camp with little ones, but I'm happy to report that this was one adventure that exceeded my expectations! I already can't wait for our next camping trip.
Now I'm off to research tents and sleeping bags so we'll be better prepared next time…