Mt Rainier has been on my bucket list ever since we moved to Seattle. Or actually, it may have been on my bucket list before we moved to the PNW. On summer days it can be seen in the background, overlooking the city of Seattle, and it is just stunning. Truly, she's a thing of beauty. I can't believe it took us almost 3 years to see her up close.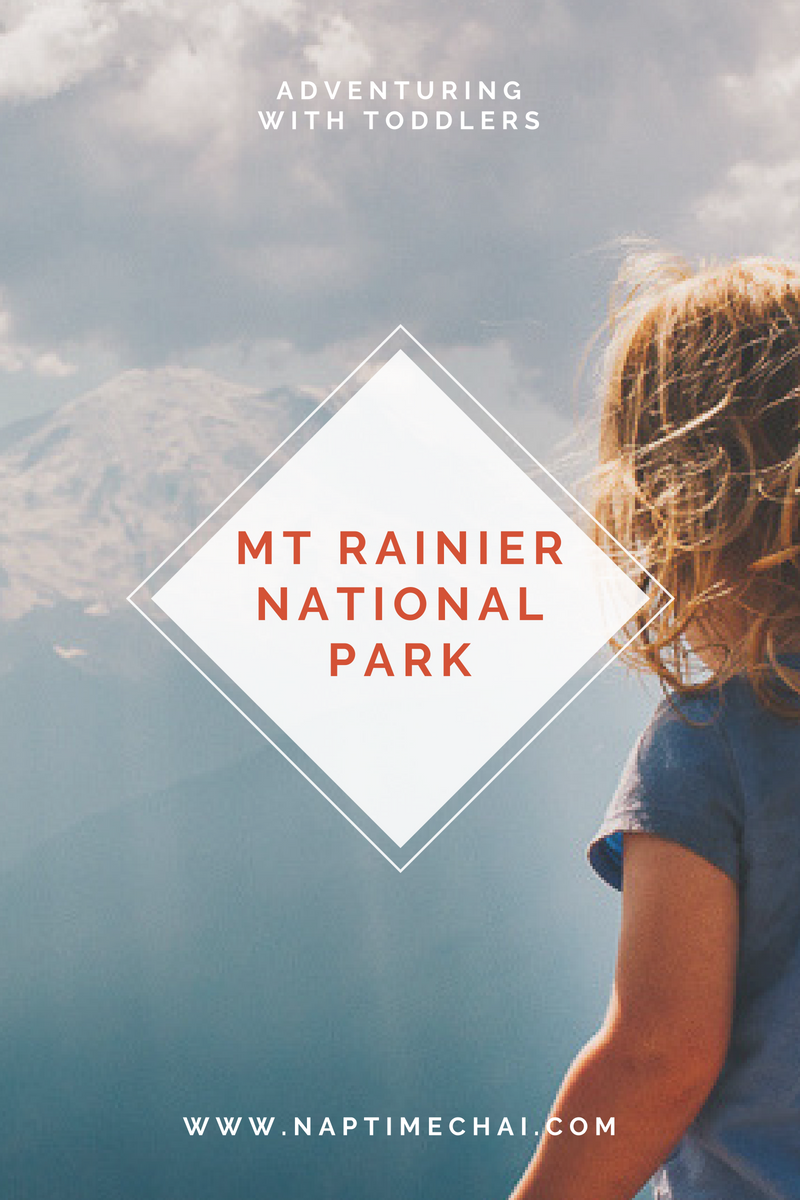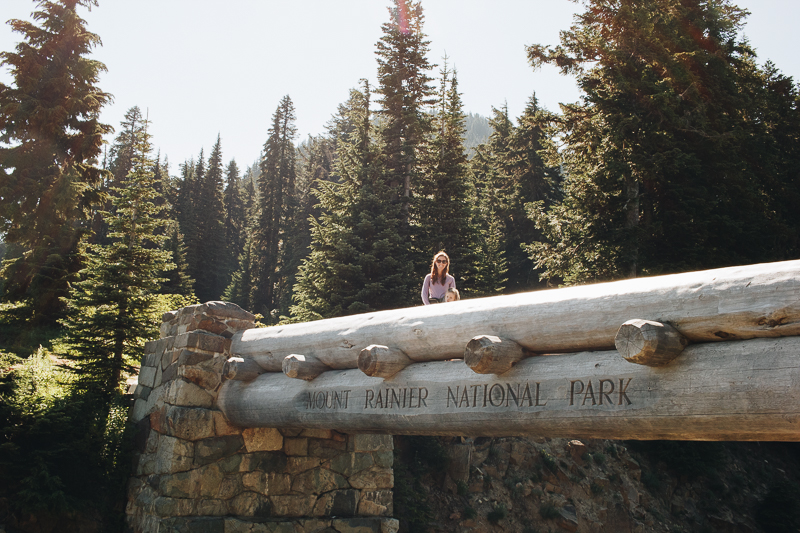 But this past weekend we went camping near the MRNP (Mount Rainier National Park) and it was every bit as fun as I thought it would be.
Here is what we did for a weekend in MRNP (with toddlers), should you decide to do something similar:
We stayed at Silver Springs Campground.

Pros: good location near hiking, running water, big camp sites, lots of trees and shade, great roads and paths to ride bikes on within the campgound, can bring dogs (because it's not in MRNP).
Cons: Located directly off a highway (that our particular site backed up to) – which means there was car noise, there are no hikes accessed without driving somewhere, it's not located in the actual park, no showers.
That all being said… I would definitely stay here again! We were in sites 53 & 55, and we fit three families/tents comfortably. And while we did hear road noise, it wasn't awful. There are some great tent spots near the river, but that made me nervous with toddlers… but something to keep in mind for next time!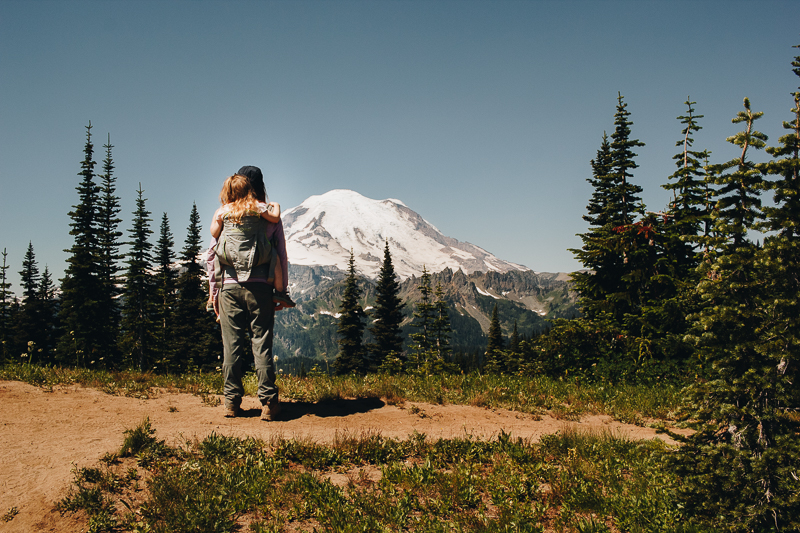 One morning we hiked Naches Peak Loop, which was an excellent hike for us! The little legs of our family only made it about a mile, but it was only a 3 mile hike, so it wasn't too bad to carry them the rest of the way. The only thing I will say is that the bugs were awful and I am still covered in mosquito bites. The views, however, made it very, very worth it. This is a must-do, in my opinion. (And as a plus, no pass is needed for the parking lot access at Tipsoo Lake!)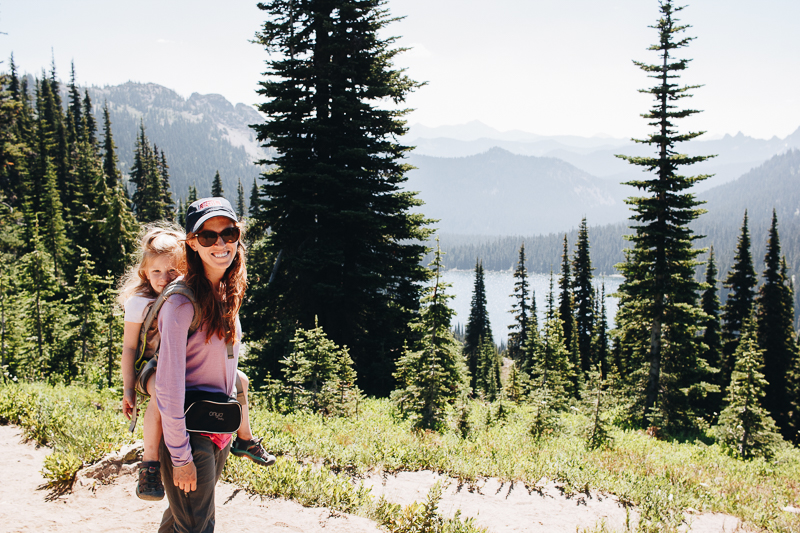 That afternoon we rode the gondola at Crystal Mountain. The girls absolutely LOVED the ride, but could not have cared less about the (gorgeous) view. At first I didn't think the price would be worth it, but we really enjoyed our time there, so I wouldn't hesitate to recommend it to others, especially if you have young ones and need an afternoon activity before dinner time!
The next morning we did the Sheep Lake hike, which was another great one! This hike was beautiful because some of it was on a ridge, and some of it was in a forest. Then, it ended at a beautiful alpine lake. The best part of the lake was that it had an easy entry for toddlers, and grass all around it! Sometimes alpine lakes are super rocky or have steep banks all around it or have too many trees to make it easy to get in. This, however, was perfect, albeit a little chilly! We brought our lunch and all had a little picnic before heading the 2 miles back to the car.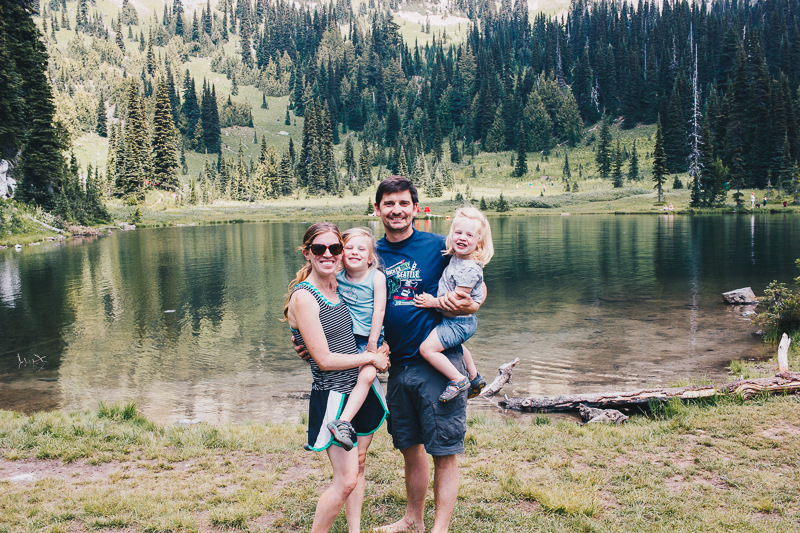 On our final morning near Mt Rainier, we drove to the Sunrise Visitor Center where we saw the mountain up close and personal, and had a picnic near the stunning views. We also went into the visitor center to learn a bit about the area. This drive was so pretty and I thought it was well worth the extra minutes it took to drive there.
Other info: It's about $30 per vehicle to get a day pass to the National Park, so we bought the America The Beautiful Pass which gets us into all national parks (I think?) and also is combined with the Northwest Forest Pass, which is a pass we use all of the time for hiking. If you live and hike in Washington, I strongly suggest you get the America The Beautiful Pass so you can get into Rainier National Park and the Olympic National Park.
I cannot wait to go back next summer and explore more of the hikes in that area!