If you live in the PNW, a trip to Bend, Oregon should be on your immediate travel bucket list. We've been twice, both times in November (for Thanksgiving), and have loved it. I feel like that's saying a lot, because the weather wasn't particularly great either time and November is definitely the shoulder season for Bend. In the winter there is skiing at Mt Bachelor (which I hear is fantastic) and in the summer there are evidently a bijillion things to do.
We'll be back during the winter & summer eventually, but even in the 'off season' we loved Bend.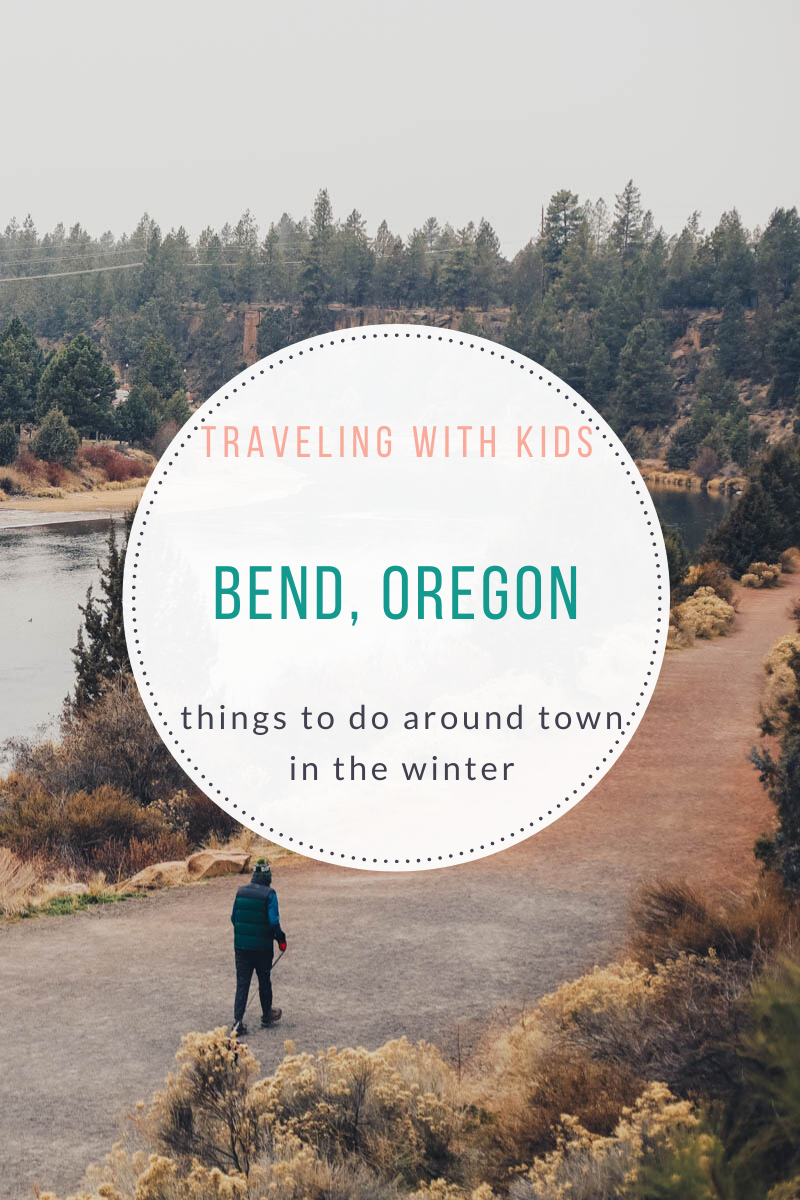 Here's What We Did:
+ Stayed at an Airbnb (use my referral link to save $55 your first booking to any Airbnb location!) in Mt Bachelor Village Resort.  Our unit was better than I had anticipated, with enough room to spread out and then some. We had three huge suites in our condo! The views of the river were fantastic and the location was great, plus there was a fireplace and a hot tub… when we return to Bend I'd definitely stay there again! (Tip: I checked VRBO and Airbnb for the same unit, and it was listed on both. Airbnb, for whatever reason, had the cheaper rate.)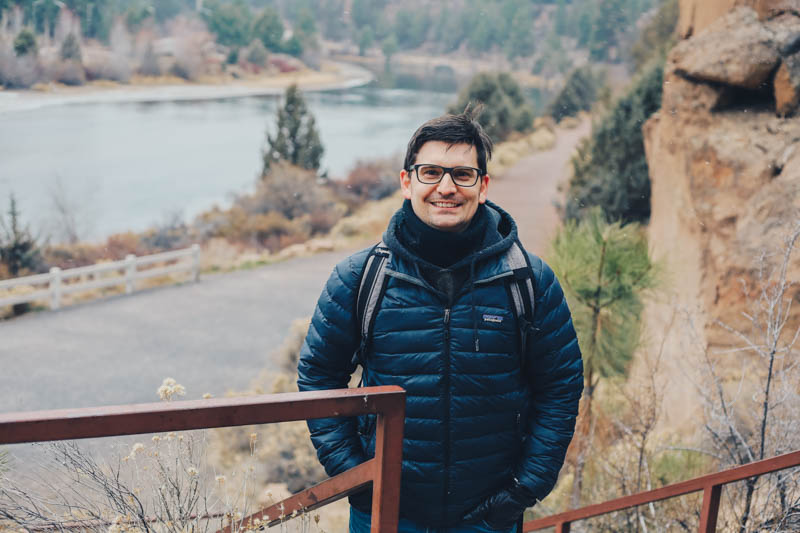 + Walked along the beautiful Deschutes River, ending up at Thump Coffee where we drank delicious coffee and warmed up from the cold! The paths along the river are great and go for about 12 miles. Even on a chilly day, there were a lot of people outside.
+ Explored the High Desert Museum. I highly, highly recommend this museum (with or without kids)! I learned a lot, and the kids had a blast. Don't miss the outdoor exhibits to see the birds of prey, otters, and family ranch. You will need a few hours to do this museum properly, so give yourself enough time there!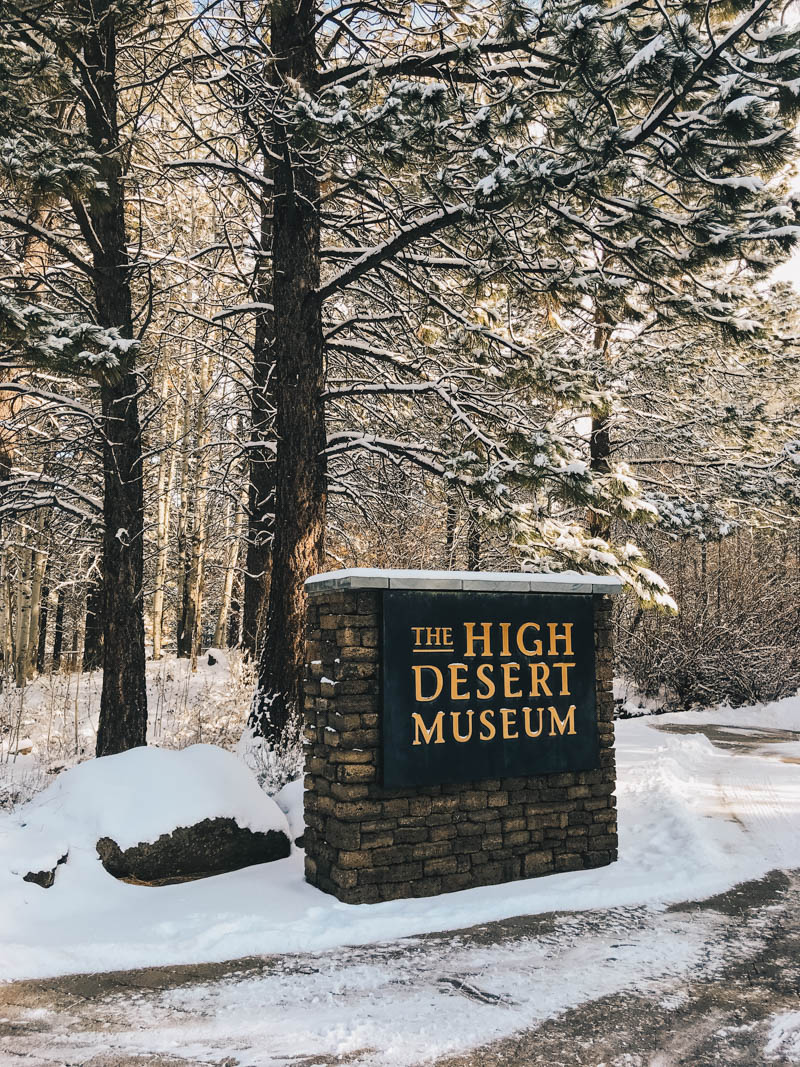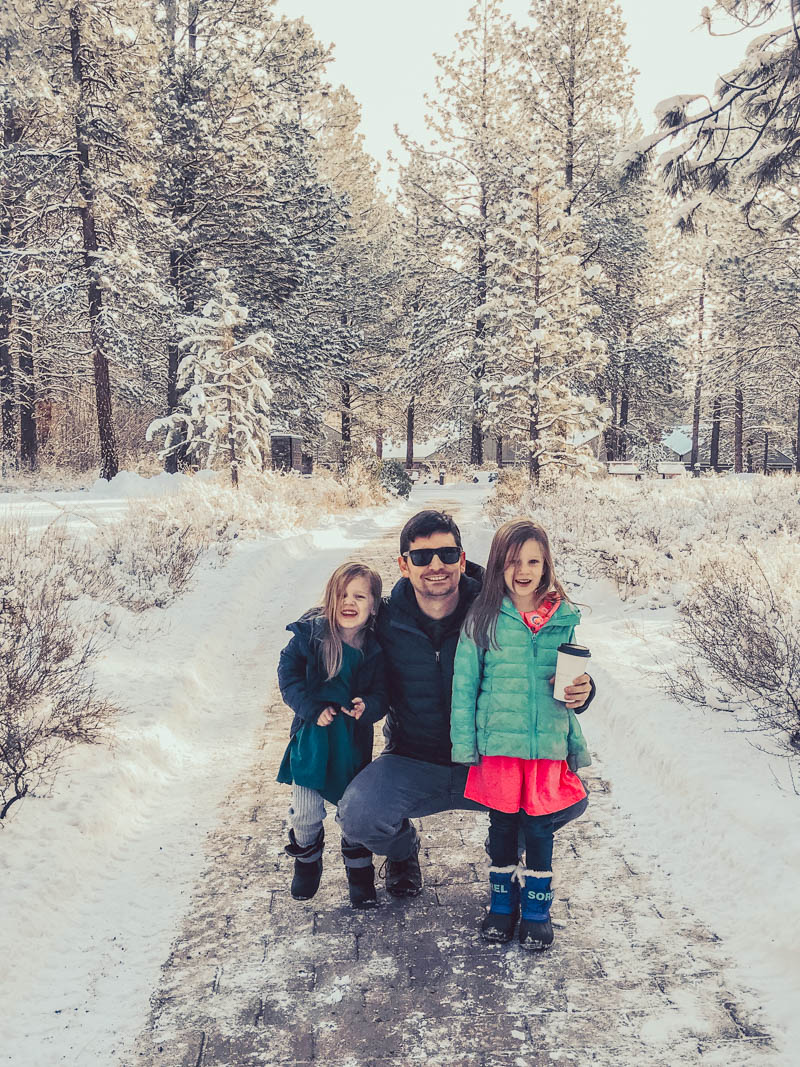 + Ate brunch (sans kids) at The Lemon Tree in Downtown Bend. The dirty chai was delicious and so was the salmon! While we ate there we were able to watch the snow fall outside the windows… it was magical! I wouldn't necessarily call this place 'kid friendly', though.
+ Shopped downtown at the local boutiques. I especially love REVOLVR Menswear for clothing for Tim. I always go there without him and pick up a few things for his birthday / Christmas.
+ Went ice skating at Seventh Mountain Resort. It is beautiful there! Trees, lights, fire pits, music, affordable prices (kids under 6 ice skate free and adults are $9 without skate rentals), and when we went it wasn't too crowded – BONUS. Last year we went to the ice skating rink at Sunriver, which we also loved, but I'd have to say that Seventh Mountain is my favorite. I love a good outdoor skating rink, and it's only 10 minutes outside of town! (Although, Sunriver has breweries right next door, so you can't go wrong with either place.)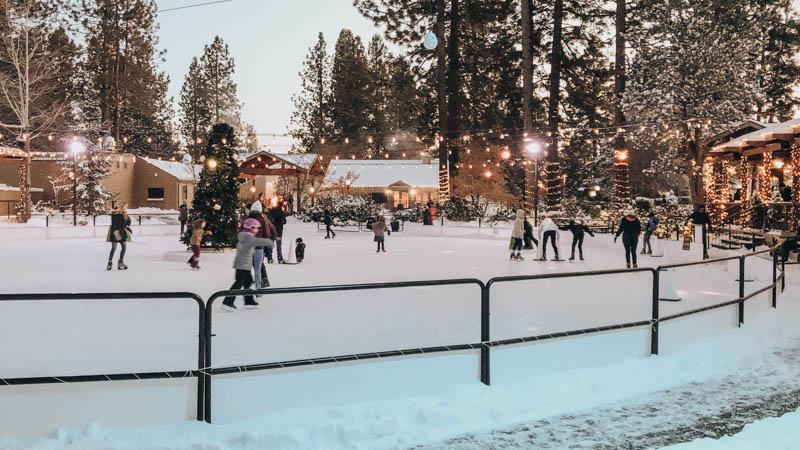 + Took the kids sledding near Pine Ridge Elementary School. We knew there was a sledding hill near there, so we drove to the school and creepily followed asked kids with sleds where to go to find the hill, and there it was, tucked in the middle of a really pretty neighborhood. There were a lot of kids sledding and everyone was so happy… I love the first big snow of the season, and evidently the kids in Bend felt the same way! We could have stayed for quite a bit longer, but Phoebe was not thrilled about missing her nap so we cut our adventure a bit short. For a short hill, I highly recommend that location!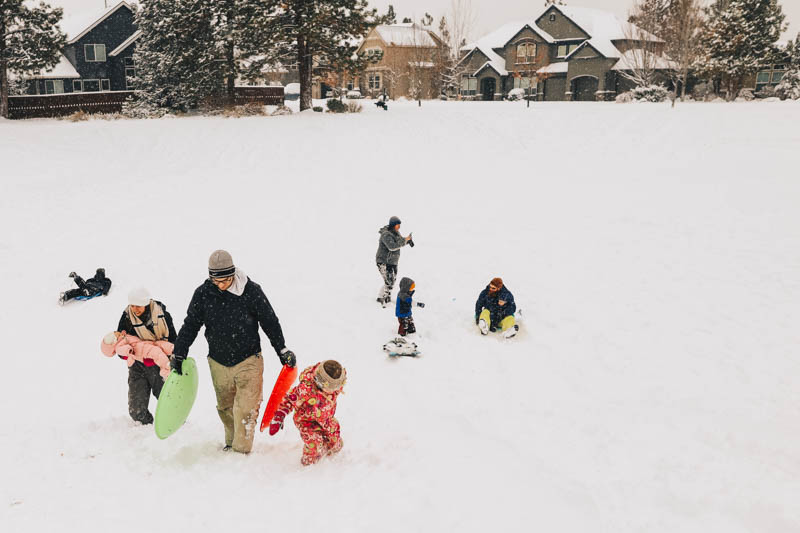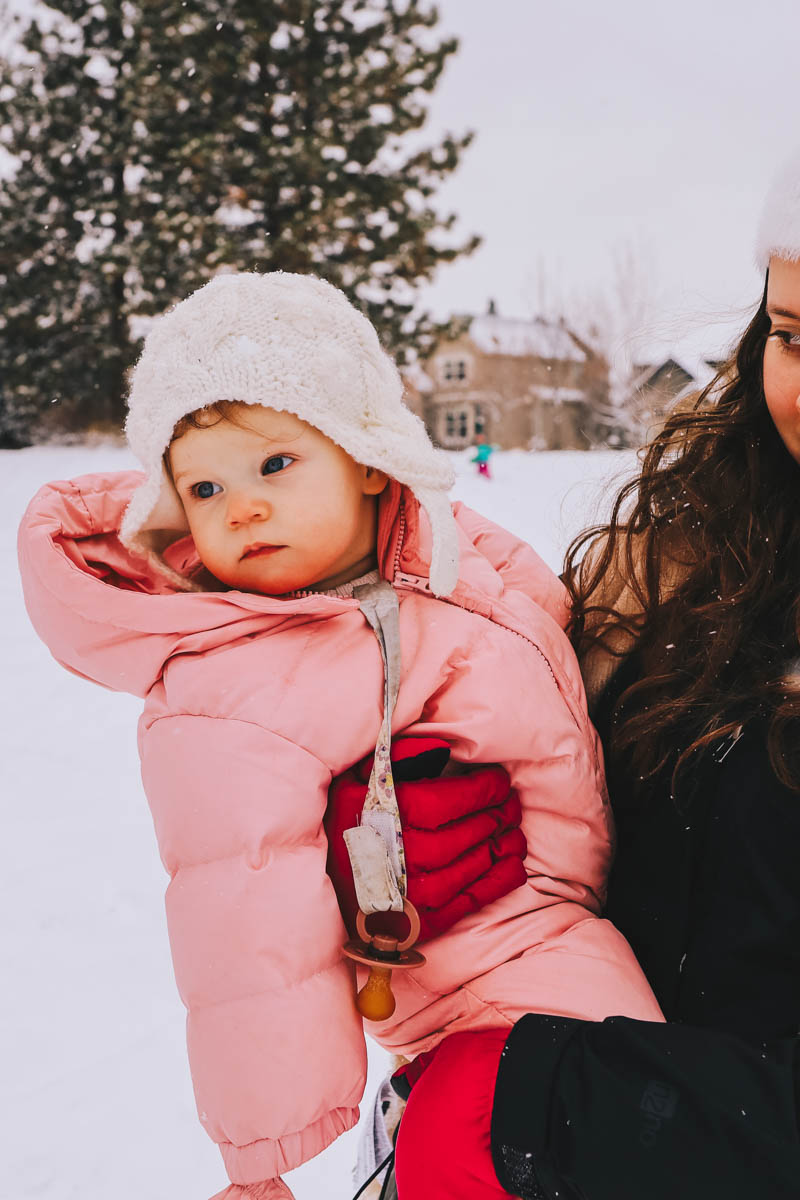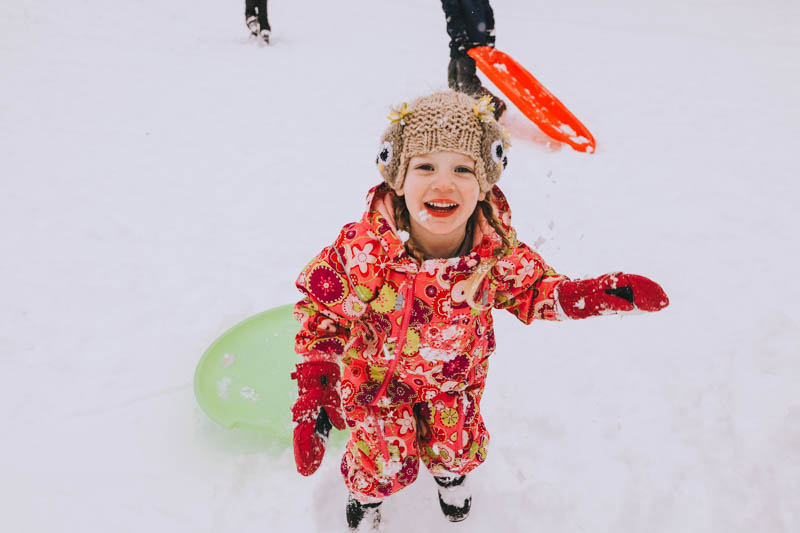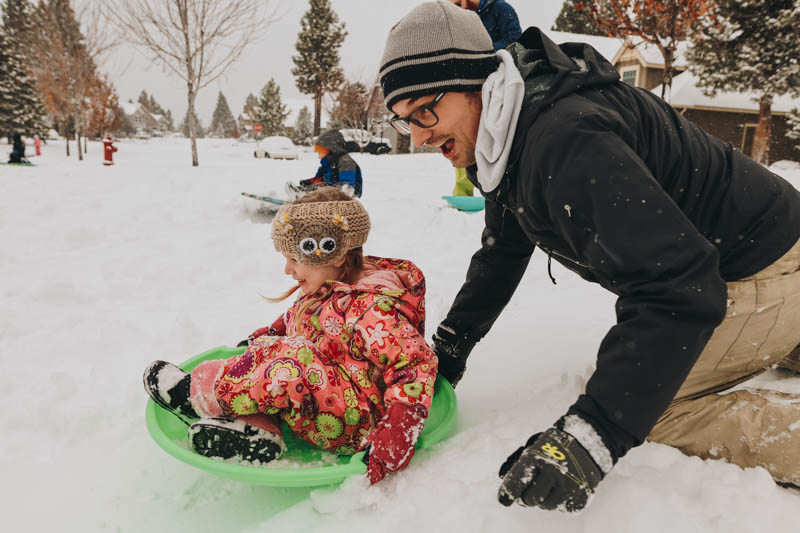 + Warmed up with a hot chocolate from Looney Bean before warming up some more in the soaking pool at McMenamins. Looney Bean is great because it has a wonderful view of the river, huge outdoor space for warmer days, and just a cozy vibe in Downtown Bend. McMenamins is a treasure we've been missing out on. The girls LOVED 'swimming' in the soaking pool even though we kept telling them to "SIT STILL!" and not annoy every other person in there. Sigh. Tim and I loved it because the water was almost at hot tub temperatures and we could sit in the steam and relax for a bit. Or we could if we didn't have children we had to chase around. Eye roll. But truly, it was a magical way to spend about an hour (for $5 per person). There's even an open ceiling, so we got snowed on while we were sitting in the warmth! Magical.
+ Drank coffee at Companion Coffeehouse. I loved being inside there, because the plants and general aesthetic made me feel like it was much warmer outside than it actually was! Plus they serve some baked goods from Sparrow. Speaking of which…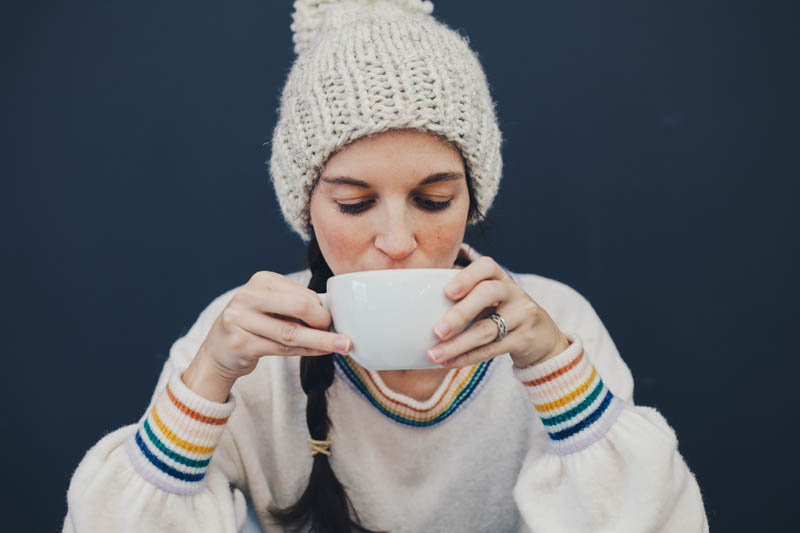 + Ate lunch at  The Sparrow Bakery. Order an ocean roll if you're just there for a snack – trust me.
So basically we drank a lot of hot liquids, did as many outdoorsy things as possible, went shopping, ate some delicious food, and learned a little bit about the region. It was fan-freakin-tastic. We could have stayed quite a few more days and not run out of things to do. The next time we go I want to check out the indoor pool, this restaurant, some breweries, and (if the weather cooperates) Mt Bachelor for skiing and/or Smith Rock for hiking trails! There truly seems to be infinite things to do in this area.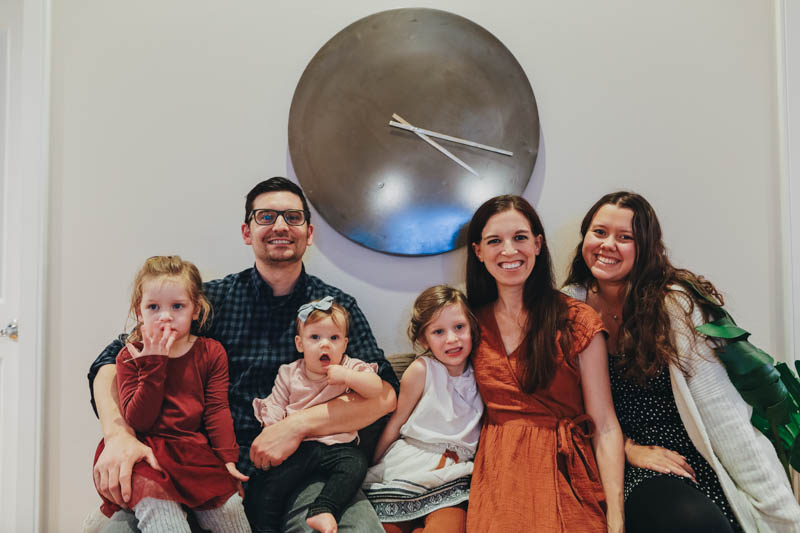 Note to self: take awkward family Thanksgiving photo before the kids are DONE with it all. Oh well, there's always next year!
If you have the chance for a road trip and are wondering where to go – Bend might be your place!
** Although, I will say that we had a loooooong drive (9+ hours) there and back. A ton of snow dumped in the mountains so we actually had to leave a day early to get to Bend – talk about a hectic way to start a trip! We threw everything in the car and left. (Had we waited an extra day, we wouldn't have made it at all. They practically shut down the mountain passes to get to Bend because of a winter storm.) Normally the drive is 6 hours (without stopping), but if you're leaving in the winter I would say that you need to be ready for delays. And, if you're in a minivan (like us!) bring chains to get through the mountains. One of the delays we were in was caused by a minivan spinning out in a mountain pass, causing both sides of the roads to be stopped. Luckily, we had chains and put them to good use, so we got through without issue!