Dusting off the ol' keyboard to write a blog post! Woohooo! Even though it seems like I should have all of this extra time to sit down and write (ha!) really my time has been completely taken up by work and trying to have fun with my girls and also surviving and ensuring my family keeps eating… you know, all of the things.
But the last few weeks have been extra busy because we have been CELEBRATING!
First, it was my birthday.
(Sidenote: do any of you remember a year ago when I was 39 weeks pregnant on my birthday and my OB wanted me to schedule the c-section and I couldn't decide whether to do it right around my birthday or whether I should wait? It seems like yesterday! I ended up waiting until I was 40 weeks pregnant to have my c-section.) My birthday was (surprisingly!) just about perfect this year. First I woke up to the house being decorated by the girls. Blue streamers were everywhere and Clara and Isabelle were so proud of their handiwork. After a pancake breakfast I went urban hiking with my older two girls & Lilly (our au pair). There was minimal complaining and it was so nice to be out in some trees for a bit.
Then, in the afternoon Tim and I left for a "short" bike ride on the Burke Gilman Trail. If you don't know me, let me tell you something about myself: Once I embark on something like a 'short bike ride' I just keep going and going because I love it so much and then before I know it we're on a 23 mile bike ride. Tim said he knew this would happen because he quickly realized that I had no plan of where to turn around so he accepted the fact we'd pretty much just continue forever. He wasn't wrong.
Once we finally returned from our journey we ordered out takeout from my favorite vegetarian restaurant (Cafe Flora) and the girls gave me handmade gifts they had crafted with Lilly's help. It was just so sweet. Plus I got some gifts from loved ones and heard from a bunch of friends throughout the day. I felt very loved!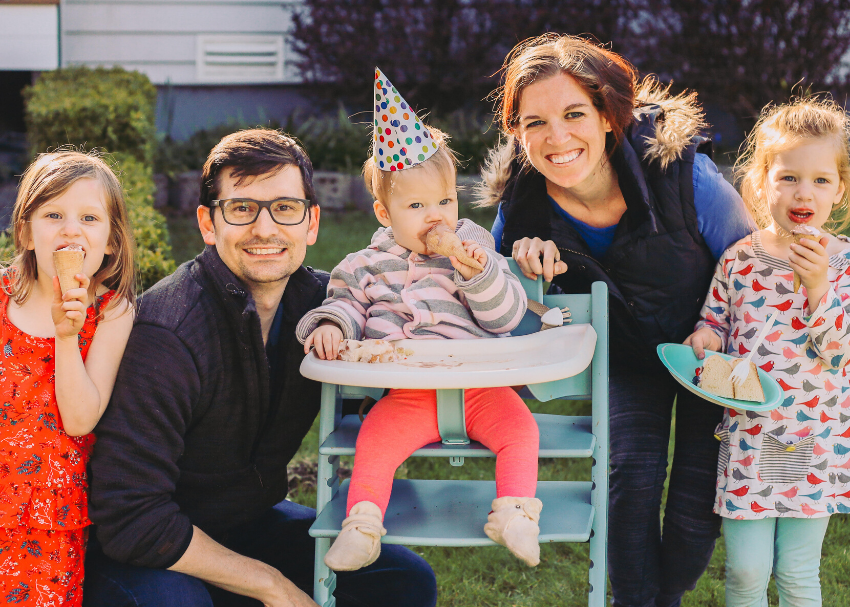 Then, a week later, it was Phoebe's birthday!
We ate birthday pancakes. We blew up and played with balloons. We ate cake and ice cream. It was basically a very normal day, but special because my newborn turned ONE! I just can't believe it. Although now when I look at her I realize she's big and not quite that squishy baby I brought home from the hospital. The girls were oh-so-thrilled to be celebrating their little sister, which was so sweet to witness.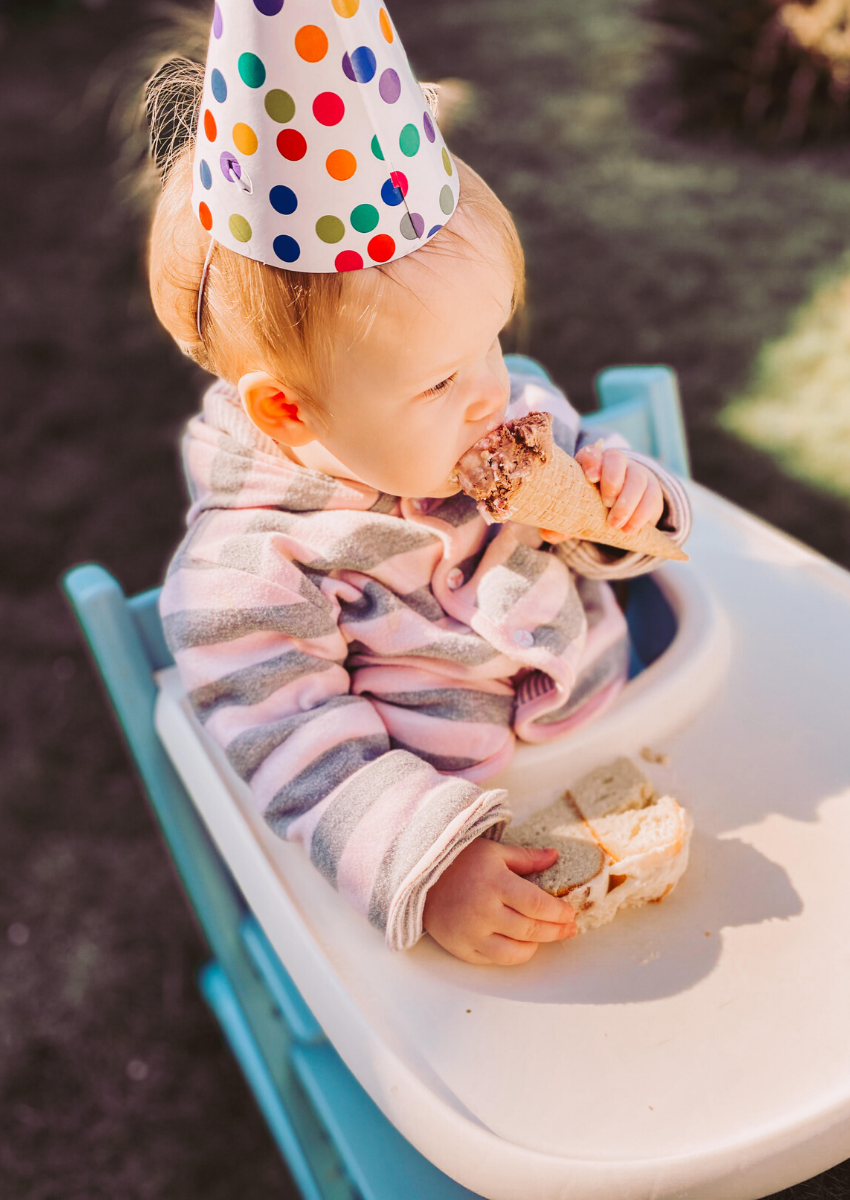 Finally, Easter!
Of course it was disappointing not being able to go to church and do an egg hunt with friends, but I love low key holidays so I thought the day went well! It was our first year hiding eggs in our own yard and Tim and I were unprepared, per usual. We filled those eggs with coins and old Halloween candy and we threw them around the yard the night before Easter. We had such a fun time hiding the eggs! Then the next morning we slept in, watched church in our pajamas, had an egg hunt in the backyard, ate salmon & scalloped potatoes & veggies for dinner, and I even whipped up some rosemary bread – because I was clearly feeling extra ambitious. I also tried and failed to get a family photo (multiple times throughout the day), so I may get everyone back in their holiday attire later this week to try again. We shall see. But everything else was relatively successful!
At this point I'm finding it helpful to focus on the celebrating we CAN do instead of thinking about what I COULD be doing in some alternate reality where we aren't under a stay-at-home order. I'm trying to find the good and the FUN in every single day, and it's been fun to have a few days of celebrations and holidays as an excuse to do some special activities.
I hope you're each doing well! I'll pop in soon to talk about the "physical distancing" life in general, but until then I hope you stay healthy and safe and sane and find some excuse for some fun and excitement!