I just realized my last book recommendations post was over a year ago! What the heck?! I swore I wrote a 2019 book recap post but alas, it appears I did not.
A friend recently demanded suggested that I write another book recommendation post, so here I go! I'm going to do a 2019 recap post first, and then I'll do a post on the best books I've read this year (pandemic reading! yay!). Better late than never is my life motto today and always.
It looks like I read 88 books in 2019. 12 more than I read in 2018! I credit a healthy dose of insomnia and a lot of breastfeeding / newborn cuddling.
I acknowledge that this list isn't *SUPER* helpful in determining what to read because I'm not including info about the books. There is no way I'm going to do summaries / recaps of all 88! However, if you're looking for something to read, just peruse the lists of 5, 4, and 3 star books and pick one to read! The 4 and 5 star books are seriously really good. I'm including the authors in case those are helpful to you.
If you want a specific list of book recommendations, leave me a comment or DM me on Instagram.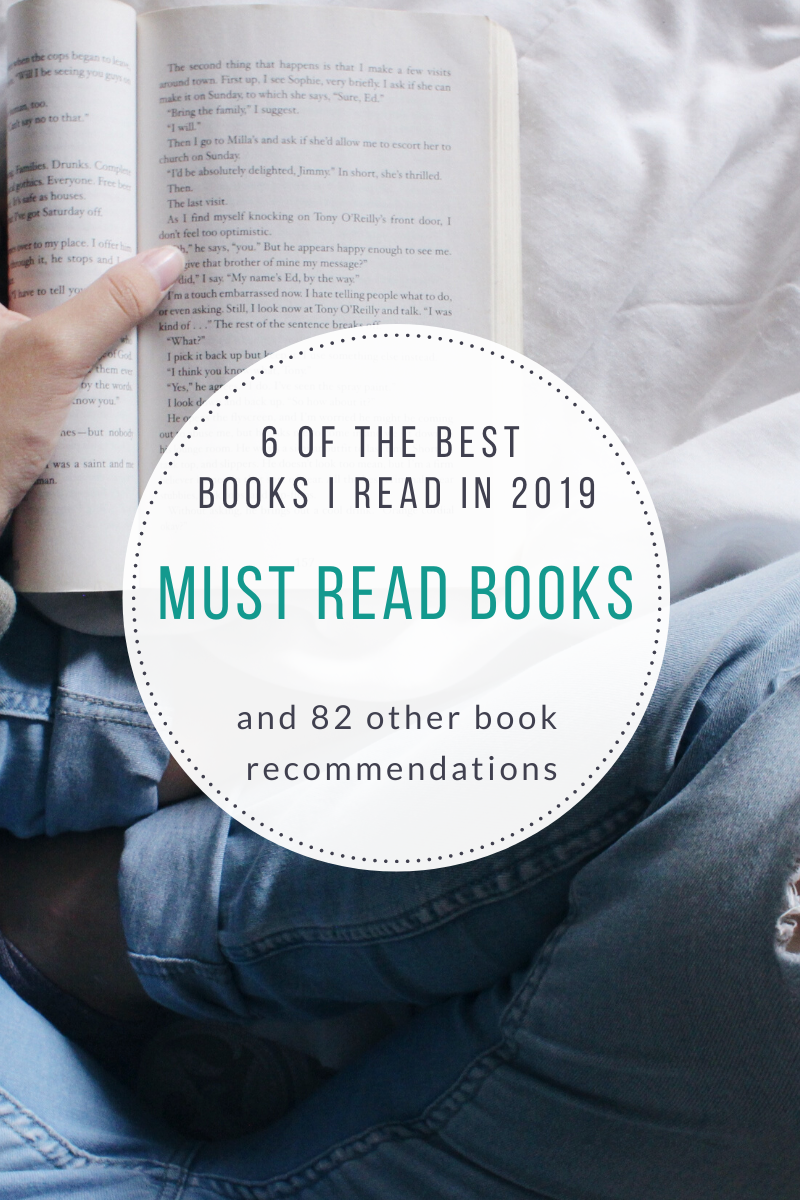 Book Recommendations (From What I Read in 2019):
* Ranking system: 5 stars – I loved it and would recommend it to anyone who asked. 4 stars – It was worth reading but it wasn't as life-changing as other books I read. 3 stars – I was entertained but I wouldn't tell someone to go out of their way to read it. (In most cases, these are page-turner fiction books that I enjoyed but which didn't leave a lasting impression on me.) 2 stars – I wouldn't recommend it at all. 1 star – A complete waste of my time. In many cases I don't finish/record 1 star books.
** Summaries of books taken from Amazon, because they do it better than I can.
*** Listed in no particular order within the ratings.
5 Stars
The #1 New York Times bestseller based on years of reporting and interviews with more than 250 people from every corner of Tiger Woods's life—this "comprehensive, propulsive…and unsparing" (The New Yorker) biography is "an ambitious 360-degree portrait of golf's most scrutinized figure…brimming with revealing details" (Golf Digest).
In 2009, Tiger Woods was the most famous athlete on the planet, a transcendent star of almost unfathomable fame and fortune living what appeared to be the perfect life. But it turned out he had been living a double life for years—one that exploded in the aftermath of a Thanksgiving night crash that exposed his serial infidelity and sent his personal and professional lives over a cliff. In this "searing biography of golf's most blazing talent" (GOLF magazine), Jeff Benedict and Armen Keteyian dig deep behind the headlines to produce a richly reported answer to the question that has mystified millions of sports fans for nearly a decade: who is Tiger Woods, really?
Drawing on more than four hundred interviews with people from every corner of Woods's life—many of whom have never spoken about him on the record before—Benedict and Keteyian construct a captivating psychological profile of a mixed race child programmed by an attention-grabbing father and the original Tiger Mom to be the "chosen one," to change not just the game of golf, but the world as well. But at what cost? Benedict and Keteyian provide the starling answers in this definitive biography that is destined to linger in the minds of readers for years to come.
Where the Crawdads Sing (Delia Owens)
For years, rumors of the "Marsh Girl" have haunted Barkley Cove, a quiet town on the North Carolina coast. So in late 1969, when handsome Chase Andrews is found dead, the locals immediately suspect Kya Clark, the so-called Marsh Girl. But Kya is not what they say. Sensitive and intelligent, she has survived for years alone in the marsh that she calls home, finding friends in the gulls and lessons in the sand. Then the time comes when she yearns to be touched and loved. When two young men from town become intrigued by her wild beauty, Kya opens herself to a new life–until the unthinkable happens.
Where the Crawdads Sing is at once an exquisite ode to the natural world, a heartbreaking coming-of-age story, and a surprising tale of possible murder. Owens reminds us that we are forever shaped by the children we once were, and that we are all subject to the beautiful and violent secrets that nature keeps.
The Screwtape Letters (C.S. Lewis)
The Screwtape Letters by C.S. Lewis is a classic masterpiece of religious satire that entertains readers with its sly and ironic portrayal of human life and foibles from the vantage point of Screwtape, a highly placed assistant to "Our Father Below." At once wildly comic, deadly serious, and strikingly original, C.S. Lewis's The Screwtape Letters is the most engaging account of temptation—and triumph over it—ever written.
Trevor Noah's unlikely path from apartheid South Africa to the desk of The Daily Show began with a criminal act: his birth. Trevor was born to a white Swiss father and a black Xhosa mother at a time when such a union was punishable by five years in prison. Living proof of his parents' indiscretion, Trevor was kept mostly indoors for the earliest years of his life, bound by the extreme and often absurd measures his mother took to hide him from a government that could, at any moment, steal him away. Finally liberated by the end of South Africa's tyrannical white rule, Trevor and his mother set forth on a grand adventure, living openly and freely and embracing the opportunities won by a centuries-long struggle.
Born a Crime is the story of a mischievous young boy who grows into a restless young man as he struggles to find himself in a world where he was never supposed to exist. It is also the story of that young man's relationship with his fearless, rebellious, and fervently religious mother—his teammate, a woman determined to save her son from the cycle of poverty, violence, and abuse that would ultimately threaten her own life.
Talking to Strangers (Malcolm Gladwell)
How did Fidel Castro fool the CIA for a generation? Why did Neville Chamberlain think he could trust Adolf Hitler? Why are campus sexual assaults on the rise? Do television sitcoms teach us something about the way we relate to each other that isn't true? 
While tackling these questions, Malcolm Gladwell was not solely writing a book for the page. He was also producing for the ear. In the audiobook version of Talking to Strangers, you'll hear the voices of people he interviewed – scientists, criminologists, military psychologists. Court transcripts are brought to life with re-enactments. You actually hear the contentious arrest of Sandra Bland by the side of the road in Texas. As Gladwell revisits the deceptions of Bernie Madoff, the trial of Amanda Knox, and the suicide of Sylvia Plath, you hear directly from many of the players in these real-life tragedies. There's even a theme song – Janelle Monae's "Hell You Talmbout". 
Something is very wrong, Gladwell argues, with the tools and strategies we use to make sense of people we don't know. And because we don't know how to talk to strangers, we are inviting conflict and misunderstanding in ways that have a profound effect on our lives and our world. 
The masterpiece of Steinbeck's later years, East of Eden is a work in which Steinbeck created his most mesmerizing characters and explored his most enduring themes: the mystery of identity, the inexplicability of love, and the murderous consequences of love's absence. Adapted for the 1955 film directed by Elia Kazan introducing James Dean and read by thousands as the book that brought Oprah's Book Club back, East of Eden has remained vitally present in American culture for over half a century.
4 Stars
A Man In Full (Tom Wolfe)
Rush (Lisa Patton)
Little Fires Everywhere (Celeste Ng)
The Prophet (Kahlil Gibran)
Peaceful Parent, Happy Kids (Laura Markham)
Peaceful Parent, Happy Siblings (Laura Markham)
Dumplin' (Julie Murphy)
Puddin' (Julie Murphy)
How To Manage Your Home Without Losing Your Mind (Dana White)
The Secret Life of Violet Grant (Beatriz Williams)
The Perfect Couple (Elin Hilderbrand)
Ninety-Nine Glimpses of Princess Margaret (Craig Brown)
The Name of the Wind (Patrick Rothfuss)
Lilac Girls (Martha Hall Kelly)
The Stranger In The Woods (Michael Finkel)
Daisy Jones & The Six (Taylor Jenkins Reid)
Juliet's School of Possibilities (Laura Vanderkam)
Small Fry (Lisa Brennan-Jobs)
Into the Wild (Jon Krakauer)
The Gown (Jennifer Robson)
Maybe You Should Talk to Someone (Lori Gottlieb)
Home Fire (Kamila Shamsie)
Eleanor Oliphant Is Completely Fine (Gail Honeyman)
Ask Again, Yes (Mary Beth Keane)
123 Magic for Christian Parents (Thomas Phelan)
Say Nothing: A True Story of Murder and Memory in Northern Ireland (Patrick Radden Keefe)
The Shepherd, the Angel, and Walter the Christmas Miracle Dog (Dave Barry)
Man's Search for Meaning (Viktor E Frankl)
Of Mice and Men (John Steinbeck)
3 Stars
All We Ever Wanted (Emily Giffin)
Chances Are… (Richard Russo)
Lost Roses (Martha Hall Kelly)
The Unhoneymooners (Christina Lauren)
Mrs Everything (Jennifer Weiner)
The Wife (Alafair Burke)
Nine Perfect Strangers (Liane Moriarty)
The Secrets of Midwives (Sally Hepworth)
The Last Time I Lied (Riley Sager)
The Kiss Quotient (Helen Hoang)
The Kind Worth Killing (Peter Swanson)
Home Front (Kristin Hannah)
Winter Garden (Kristin Hannah)
Camino Island (John Grisham)
All These Beautiful Strangers (Elizabeth Klehfoth)
Turtles All the Way Down (John Green)
The Queen of Hearts (Kimmery Martin)
Inheritance (Dani Shapiro)
The Sisters Brothers (Patrick deWitt)
Tiny Little Thing (Beatriz Williams)
Along the Infinite Sea (Beatriz Williams)
Heartland (Sarah Smarsh)
The Postnatal Depletion Cure (Oscar Serrallach)
This Will Only Hurt A Little (Busy Philipps)
Listen to the Marriage (John Jay Osborn Jr)
The Hating Game (Sally Thorne)
One Day in December (Josie Silver)
Then She Was Gone (Lisa Jewell)
The Last Mrs Parrish (Liv Constantine)
Ugly Love (Colleen Hoover)
When All Is Said (Anne Griffin)
Save Me the Plums (Ruth Reichl)
The Last Romantics (Tara Conklin)
City of Girls (Elizabeth Gilbert)
Now That You Mention It (Kristan Higgins)
Miracle Creek (Angie Kim)
2 Stars
Unsheltered (Barbara Kingsolver)
Roomies (Christina Lauren)
Meet Cute (Helena Hunting)
Zero Day (Mark Russinovich)
The Peacock Emporium (Jojo Moyes)
99 Percent Mine (Sally Thorne)
The Wife (Meg Wolitzer)
The Dinner List (Rebecca Serle)
Maybe In Another Life (Taylor Jenkins Reid)
The Wife Between Us (Greer Hendricks)
Crazy Rich Asians (Kevin Kwan)
A Spark of Light (Jodi Picoult)
All Your Perfects (Colleen Hoover)
The River (Peter Heller)
Never Have I Ever (Joshilyn Jackson)
1 Star
The Mister (E.L James)
---
Phew, I hope that at least gives you some reading inspiration until I release a new list of maybe-helpful recommendations! Instead of making 'to read' lists, I just add all of the books that look interesting to my library hold list directly. It helps that I now read almost exclusively on my Kindle so they get delivered to me without the library actually needing to be open. If you're a Kindle user and aren't using the app 'Libby', look into it, ASAP!
Happy Reading!