50 days (or so) after our wedding and I still don't really know what to say about it.
I could do a whole post on why I loved having a destination wedding.
Or another one about my favorite memories.
Or multiple blog posts on awesome events that happened leading up to it.
Or maybe a post on the stressful process (total understatement, some of the process was a complete nightmare) of wedding planning.
Or even a rant about how I really hate the WIC (wedding industrial complex).
But instead I think I'll write a post about how my wedding wasn't perfect and why it was totally ok (because it turns out that life isn't very perfect!)
Our wedding wasn't perfect from the start. There was stress about getting engaged and stress about where to have the wedding and I was ready to get engaged and the Husband was taking his time and I wanted a certain venue (in Jamaica) and it was booked for 2012 and I have a fear of odd numbers so we couldn't get married in 2013 (nor did I want to be engaged that long). We decided to get married in Jamaica because I refused to get married anywhere else and we started researching venues before our engagement. The Husband's family found out somehow and brought it up at dinner and we announced the date before I had a ring on my finger. The Husband asked my parents' permission and I asked my dad about the budget all before the engagement. By the time the Husband actually proposed, the venue was set and the date was picked and my extended relatives already had gotten emails from my parents to 'save-the-date.' Once we got engaged the Facebook posts exploded and I had to text friends so they wouldn't find out online.
This was far from the engagement story I had hoped for. But it was perfect. The proposal was emotional, my family was super-thrilled, my friends were happy for me and called to hear details, and the ring is beyond-gorgeous. I thought I told the Husband 'yes' when he asked me to marry him, but evidently I just asked if I could put the ring on that instant. Same thing, right?
Fast forward to the (imperfect) planning process…
Planning the wedding itself was super easy and stress-free, seriously. Budget conversations with my family were not. Tears were shed and I got angry and then I got over it and we moved on. Siblings said they weren't going to be in our wedding party for various reasons. Then they changed their minds. Close friends and family members said they were coming and then changed their minds because things came up. Other friends and family members sent their regrets and well wishes. RSVPs are an emotional time that i was quite unprepared for! But, other friends and family members sent gifts and cards and happy notes and thoughtful notes and called to check-in on us and came to our housewarming/engagement party and made the whole process super-fun. I loved picking out my dress with my mom, and the Husband's mom and his sister… we had a great time. My aunts drove in from Cincinnati to have a mini-shower and spend a day doing brunch and it was wonderful. My cousin threw me a family shower in Cincinnati and I had the best time catching up with women I don't see often enough.
My bachelorette party was the most fun I had ever had (up until the week of my wedding). My friends came in from all over the country and we ate a homemade dinner (with gourmet food) and painted and went to a bar and drank wine and laughed and laughed and laughed. They bought me sexy gifts and thoughtful gifts and wrote sweet notes and my heart could still explode with happiness thinking about that weekend.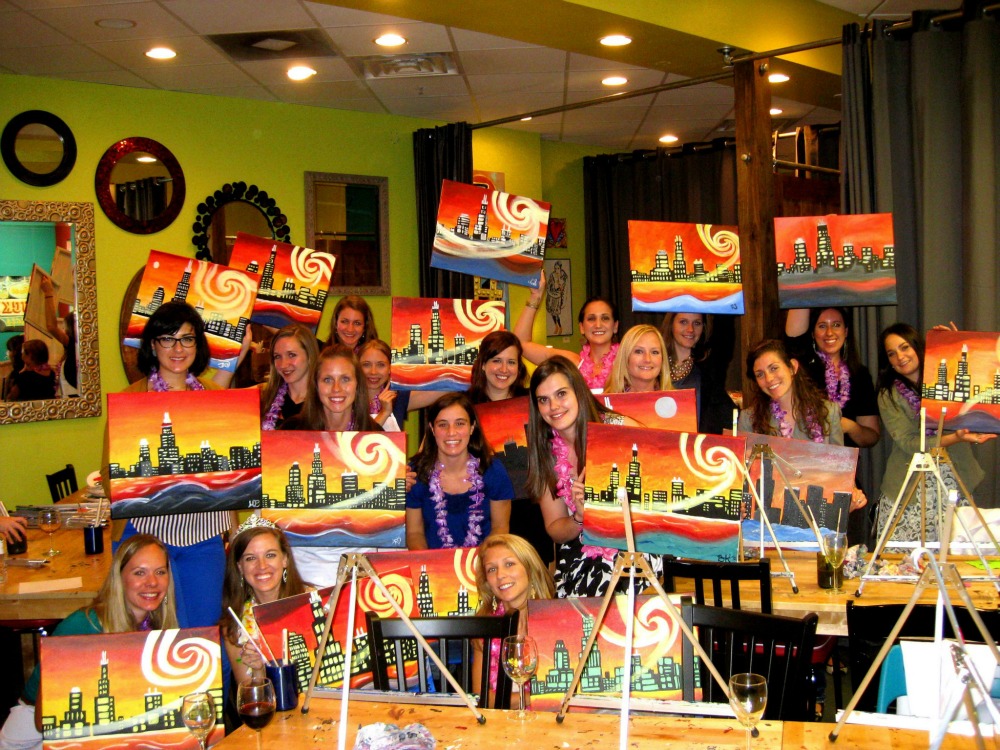 Then November came and we were ready to get married! I started feeling sick the weekend before the wedding and by the time I got to Jamaica I had no appetite at all. It was my worst nightmare coming true. But, I greeted all guests when they arrived at the resort and cannot even explain the happiness of seeing all of my best friends in one place. The people who were supposed to be there were there and I never once thought about those who couldn't make it. Everyone had a blast jumping off cliffs, snorkeling, eating jerk chicken and lobster, and drinking the bartenders concoctions. We played ping pong and bags and tanned by the pool. One night we played beer pong. We went to sleep early and woke up early and saw dolphins during breakfast. I drank coconut milk straight from a coconut that had been cut down from a nearby tree in front of our eyes. We had an amazing villa but didn't spend any time in it because we spent all of our time with guests. Laughter and love was everywhere. We drank fruit smoothies and banana moons and watched the sunset over the ocean. Friends bonded over volleyball in the pool. We got massages and pedicures and manicures.
The rehearsal was fun and laid back. The rehearsal dinner was so well put together that some people (after a few drinks) thought that the wedding was over. We had to gently remind guests that the 'real' event was the next day. The Husband's dad gave a speech and I cried and the food was delicious (so they say, I didn't get to eat any of it) and I carried around a Sprite to help calm my stomach. We played a crossword game and I've never laughed so hard. Guests sat together and friends of ours became friends with each other and families got along and my hair was frizzy in the humidity.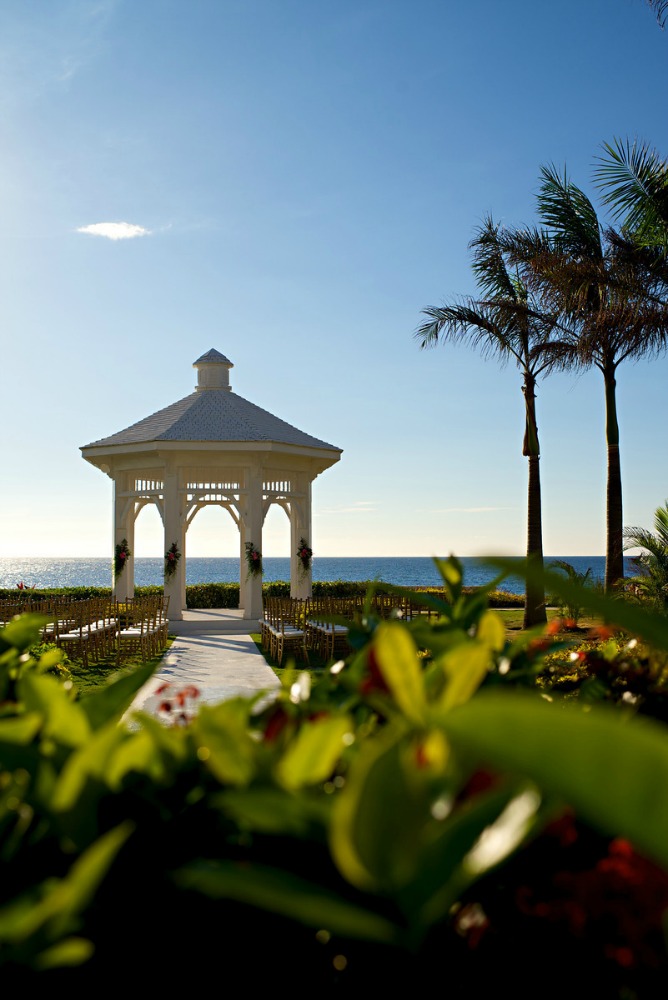 The wedding day came and I woke up early to throw up. Then I continued to throw up. And the guests drank and played on the cliffs and hung out in the pool and recapped events of the night before. The photographers came early (as planned) but I couldn't sit up. so they left to take photos of the resort and the groomsmen. My mom spent time with me and I cried. The Husband gave me my wedding gift early and I cried. The bridesmaids got their hair done and the hotel called a doctor. The doctor gave me a shot and I stopped throwing up ginger tea and the hair and makeup team came and made me beautiful. I even took a shower and shaved (but I didn't wash my hair). My bridesmaids and mom helped me into my dress but they couldn't pull it tight because my stomach would heave. My dress was a little loose but still looked gorgeous (in my opinion). We pushed the wedding back 30 minutes because of the delay in getting me ready. I was nervous that I might throw up on the altar but I didn't. We had sent the pastor the wrong 'script' so our ceremony didn't mention God except for the readings, which was not our intent. But, it was short and sweet and perfect and no one noticed. Our bridesmaids and groomsmen looked flawless. Ants bit the bridesmaids all ceremony and during pictures, which was quite funny because it wasn't happening to me.
We took sunset pictures with the wedding party, and each other, and the guests.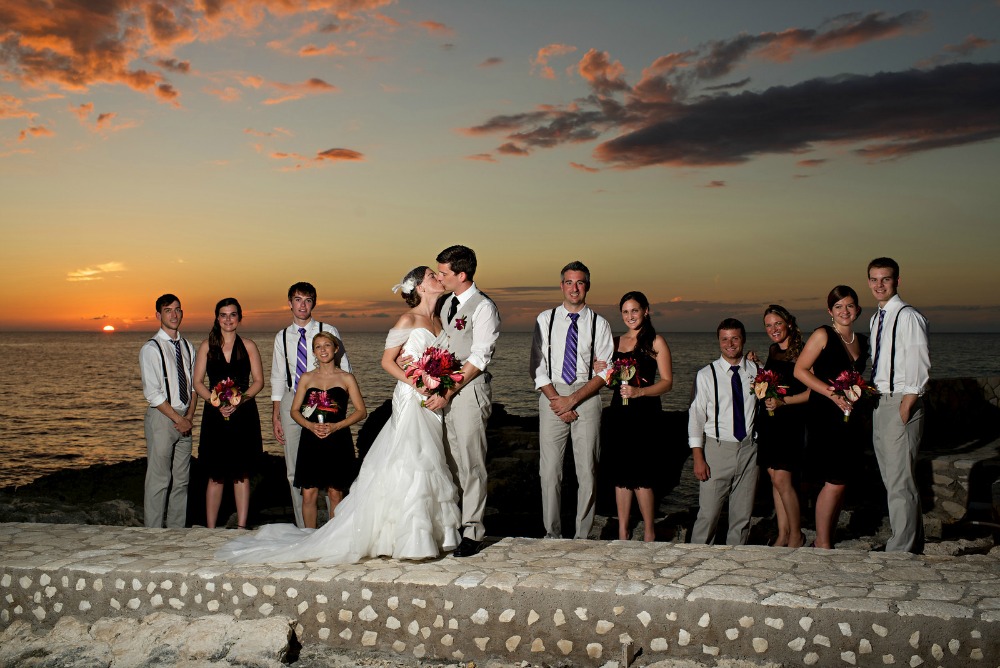 The food at the reception was delicious, the speeches were outstanding, the cake was beautiful and delicious, the centerpieces were elegant, the scene was out-of-this-world beautiful, and the dancing was the most fun I've ever had. I ate chicken broth and drank a sip of champagne and tried to smile a lot more than I felt like smiling during dinner. There was a fire dancer and we were in awe. After everyone ate (way too much) the guests got tipsy and sweaty and danced with each other and danced with their dates and danced with new friends and danced with me and the Husband and everyone took shots and smoked cigars and I was happier than I thought was humanly possible. The photographers had to go but the dancing continued until the DJ stopped at 11pm and no one was ready to leave. I've never seen 100% of guests on a dance floor before and it was truly something special.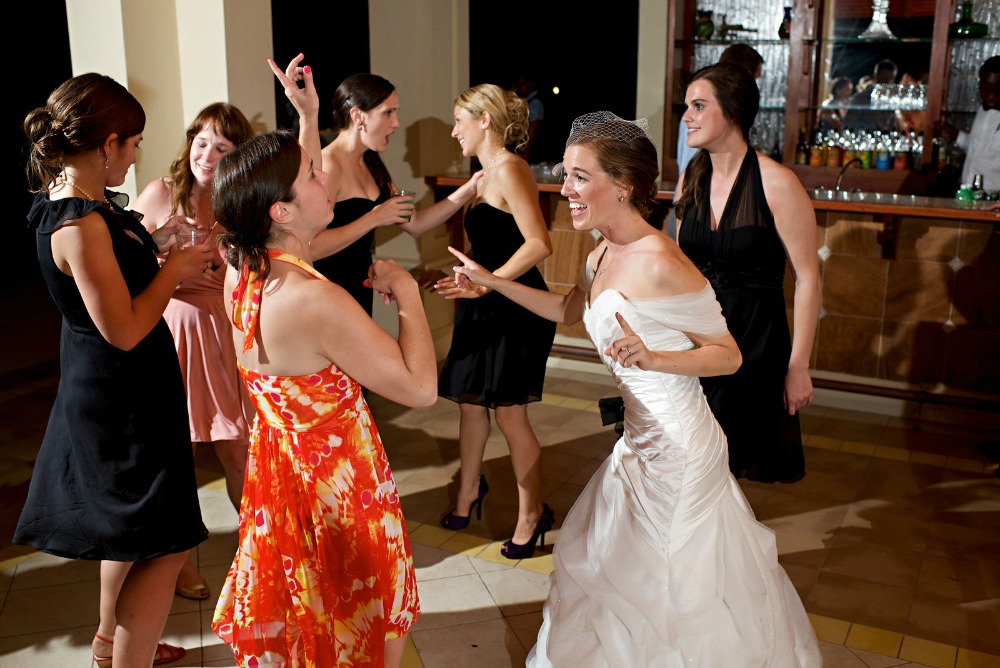 I went to bed with all of my makeup on and my hair still done. I was so relieved to get to my room where I could lay down. Our room was decorated with flower petals and candles and the Husband took pictures of it while I was curled up in bed, fast asleep under our mosquito net. The guests kept partying and my uncle wore snorkel gear into the hot tub. Memories were made well into the night (so I was told).
The next day I felt a tiny bit better and put on a bikini and jumped off of the cliffs with my new husband. We joined everyone for breakfast and said goodbye to some of the guests. We spent the next few days enjoying time with our friends and family and going to Ricks Cafe and watching cliff jumpers and enjoying more sunsets and taking pictures and smiling a lot. We were sad to say goodbye to our guests and even more sad to eventually leave Jamaica ourselves.
… and that about wraps up our wedding experience! It wasn't absolutely perfect, but it was the best week of my life and most of the events leading up to it were highlights of my year/life. It was definitely better than I had ever hoped for and guests still talk about it constantly, which makes every ounce of stress worth it.
The Husband and I are now building our perfectly imperfect marriage and I expect that it will closely follow our wedding: it probably won't meet all of my lofty expectations in all areas, but I anticipate it will greatly exceed my wildest dreams of how happy I can be at any moment.