Brace yourself… it's August, people. That means that we basically have one more month left of summer! SAY WHAT?!
Tragic, I know. I think my suntan is already fading due to the gorgeous but cold weather we've been having in Chicago lately, but you didn't come here to read about the weather, so that's all I'll say about that (for now).
Anyway, I can't believe it, but I remembered to actually write this post on the first of the month, as I originally had intended months and months ago!
Yay!!! I feel like an almost-organized blogger now.
Moving on.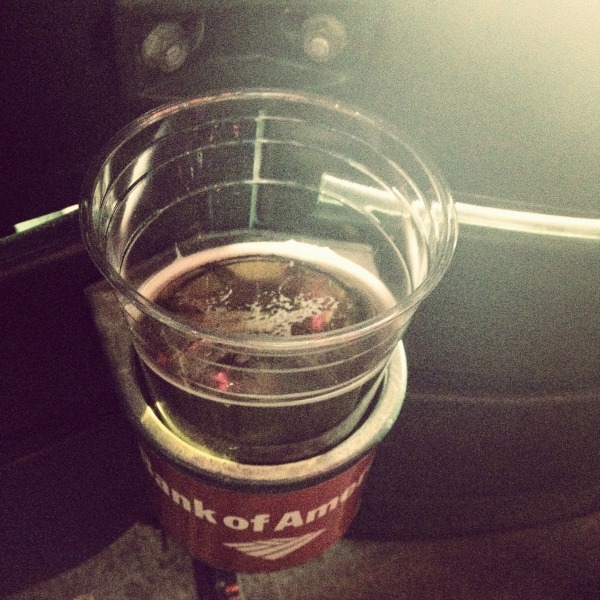 Quick! Go to a baseball game and drink a beer, before summer passes you by!
In August I'm currently…
Reading: Book 5 of Game of Thrones. I really, really don't want to finish this book, so I'm really dragging this thing out.
Watching: I'm embarrassed to admit that today I watched multiple episodes of the RHOC, so now I'm all caught up! I may have to watch last season, now. I hate being up-to-date on a show… I feel a bit lost and unsure about what to do with my time for a few days afterwards.
Listening to: I'm all about listening to the Hot 100 playlist on Songza (nonstop).
Obsessing over: Sea Salt Spray! Not Your Mother's Beach Babe Texturizing Sea Salt Spray
(I wish I could be paid to endorse this, but really I just got asked so many times what I've been using, so here it is!) to be exact. I got tons of compliments (yay Instagram!) when I used it for the first time, and I admit, it's hard to recreate that exact look, but I use it every single day and am fully obsessed with it. But, this is my first time ever using any sea salt spray, so I'm not sure how this one compares to other ones!
Shopping for: Nothing, nada, zilch. I'm trying very hard not to spend any money until I begin making some money again. (I'm hoping this happens sooner rather than later… keep the prayers coming and your fingers crossed for me, please!)
Wearing: Casual clothes, no bra, minimal makeup… life is good.
Learning: Not enough! Honestly, I don't know where the last month has gone, but I really need to start taking some courses or something. Job searching is such a full time job, but I think I'd like to spend my time doing something more 'fun' since I have the time off right now.
Thinking: About what I'm going to do with my life in terms of a job/career. I'll post more about this later.
Bothered by: Chicago weather lately. I mean, the 70 degree days were cute for a while, but a few weeks worth of this crap with some rain mixed in? No thanks.
Eating: Cheese and crackers. Multiple times each day. I totally wish I were kidding about this, but I'm not.
Drinking: Tea! Is there any better way to start the day?! (This is a rhetorical question, we all know there is no better way to start the day than with tea).
Wasting time on: Real Housewives and other TV shows I never realized I was missing out on. Step away from the TV, Lisa… step away.
Loving: Possibilities!!! My life is filled with so many blessings and endless possibilities.
Praying for: Close friends who are going through some challenging times and also for myself – that I may find a job that really fulfills me and also directly serves my community.
Working on: I've been slacking in the blog department lately… and I still haven't even started on my wedding scrapbook and that sort of thing… so basically it's all about job searching for me right now!
Looking forward to: This weekend the Husband and I are off to see some of our great friends in Knoxville, TN. This couple eloped last month and I cannot wait to get to celebrate their marriage with them!!!!
What have you been up to lately?!
Cheers to a great month and a nice long weekend for me and the Husband!