This past weekend marked the one year anniversary of the Husband and I. (Awwww…)
It's so crazy how long and short this year felt! Long because we did a freakin' ton of awesome stuff, but short because I feel like we did this whole 'get married in Jamaica surrounded by family and friends' thing really recently!
And darnit, I miss that whole crazy week and the shenanigans it contained.
There is nothing, absolutely nothing like being at a private resort with all your favorite people for days and days.
Happiness is that.
Anyway, back to the present. The Husband and I didn't discuss our anniversary plans ahead of time.
So of course, I assumed he'd be taking me to the Bears game. I mean, obviously. The one year gift is supposed to be paper, so I thought… tickets… and of course I love the Bears so I figured it was the obvious choice.
Well, I was wrong (and for once, I was really happy about it!)
The Husband went all out for this anniversary.
(If you don't like husband bragging, sorry but this post is about to go there.)
On Friday night, the Husband informed me we would be going to spend Saturday night at a bed & breakfast near Madison, WI.
Perfect, I love B&Bs!
We dropped the Monster off at a friend's house on Saturday and away we went!
It was a rainy drive, but we made it to Madison, which is a city I had actually never had the pleasure of seeing before.
I absolutely loved it! Even in the rain, Madison is a beautiful city, and the UW campus is massive and impressive.
We also stopped by the botanical gardens near Madison, because I happen to love that sort of thing.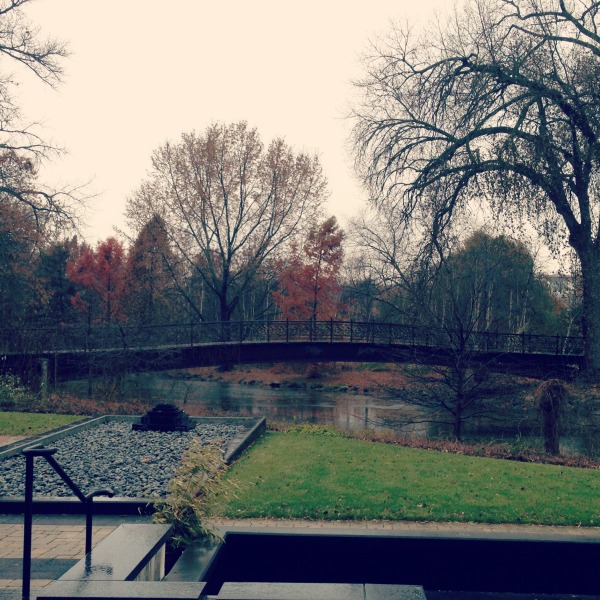 Well, even though a rainy November day is not exactly prime time to view trees and flowers, we had a lovely walk around the paths and snapped a few iPhone pictures. I love rainy days and there was something romantic about the whole thing.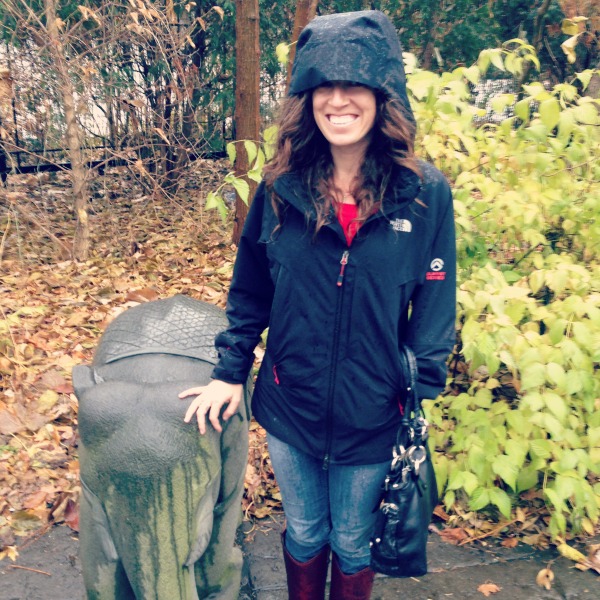 The Husband insisted he needed a picture of me with my hand on this elephant's head. I told him that my hood was in the way but he insisted he took a 'perfect picture' of me. Mmmhmmm.
Well, we then made our way to the B&B (Cameo Rose).
Oh, what an adorable (and remote!) place it was! It was at the end of a loooong driveway surrounded by farmland. The Husband and I absolutely love getting away from the noise and bustle of the city, so I was really excited to be in a small, quiet town for an evening. Plus, the owners could not have been sweeter or more welcoming. We were greeted with apple pomegranate cider and I immediately felt quite cozy and warm.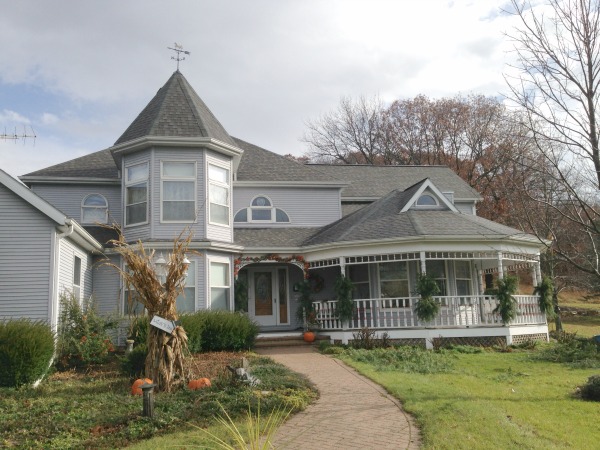 Cameo Rose B&B
We went to dinner at an old one-room schoolhouse that had since been renovated into a restaurant. There were probably only 20 of us in the dining room, where we listened to a guitar player/singer while we ate crab cakes, scallops, warm bread with chive butter, and walleye.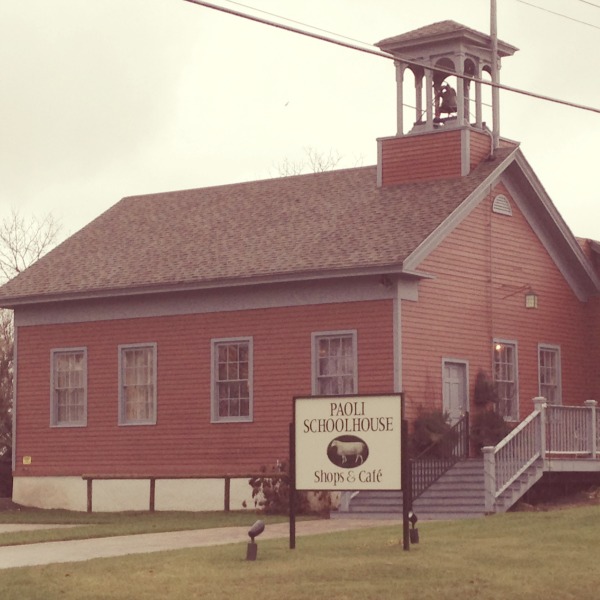 Yum, yum, yum.
At that moment, surrounded by old Victorian Christmas decorations and with the love of my life at a small schoolhouse restaurant, I was convinced life couldn't get any better.
But then, once we got back to the B&B, I was proven wrong.
You see, when we opened our bedroom door I was greeted by a dozen roses, a cake, and champagne.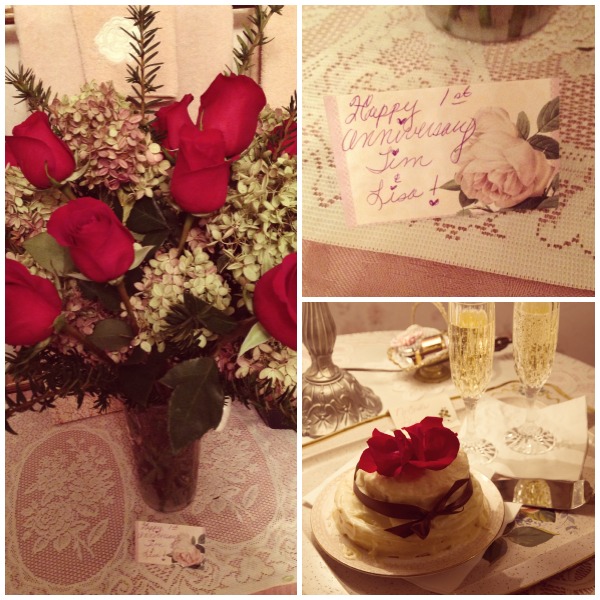 It turns out the Husband had hacked into my email (not hard since I leave it open all day on my computer!) and found the bakery in Jamaica that made our wedding cake last year. He also found the type of cake we ordered. Well, he contacted the bakery and had them send him the recipe. He then talked to the B&B owner and she said she'd be happy to remake the cake for us.
SO, we spent the rest of the evening eating our 'wedding cake' and drinking champagne and relaxing in our whirlpool bath and when we couldn't eat any more we went to sleep in a very full and blissful state.
Perfect, perfect, perfect.
On Sunday morning we relaxed and ate a lovely breakfast at the B&B before leaving to go on a nearby brewery tour/tasting. The rest of the afternoon we entertained ourselves by walking around New Glarus, WI (a town known for its Swiss heritage) and eating fudge and cheese. We then drove home while listening to the Bears game on the radio. The good guys beat the Ravens in overtime, which sealed the greatness of the weekend.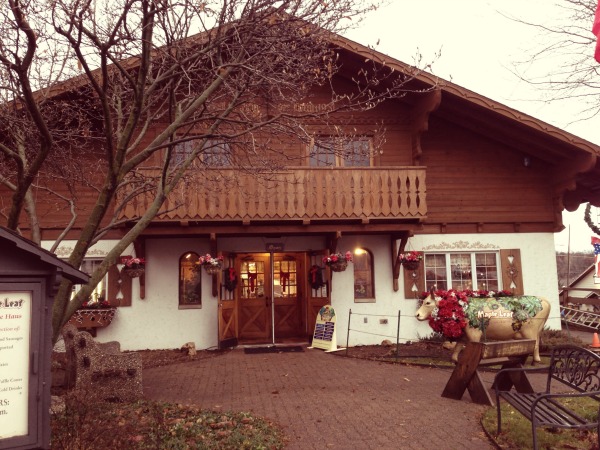 Fudge and cheese shop! (Heaven).
Yep, the entire weekend and our anniversary was beyond normal levels of perfection.
This is all especially surprising because the Husband is not known for his romantic tendencies, but if he's reforming, I'll take it!
The problem with all of this sappy goodness, is that I was not prepared for it. Meaning I bought the Husband a totally lame, 'normal' gift. Fail, fail, fail.
In an effort to make me feel better, the Husband suggested that he can plan odd number anniversaries, and I can plan the even number ones. Phew.
It looks like I'm off the hook for this year, but I'm going to have to start planning next year's pretty soon if I have any chance of out-doing the Husband.
Cheers to another year of the forever kind of love!