Remember last week when I said I was going to post five days of the week and then I posted three days?
Oh well, it's the thought that counts.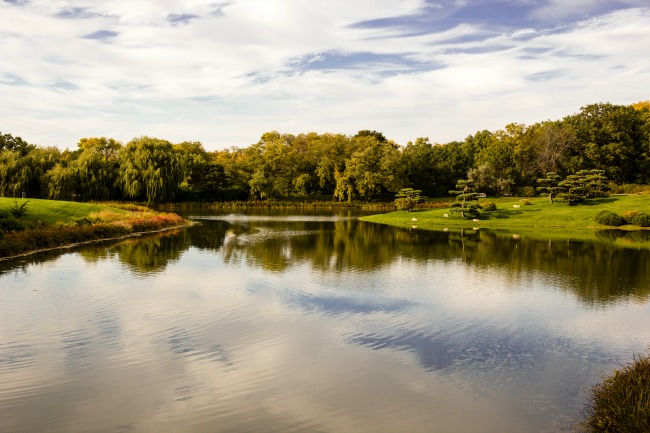 Weather report: Still gorgeous in Chicago!
This past weekend was pretty wonderful. The best thing about being a stay-at-home mom is that I actually don't even notice the weekends, except that we get to see Tim a bit more than usual, which is always a good thing.
This is what we filled our time with:
We visited our friends' new home in the suburbs and ate Thai food and played Euchre and the women totally won and that was the best. Our friends have a 11.5 month old, so I was able to pick their brains about all things baby/infant. It was the perfect end to the week and beginning of the weekend!
We took a family trip to the Chicago Botanic Gardens. We had never been there before (even though I had been not-so-subtly hinting that I wanted to go there for the past four years now, but who's counting?) and I absolutely loved it. We walked around looking at trees and lakes and flowers and other families and it was a nice time getting some exercise and talking about life.
In true Clara fashion, she slept through the ENTIRE trip to the gardens. All four hours of it.
We watched 'Silver Linings Playbook' and I'm still deciding if I liked it. I think I did, because I liked the ending… but it was still a bit depressing for my taste.
I decided we should probably always have one of these chocolate bars on hand. (I love when I fall in love with a product I get compensated to promote!)
We watched our beloved Bears get demolished by the Packers. I have no idea what happened in that second half, but it was not pretty.
We went to church where I saw some girlfriends and we saw some couple friends and were able to catch up! I love being involved enough in a church to see some familiar faces when we go to service.
We went on a walk/coffee date to the Ugly Mug, which is a coffee shop near our house that I love, since they have amazing smoothies.
What was the highlight of your weekend?!
Cheers!

( Bloglovin' | Twitter | Pinterest | Instagram | Facebook )