I can't believe it's time for another recap already, but here we are, already a month through August!
In case you missed the other monthly recaps for 2014…
January / February / March / April / May / June / July / August
In September we…
Went on a very exciting date… a Segway tour! I bought Tim tickets for the tour for Father's Day and we finally had the opportunity to go. It was our first 'date' since Clara was born. We've left her with family members before, but we've always gone out with friends for our 'free' nights, so it was nice to have a day date where just the two of us did something fun. I actually enjoyed the Segway tour way more than I thought I would. I didn't even fall over (although, someone else in our group did)! I highly recommend that you go on one if you haven't yet, it's never a bad thing to be a tourist in your own city or to explore a new city as an actual tourist in a city you're visiting.
A good date always involves helmets, of course. Also, please notice the skyline in the background – Chicago is gorgeous.
Took Clara gambling at the Arlington Racetrack in celebration of Tim's mom's 50th birthday. The whole family got together and we had a wonderful time betting on horses! We had a few big winners in our group, but I was not among them. On the bright side, I didn't really lose much money, either! I love a day at the tracks.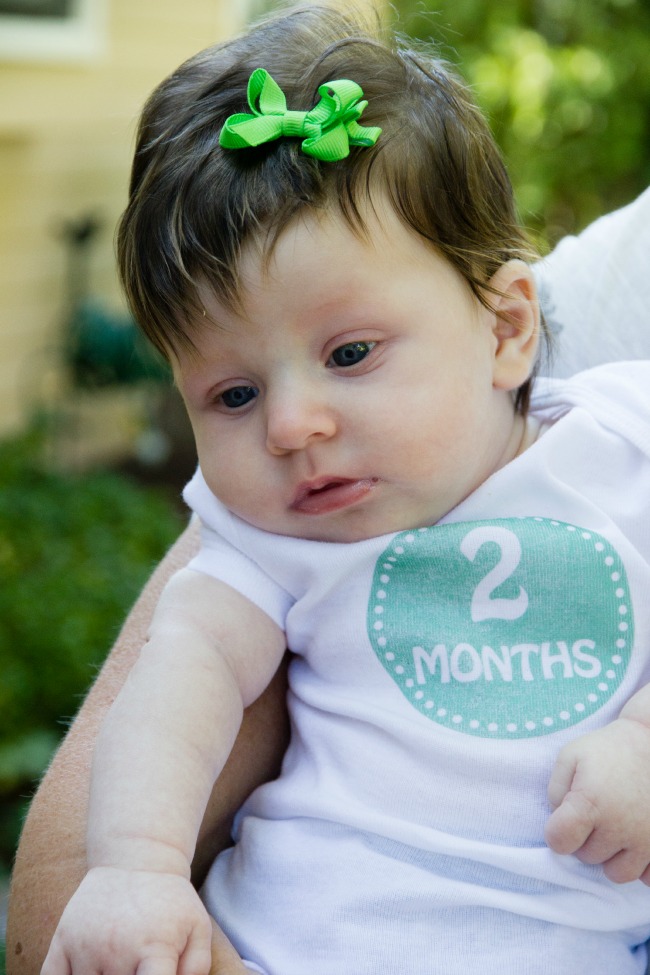 I joined a New Moms Group at a local venue and have been meeting with 9 other moms every week to discuss everything parenting. It's really a group therapy session and I absolutely love discussing our victories and challenges each week with other women who definitely can relate to what I'm going through. All of the other babies were born within a month of Clara, and it's been a wonderful resource for me. I'm going to be very sad when the group ends.
Overcame two traumatic events: Clara's 2 month shots and then her first bee sting. Seriously, what 2 month old gets stung by a bee?!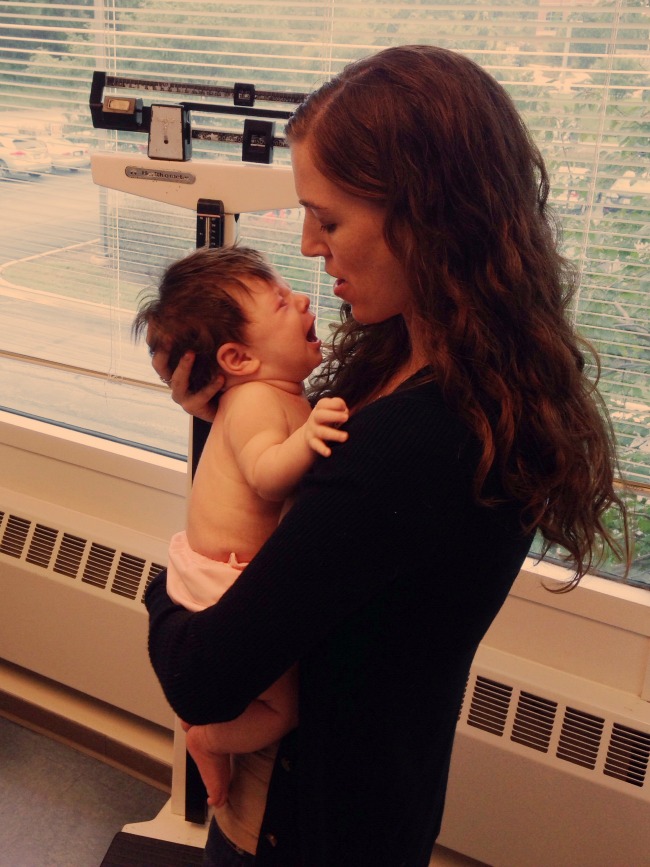 Shots aren't fun for anyone. Isn't that the saddest face you've ever seen?!
Traveled to St Louis for my best friend's wedding. I was part of the bridal party and it was such a fun day celebrating love! The weather was perfect, the pictures were perfect, the ceremony was perfect, the reception was perfect… My heart was filled with happiness for her! It was a little daunting to make the trip (with a two month old), but I'm so glad I did. Of course, Clara slept through the entire event and wasn't able to show off the adorable dress I had her in. Typical.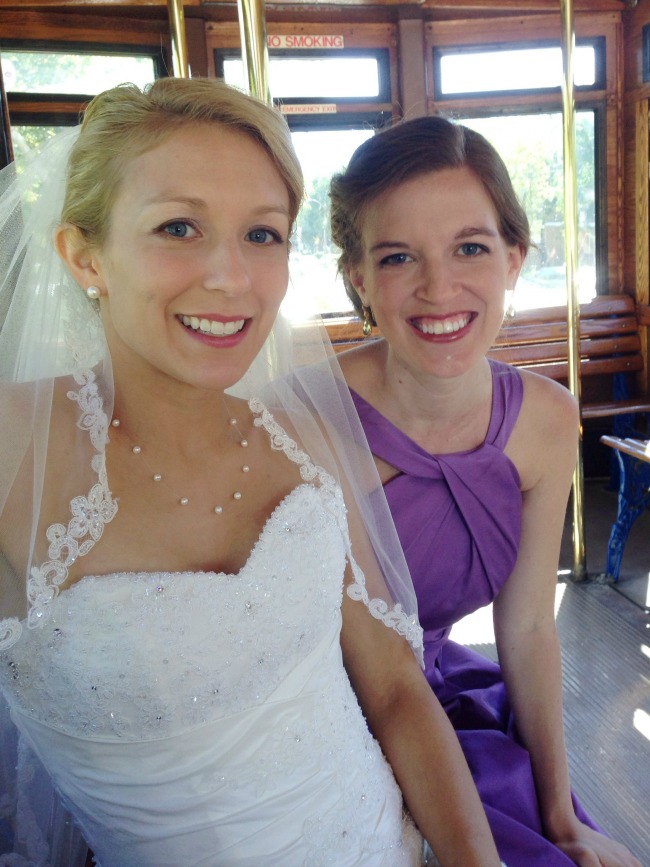 Survived Tim being out of town for 4 days, leaving me single-parent duties. I escaped to my mom's house for backup!
Enjoyed dinner out with our small group when inclement weather forced us to cancel our sailing plans – darn Chicago weather! (Although, dinner was delicious, so I can't complain too much.) Also, it was established at dinner that every single couple (all five) at the table had argued on the way to the restaurant. I swear, I have found my (perfectly-imperfect-and-willing-to-laugh-about-it) people.
Finally got to our first farmer's market of the season where we bought all sorts of fresh veggies and other healthy goodies. I absolutely love farmers markets. We also went to a taco fest and filled up on not-so-healthy goodies! It was really fun to bring Clara around to different events, now that she's more alert to what's going on around her.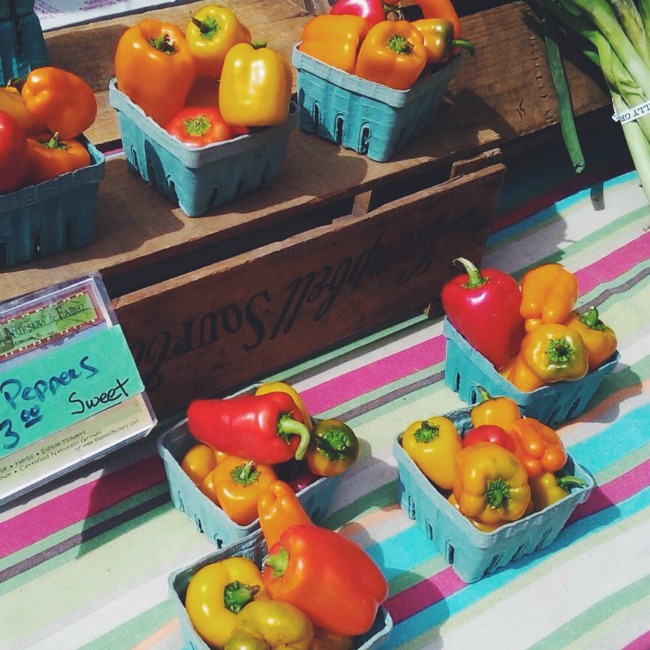 Walked around the Chicago Botanic Gardens, which were beautiful. I had always wanted to make it out there and we just never had – but we finally did it! I can't wait to go back now that the leaves have been changing colors more and more each day.
Visited friends and soaked in their baby knowledge (they have a 11.5 month old). We also enjoyed some Thai food, because it just isn't a game night without take-out!
Got extra-bendy at our first mommy/baby yoga class! Well, I got extra bendy. Clara mainly stared at me and then enjoyed a little baby massage. She definitely wasn't complaining! (Well, until the quiet part at the end of class when she loudly demanded she get fed at that second. Sigh.)
In October we have a quieter month, but we're looking forward to Halloween (I have no idea what Clara will dress up as, cooler weather, our first 'big' vacation as a family of three (okay, we already did this, but if I had written this post a week ago that would have been true), time with family and friends, maybe some apple picking… we'll see where the month takes us!
Cheers!

( Bloglovin' | Twitter | Pinterest | Instagram | Facebook )