Finally I had a totally typical fall weekend. (It's about time, right?! I mean it's practically winter!)
Wait, have I said that already? I don't even know, but if I'm repeating myself, just pretend I'm not.
Please and thank you.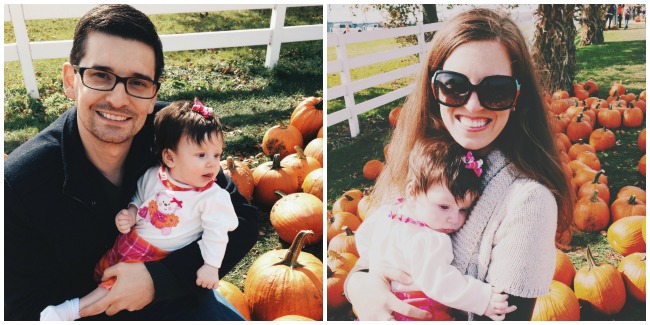 She clearly doesn't understand how wonderful fall is.
This past weekend contained a lot of my favorite things…
// We went on a date. The kind of date that only involved Tim and I and dinner and no one else. We haven't had one of those nights since before Clara was born, and it was fantastic. I even wore a dress and heels, so you know it was serious business. (We have gone on a day date, and we've gone out to group dinners with friends, and we go to church group without Clara every week… but this was a dinner date so it was still a first and something that shall be celebrated and appreciated!)
// As a bonus, my brother came over to babysit Clara and they had a blast. This is a good thing because hopefully he'll come back to do it again sometime soon!
// We watched 'Draft Day', which I wanted very much not to like, but darnit, I really enjoyed it. I have a thing for sports movies, I guess.
// On Saturday it was very dreary outside, so I didn't have high hopes. However, I had an hour long massage first thing in the morning and when I returned home, Tim outdid himself by making us a fantastic breakfast of pumpkin pancakes and scrambled eggs, which started the day off quite right indeed!
// We spent a few hours organizing, which I didn't particularly enjoy, but it needed to be done. Confession: Clara's room still wasn't usable, because we had her entire crib and floor covered in clothes. Well, that's been taken care of – thank goodness! Although, she'll still sleep in our room for a bit longer, I think.
// Sunday was a bit sunnier, so we went to a pumpkin patch with friends. Actually, we went to some sort of extreme pumpkin patch. There were pumpkins and apples and fudge and cider and the basics, but there was also an insane amount of animals in a chaotic petting zoo, a ginormous pumpkin-eating robot, pig races, giraffes, tigers, a corn box for kids to play in (picture a ball pit from when you were younger, except hard corn kernels instead of balls), and a bijillion additional things to do and see. Of course, Clara was too young to appreciate all the shenanigans, but we appreciated it for her.
// At the pumpkin patch I ate roasted corn (drenched in butter), hot apple cider, an apple cider doughnut… I mean, it was a lunch of perfection.
// Football. I'm glad I saw P. Manning break the record for most passing touchdowns last night. He's a good man, that Peyton.
Well, Clara is now awake and yelling about something-or-other so I'd better pick her up and do the whole 'mom' thing for a bit!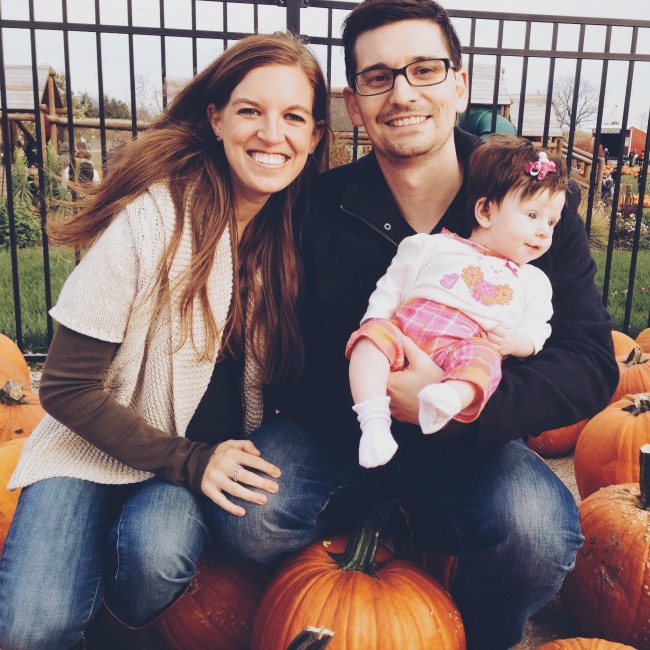 My hair has gotten a bit out of control… I'm thinking a haircut may be in my near future!
What was the most fall-like thing you did over the weekend?!
Cheers!

( Bloglovin' | Twitter | Pinterest | Instagram | Facebook )