One of the most difficult things about preparing for a baby (in my opinion) was creating a registry.
I loved creating a baby registry way more than I loved creating a wedding registry, but I still thought it was tough because I had no freakin' clue what my baby would like or need.
I wanted to stay as minimalist as possible with the amount of stuff we brought into the house before and after Clara was born, because we simply don't have the storage space to be dealing with a ton of extra baby stuff. Keeping that in mind, when I was looking at baby products I wanted to find quality over quantity.
I'm frugal by nature, but after scouring lots and lots of baby product reviews, I decided to splurge on a few baby products that I hoped were worth it – and some were.
So for all of you expecting moms or maybe-expecting-one-day moms (and dads!), I thought I would let you know about the products that I'm so glad I (or others) splurged on for Clara.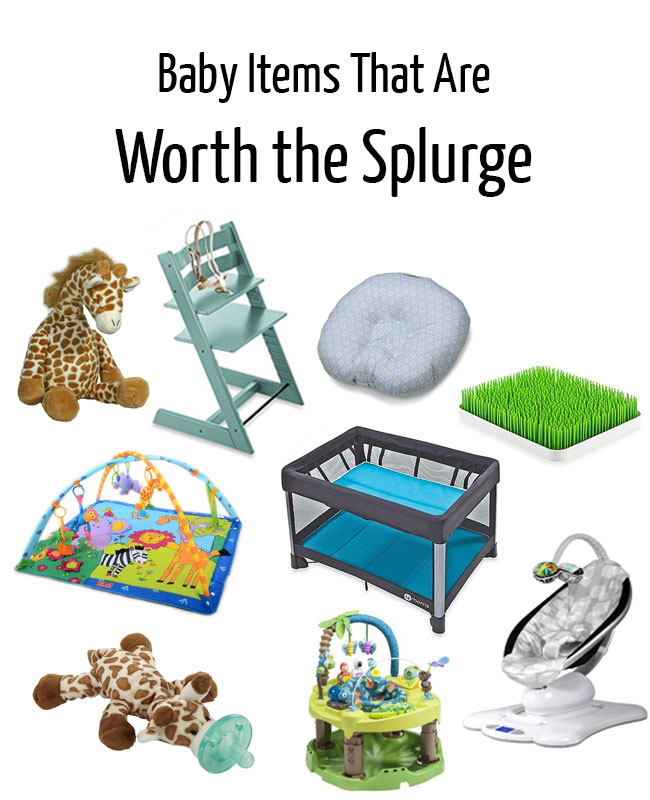 //
Cloud B Gentle Giraffe

.
I never knew just how important white noise would become in my life. I like this white noise machine because it's cute and functional. Plus, as you can see from the rest of this list, I love all things animal-themed. I have this little guy attached to Clara's crib. It's battery operated, which is good if you want to take it places, but not-so-good if you want it to stay permanently in your baby's room (since the batteries will run out quickly!).
//
Stokke® Tripp Trapp® Highchair.
I own this color (blue) but they're all adorable. This was a definite splurge, but I really disliked the very-plastic-looking high chairs and much preferred this look. I also bought the
baby set
which came with
these
adorable cushions. The whole thing was about $300 and I am honestly thrilled with how this looks in our kitchen. Plus, I think Clara will definitely use this as booster seat (the high chair is very height-adjustable) until she's old enough to sit in a 'normal' chair.
//
Boppy Newborn Lounger.
This was something I didn't register for or know I needed, but we used it every single day of Clara's life until she could roll off of it. When I originally received this Boppy Lounger I thought it was just going to be another thing lying around my house that I would never use, because couldn't I just put Clara on the floor or on the couch?! Ohhhh how misled I was. I absolutely love this thing.
//
Tiny Love Lights and Music Gymini Activity Gym

.
Clara is obsessed with this activity mat! I started putting her on it when she was a few weeks old (once I was fairly certain she wouldn't get overwhelmed by it) and she still loves to play with all of the toys! I love that now she 'yells' at the animals when she can't get them in her mouth.
//
4moms® Breeze® Playard.
This pack & play is more expensive than most that I've seen around, but I think it's worth it (based on my fairly limited experience). I've used other pack & plays and this one is far easier to set-up and take apart. I also like its travel bag (included). However, I will say that it's heavier than most of the other ones I've seen, so I make Tim do the heavy lifting! We've taken it on multiple trips for use in hotel rooms and guest bedrooms and we also kept it up in our family room for Clara to nap in when she was smaller. It comes with a
removable bassinet
which is awesome for the infant stage, because I didn't need to lean all the way over to put Clara in it (which was especially important if she was already sleeping!). I was very thankful for this ease of use during my c-section recovery. Now that Clara's older we'll use the bassinet as a changing table on trips, but we'll mainly use the larger part of it for her sleeping / playing purposes.
//
4moms Mamaroo Bouncer.
I really don't think this should be called a 'bouncer' because it seems like it does so much
more
than that. Basically, I love this thing. It's small (relative to other swings and bouncers) and so it takes up minimal space in our apartment. It plays white noise and it has different motions, all of which Clara loves. It even has a mobile that Clara still thinks is pretty swell. Basically, after six months we're still using this 'swing' to calm Clara down when she's especially fussy, so I'm deeming this a great purchase.
//
WubbaNub Giraffe.
Ohhhh WubbaNubs. Originally I just thought these were cute, so I registered for them. Little did I know what a lifesaver they'd become. We have the giraffe and the monkey, but all of the designs are so adorable. I love these above other pacifiers because they stay near Clara's mouth even if she spits it out. This is especially handy now because she has enough hand coordination to be able to move it back in her mouth in the middle of the night or on car-rides. She also loves to play with the stuffed animal and chew on the tags.
I'll (probably) never use another pacifier.
//
Evenflo Exersaucer Triple Fun Bouncer.
We just started using this and Clara is
in love
. She thinks every single toy on it is hilarious and I love that she can sit in it quite happily and entertain herself. Plus, when she's in her bouncer I don't need to worry about her rolling around on the floor while I'm in the kitchen/shower/etc. This toy gives me a few minutes of peace and that in itself is wonderful. Of course, this definitely takes up a lot of room in our apartment
(or what feels like a lot of room)
and it isn't the most attractive thing ever, but for a few minutes of peace, I'll take it!
And the one thing that is
not
a splurge but I'm going to mention anyway because it's what I would buy every expecting-mom I know: The
Summer Infant Mother's Touch Deluxe Baby Bather.
This bath is fantastic. We've used it since day one and Clara absolutely loves it. It fit in our (large) sink and now I put it in the bathtub. I like it because I don't really need to hold onto Clara with both hands when she's in it. Instead, I can plop her in this seat and keep one hand on her while using the other hand to pour water on her.
It's fantastic.
Phew, that about sums it up!
Of course, this is by no means an exhaustive list of the products we use every day, but these are the 'big' items that I was debating not registering for / exchanging for cheaper products, and I'm so glad that we ended up keeping them!
* In keeping with my theme of trying new things and working on consistently improving, I wanted to mention that to draft this post I created the above collage using Photoshop, which is something I had never done before! I'm definitely still learning, but I'm quite pleased with the result of my first attempt. Also linking up with Sweet Little Ones today.