I'm suffering from a vacation hangover this week. You know… so much to do to catch up on 'real life' but a complete reluctance to do it because vacation is much more fun! We returned from St. Louis on Tuesday and the rest of the week went by in a blur! I can't even believe it's already the weekend – but I'm certainly not complaining.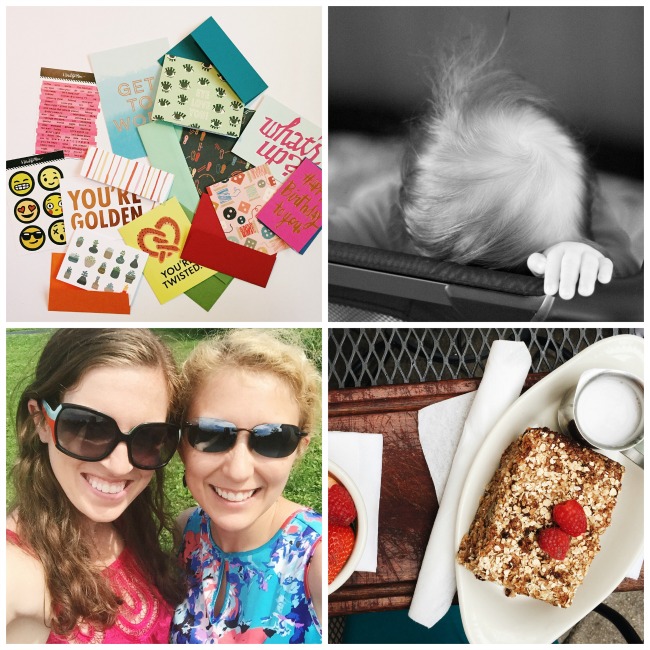 This Week In Photos:
I was so excited to see what this month's Happy Mail package would contain, and it didn't disappoint! I can't wait to send these adorable cards this month.
Clara's hair is a bit out of control. We seriously need to brush it every day, and she's only 10 months old! It's still looking very mullet-like, so there's no hope of a ponytail yet.
I absolutely loved being able to spend time with my best friend (and her family) in St. Louis over the weekend!
In St. Louis I enjoyed brunch with two of my best gal pals at Russell's. I ordered the baked oatmeal and they served it with coconut cream and it was delicious.
Worth Reading:
// "Let's live lives that focus on the right things and the right people. Let's choose to focus our pursuits on the right 'likes'—those that come from the people we love the most." (here)
// "This is like a juice cleanse, but for your horrible, technology-addicted brain that compels you to open an app every time you start to feel feelings. 'Oh I just won't look at my phone all weekend,' the hell you won't look at your phone. You're probably looking at your phone right now. You dreamed about looking at your phone last night.
And when you gazed into that abyss, the abyss also gazed back into you." (here)
// Can you solve this logic puzzle?: "Wason tells you that if a card shows an even number on one face, then its opposite face is blue. Which cards must you turn over in order to test the truth of his proposition, without turning over any unnecessary cards?" (here)
// "The average American consumes more than 300 gallons of California water each week by eating food that was produced there." (here)
// "Right now you can purchase someone's Instagram photo for around $100,000. The money won't go to the photographer, however, it will go to 'artist' Richard Prince, who has blown up and made prints of other people's Instagram photos for his series titled 'New Portraits.'" (here)
I hope you're having a wonderful start to your Memorial Day weekend!