I think this week almost managed to defeat me! Lots of 'stuff' has been going on the past few days and I'm just trying to catch up on life during nap times. I know it's not a good day when I start counting down to when Clara will go to sleep right after she wakes up. Not that it's Clara's fault, I just need more time! (Don't we all?) The most notable thing this week was that Tim was in the emergency room yesterday with fairly severe abdominal pain. They were able to diagnose it and no surgery is required (Praise God!) but it was still scary and he's in a lot of pain, even with the pain meds. Prayers for quick healing would be appreciated!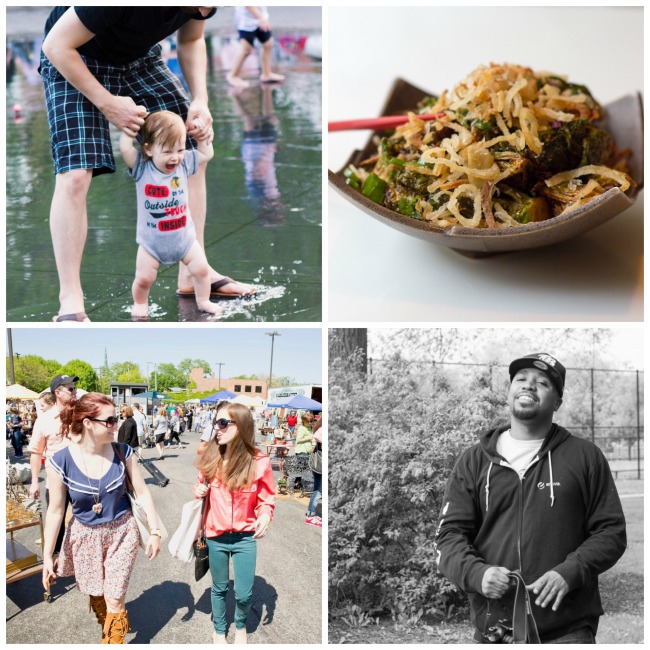 This Week In Photos:
We went on a family outing to Millennium Park to see the new Maggie Daley Park and to allow Clara to splash around in the fountains. She loved it, of course.
If I see Fried Brussels Sprouts on a menu, I'm ordering it – guaranteed. Tim took me to Slurping Turtle on a date night and it was perfection, per usual. Also, we saw Pitch Perfect 2 and I thought it was great! I love a good laugh.
Last weekend was absolutely gorgeous and I was able to take advantage by walking around the Randolph Street (Antique) Market with Giedre and Alicia. It was a blast and I even picked up the sunglasses I'm wearing in the above pic. It was also the first blogging event I've ever gone to – and I was pleasantly surprised!
This week was my last photography class, but I already signed up for the second session! I learned so much in the first seven weeks that I can't wait to see what I learn over the next seven!
Worth Reading:
// (I feel like I'm reading the plot for OITNB) "But inmate medical care involves treating high volumes of very sick people in a grim and often dangerous setting, and attracting good staff can be hard for any jail health care operation. Since last fall, two Corizon staffers at Rikers have been arrested for smuggling contraband into the jail. In July 2010, a Rikers doctor was arrested for sexually abusing a female inmate. That same month, another doctor resigned over questions about the validity of his certification to provide medical care to inmates. And in 2000, before Corizon hired her, medical director Lisa Choleff had her license restricted for several years on a rare disciplinary action over charges of "gross negligence, gross incompetence and negligence, and incompetence on more than one occasion." She notes in her public profile at the New York State Department of Health that the disciplinary action "has now been resolved." She did not immediately respond to a request for comment." (here)
// "One sign of that style's acceptance is how quickly its conventions have become standard. Nowadays, 'it's almost obligatory to use an exclamation point,' says Susan Herring — but more owing to the fear of being seen as unfriendly than an actual outpouring of friendliness. Tannen has written that much of women's stylistic embellishment 'does not signal literal enthusiasm, but rather is necessary to avoid the impression of negativity or apathy.' One of Tannen's students once showed some peers an exchange between two women, where one answered the other with short one- or two-word answers ending in a period. Six of the seven female students said the respondent was angry. All five male students said the respondent was probably busy or just indifferent." (here)
// "Saying yes to the best stuff means saying no to everything else, even some really good things. But the good news is, saying no is a superpower we can all develop. It's just going to take some practice." (here)
// "The following week I observed it myself for the first time. After my first observation, I was sure that the school was lacing the Kool-Aid with a special rule-following medication. Either that or it was a cult. I couldn't get over how well the children played independently. They were completely absorbed and occupied in their tasks at hand. I was determined to figure out what the secret was so I could jump on the bandwagon and bring it home." (here)
// "In the UK today, a young person is more likely to have a television in their bedroom than a father in their house by the end of their childhood. And even if fathers are around, their sons don't engage with them much: boys spend 44 hours in front of a TV, smartphone or computer screen for every half hour in conversation with their fathers." (here)
What are you up to this weekend?! Relaxing or keeping busy?