This past week really reinforced why we decided to move to Seattle from Chicago. Take the weather, for example. The temperature in Seattle has been in the 40s and 50s and Clara and I took walks and went to the playground and the zoo this week… yes it was a bit ton rainy, but we don't melt. In Chicago, however, the temps were in the single digits. Thanks, but no thanks.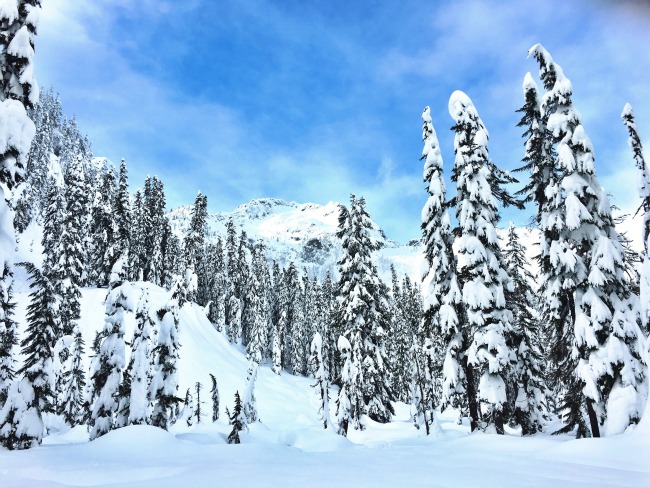 We also went snowshoeing for the first time on Monday. Now let me tell you, I've loved Seattle since we moved here in October, but I really loved it when I realized that after a quick drive we can be in snow-covered mountains. I mean, it's amazing. The scenery was awesome and we had a blast snowshoeing with friends.

(Of course, Clara didn't have as much fun as the rest of us… she had her 18 month shots that morning and was fine for a few hours, and then started getting a fever and was miserable for the last hour or so of snowshoeing. And there's nothing relaxing about listening to a toddler scream their head off. Poor Clara, poor us. I hope we go back this season, though, I had never gone snowshoeing before but it's a great way to get surrounded by some nature for a little bit. Plus, when Clara is back to her usual self, I think she'll love playing in the snow!)
So yeah, I like this outdoorsy stuff that we've been doing lately. Thanks, Seattle, you've been good to us this week.
And in case you're looking for some good articles to read this weekend…
Things I've Read on the Web
// God Has Already Revealed His Plan for Your Life: "After my quick self inventory, I realized that my issue was not not hearing from God; my issue was relying on God to make me obedient to what He had clearly spoken, for all these commands were part of me fulfilling God's will for my life." (here)
// 9 Simple Living Blog Recommendations: "If you are looking for new inspiration, there is no doubt you will find someone on this list below whose voice resonates deeply with yours. Each blog is less than two years old and I am confident each author would welcome the opportunity to connect with like-minded readers." (here)
// Rules for Getting Organized & Decluttered: "When you walk through a room, find one thing to put away. If you're going from your bedroom to the living room, find one thing during that trip to put away. You don't have to get stuck in putting everything away, just one thing." (here)
// Removed: "American photographer Eric Pickersgill removed the smartphones and digital devices from his portraits of everyday life. The project 'Removed' aims to show our addiction to technology and hyper-connectivity, and Pickersgill knows that he's also amongst the addicted." (here)
TGIF! What was the best part of your week?!