One of my biggest challenges in being a blogger is finding people who can relate to what I'm working on. My good friends are barely into social media and the internet in general, much less the blogging world, so they have no clue what being a blogger actually entails! Luckily, over the years I've 'met' some wonderful bloggers who I now consider friends, who I can bounce ideas off of and who can relate to the different aspects of the blogging world that I talk about.
One of my newest friends is my "solidarity sister" (Susannah matched us up and it was just meant to be!), Cait! She writes at Cait's Cozy Corner, and it turns out we have a ton in common.
For instance:
She's a toddler mom to a daughter just a few months older than Clara
She grew up in the same hometown I did (small world!)
She recently moved away from Chicago (but she moved south and is enjoying the warmer winter!)
She loves to travel
She loves a good cup of coffee
She loves reading
You get the idea, we were basically meant to be friends and now we are. Done and done.
Meet Cait: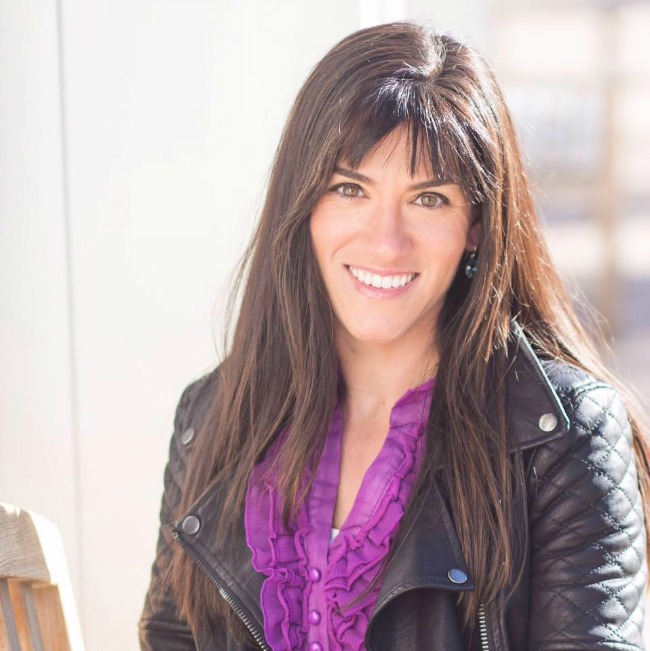 We thought it would be fun to do a bit of a Q&A post so our readers could get to know each of us. Check out her blog for the second half of the questions.
1) You (like me!) recently moved from Chicago – What food do you miss the most from there?
Cait: I def miss the pizza. Stuffed crust with lots of thick cheese from Lou Malnati's. It honestly don't get any better then that!
Lisa: Ohhhh I miss the pizza, too. There is nothing better than Lou's deep dish! I also miss Portillos and their chocolate cake shake.
2) What surprised you most about becoming a mom?
Cait: I think how different it is having your own. I had been babysitting since I was 12 so I was extremely comfortable with newborns, babies, toddlers and school age kids. But it's SO different when it's your own child. I think it was just learning to adjust to 2 hours of sleep in the newborn stage and how you just learn to adapt to that. I usually get 9 hours every night 😉
Lisa: I totally agree, it is so different having your own kids. I actually was never really into kids (crazy, I know) but I like mine so far – so I guess that's a good sign! I was also surprised at how exhausting being a mom is, I really underestimated that! I was also surprised at how many of my relationships changed when I became a mom. Family relationships, friend relationships, my marriage… it all changed – sometimes drastically!
3) What has been your favorite phase of motherhood so far?
Cait: Watching Lily grow up and see her personality come through. She surprises us every day with her sense of humor, her love for attention and her sweet side of wanting to be my shadow. It's also fun to see some of your quirks passed down your child and think 'oh my gosh I do the same thing!'
Lisa: YES, the toddler stage is so fun because their little personalities start to really show themselves and it's so fun to see your tiny baby become a little person! I had a really rough time between the age of 12-18 months with Clara, but now I absolutely love the stage she's in. I actually loved the newborn stage the most, though… I don't know what it is about newborns, but I love them.
4) What five words would your husband use to describe you?
Cait: HA! This is great! Zach said, "smart, giving, busy bee, compassionate and a hard worker."
Lisa: I love that description of you! Tim said, "dedicated, intelligent, driven, fit, and pretty." (I'm pretty sure he's sucking up because this 33-week-pregnant woman feels far from fit and pretty at this point!)
5) What is your biggest struggle with being a working mom?
Cait: I just wrote a post about having to try to balance it all in 2 hours with my toddler. My biggest struggle is just finding the time to just be with my daughter; no phones, no interruptions or anything. I find that I need to make a bigger effort to enjoy coloring, playing tea party or swinging on the swings with her. The moments are few and far between and learning to let social media, e-mails and work events on silent for even an hour is beneficial for me and my family.
Lisa: I can't imagine trying to balance work and a marriage and friendships and a toddler… plus hobbies – like blogging! I'm exhausted just thinking about it!  As most of you know, I don't work outside the home. Right now I'm a SAHM who volunteers a bit on the weekends and manages our Airbnb and blogs for a bit each day, and that keeps me busy enough! My biggest challenge with being a SAHM is finding fulfillment in what I'm doing and being at peace on really hard days. Sometimes I wish I had a few hours to myself or at least around other adults! There have been days on end where the only people I talk to are Clara and Tim – which can feel pretty isolating! Now I've started making a huge effort to spend time with other moms (and their kids), which helps me a lot.
… And the second half of the questions are here!
Don't forget to check out Cait's blog, or follow her on Instagram, Facebook, Twitter, and/or Pinterest!