Tim has always wanted to go whale watching, so being the awesome wife (I say) I am I decided to buy him tickets for his birthday. I consider gifts like this the very best kind, because I get to do something that I want to do and call it a gift for Tim! I think he's generally onto my strategy though…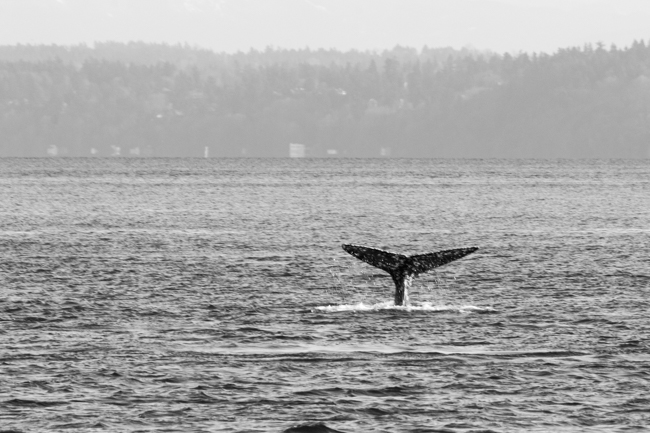 Anyways. It isn't necessarily ideal whale watching season in Seattle, because winter months tend to be wet and miserable, but we found a tour that operates year round that conveniently leaves from downtown Seattle. I was optimistic when buying the tickets (about a month ago), but after our chaotic family snowshoeing 'adventure' I almost cancelled the entire trip because I didn't think my mental state could handle hours of (my) whining toddler and screaming baby.
However, I really don't seem to learn lessons very easily (or maybe I'm just really stubborn), so on the trip we went!
It was wonderful.
It was a super convenient tour because the boat left right from downtown, which is close to where we live and also close to a public parking garage. Then, we found a booth to sit at in the indoor area of the boat so that the girls could eat snacks and stay warm. We, of course, went outside when there were fun things to see, which was often!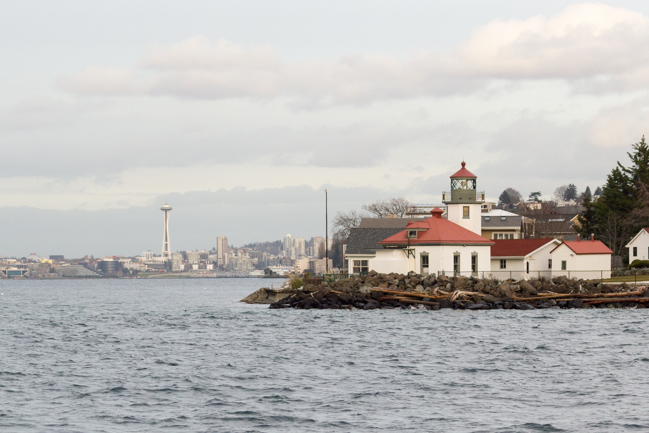 We enjoyed beautiful views of Seattle! Thank goodness for a day full of sunshine.
We saw sea lions, seals, bald eagles… and whales! There's nothing like seeing wildlife in their natural habitat and knowing that it's so close to where we live.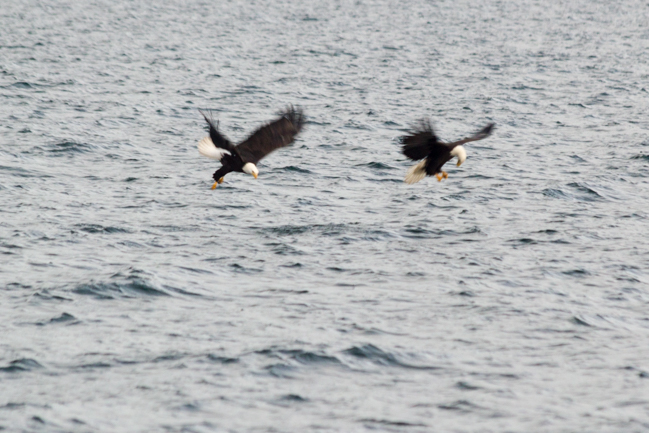 These two eagles were one of the highlight of our trip! They were trying to dive after something in the water. Also, I realized after they were gone that my shutter speed was way too slow so the pics are blurry – wah.
The girls were surprisingly (decently) well behaved on the 4-5 hour trip and they were entertained by the snacks and watching for animals and the booklets they gave us that had pictures of the wildlife we might see…. Plus, Clara loves boats and Isabelle was able to nap during her normal naptimes while we wore her in a carrier.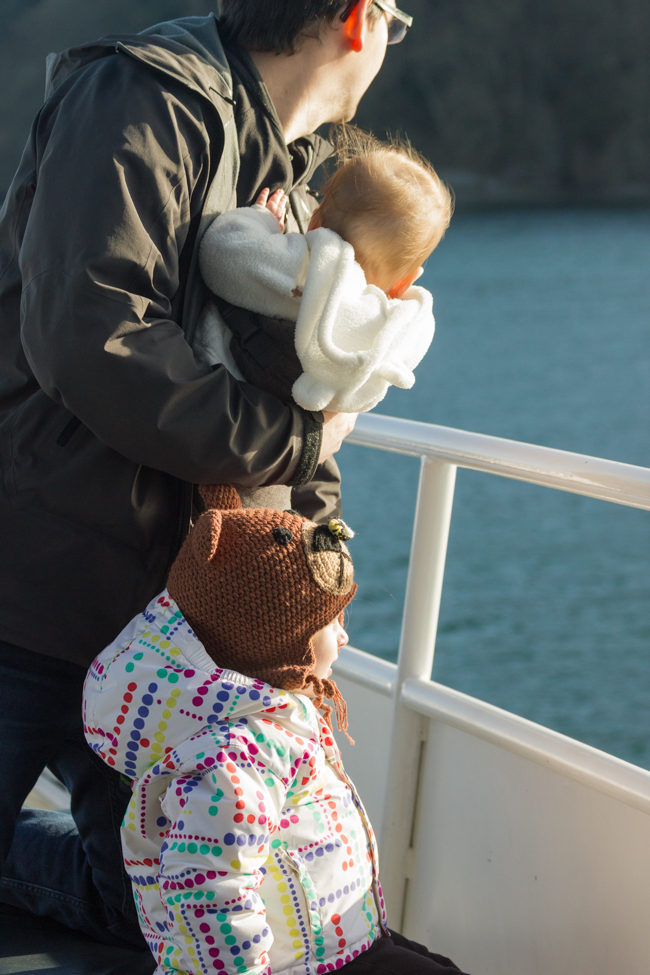 Here are some tips so that if you go you can have an awesome experience, too:
Get to the dock early. There's no worse feeling than feeling like you might miss your boat or get there late and hold up everyone on the trip! There aren't many things I'm on time to these days, but we got to the dock early and I was very glad.
Bring snacks. Way more snacks than you think could ever be consumed by a tiny human in only a few hours. Actually, even if you don't have kids you should bring snacks and water!
Bring lots of extra layers for everyone, especially if you go whale watching in the winter. We went on a rare sunny day, but it was still very windy on the water!
Bring a camera with a zoom lens.
Attempt to get on the boat quickly so that you can grab a seat indoors (if you have kids who aren't going to sit still outdoors).
Go on a whale watching tour that has a whale guarantee. I was so happy that our tour had a 'guarantee' which basically said if we didn't see whales on our trip we would get free trips until we saw them.
Be on the lookout! On our trip I actually saw a dolphin or whale or something near the boat but I was nursing Isabelle and couldn't get anyone's attention to tell them so the boat didn't stop! If you see something, say it so that everyone else can check it out, too!
Get excited by more than just whales. The whales were pretty neat, but the other wildlife was awesome, too. For instance, we saw two bald eagles soaring in front of the Seattle skyline, trying to grab something out of the water. They almost got in a fight and it was just so neat to observe.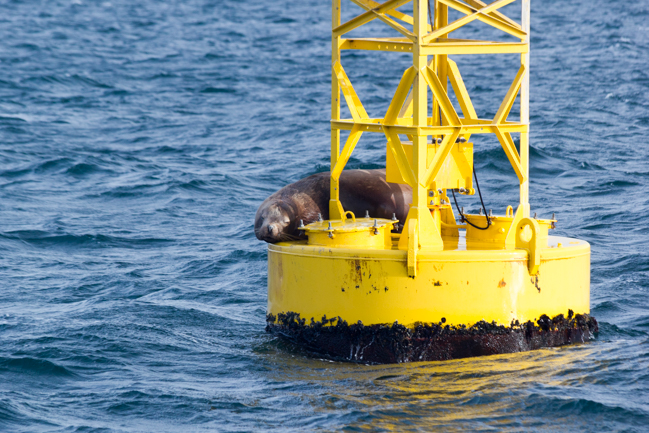 This big guy (a California Sea Lion) was enjoying the sunshine!
All in all, it was a great day, that we ended by eating a nice dinner at Steelhead Diner near Pike's Place downtown.
I honestly cannot believe the girls made it through the entire day without any major meltdowns! I think God was trying to give me a break after our stressful Christmas. Adventures are still possible with small children! We can still do fun things!
Let this inspire you to go out and do the fun things. Kids in tow. But maybe don't go snowshoeing.