A few things…
// Clara started preschool this week! I always thought it was ridiculous when I'd hear that parents were sending their kids to preschool before they were four years old, but now I'm one of those parents and I totally get it. More on that later. But suffice it to say, Clara loved it, I loved it, and now we're poor(er). Preschool 'tuition' is no joke.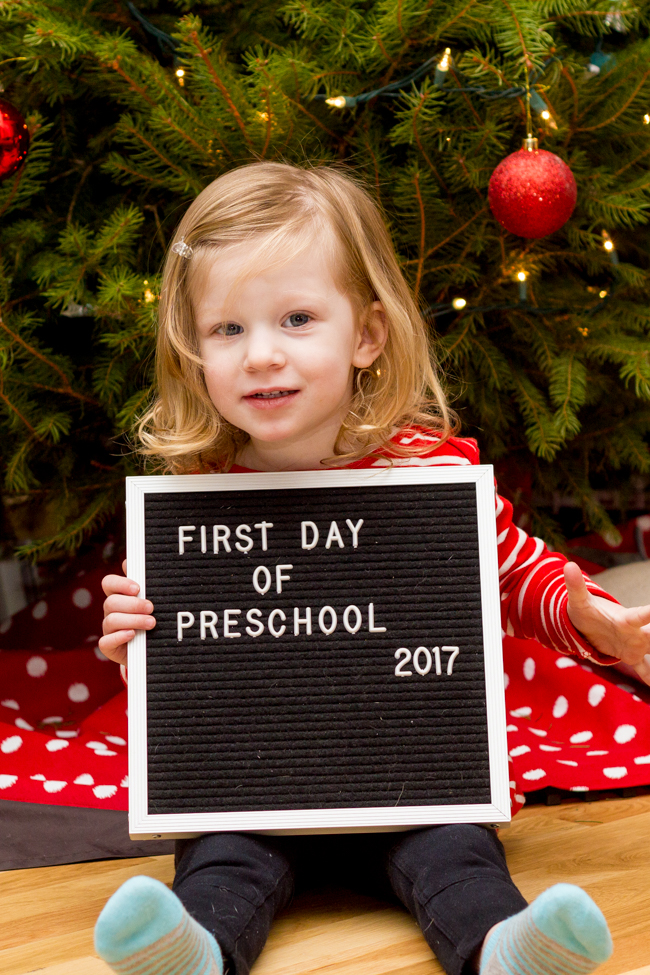 Obligatory 'first day of school' pic. I tried to take it outdoors but you should have seen/heard the meltdown that took place during that photo shoot. Yikes.
// The week after the holidays is so brutal! It's going to take me quite some time to get into the swing of things again. I feel like I'm always in a state of constant transition.
// The biography of Louisa Adams is my current-read and it's great. I read the biography of Alexander Hamilton at this time last year and could barely get through it, but this biography is all of the thumbs up. If you're into (American) historical figures, pick this one up.
// I was playing around with Lightroom and realized I never edited most of the pics from the time right after Isabelle was born. Whoops. I blame the craziness and exhaustion and second childness in general.
// I went to a Goodwill-type store the other day and it was AMAZING. I usually avoid these stores, but I thought I would try it out because I'm really trying to find cheap kids' clothes and some house accessories. I bought so much good stuff for so, so cheap. My favorite find was a North Face fleece for Clara for $4!
// Tim and I finally took the leap and decided to sign-up for Amazon Fresh. This may have been our best decision in quite some time. Now, whenever I think of something we need from the grocery store, I just go on the Amazon app and add it to our cart. So easy! I'm hoping that this actually saves us money (and calories) because I'm much less likely to make impulse purchases and add garbage food to our online cart. Time shall tell.
// Our Christmas decorations are probably never coming down at this point because we just don't have the time and energy to remove them. It's probably happening this weekend… hopefully. I just love the tree, though. Maybe I should buy a fake one and keep it up year round. I could decorate it with seasonal decorations, but I'd always keep the white lights up.
I feel like there are a bijillion other things going on in my mind right now, but I have an episode of Scandal to watch and a glass of wine already poured. OH, that should be my last bullet point on this list. I am now watching The Bachelor (obviously) and Scandal. I usually don't watch TV so it is a big deal for me to commit to a new show. So far I'm on episode 2 in season 1 (of Scandal) and am completely sucked in already. Do you watch it?!
It's almost Friday! We can do this!
(Linking up with Kristen and Gretch today.)