In the past I've had a love/hate relationship with Valentine's Day, but now that I have kids, I'm in a major 'love it' phase. I loved creating little valentines for their friends and I loved the craft Clara made at school and I loved that Clara was so excited about the whole thing.
Valentine's Day morning I had such high hopes… Tim was going to take a few hours off work so he could stay at home in the morning and make heart-shaped pancakes for the girls. And they were going to be pink! We had it all figured out!
Well, in true Tim & Lisa fashion, we didn't really plan ahead. The heart-shaped cookie cutters (that I swear we own) were nowhere to be found, and the food dye was too light, so we ended up with regular-colored start shaped pancakes instead. Wah wah. Clara and Isabelle still loved them so I'm considering it a win.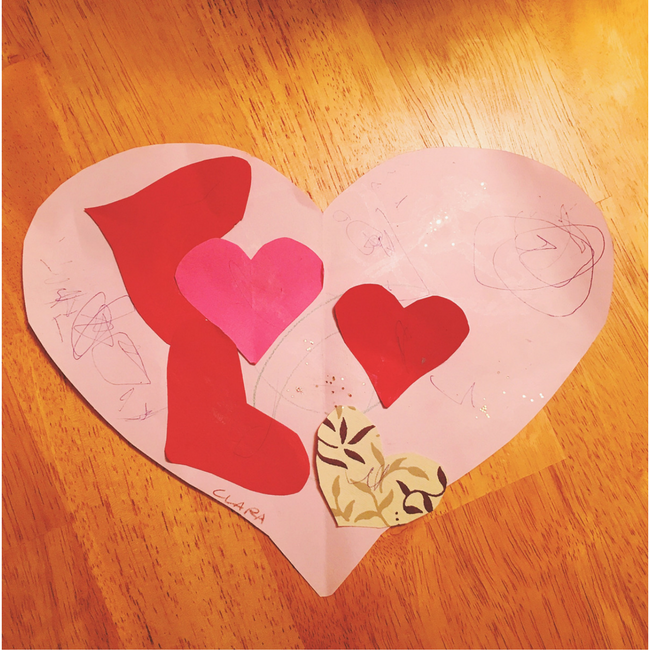 Clara is so proud of her (first handmade) Valentine's Day card!
But enough about that. I want to share a  list of…
Things I Love
(in no particular order)
My faith
Dark chocolate
Being active
Learning
This vacuum. I have to explaiin… I hate cleaning with a passion, but I use this vacuum at least five times per day. With two excessively messy eaters on my hands, I feel like all I do is clean the floors – and this has been a life saver. Not to mention all of the dog hair I'm also always cleaning up…
Prosecco
Finishing something. Anything.
Dry humor
Changes
Relationships
Clara's preschool
Political podcasts
Trying something new
Baking
Scandal and Olivia Pope's wardrobe
Tinybeans. If you have a kid and are not using this app, I think you are doing it wrong. I just went through all 2.5 years of pics I have on it (starting with Clara's birth) and was in tears by the end. Download this one.
Hot chocolate from Chocolati Cafe
My library card and alllllll of the books
The concept of minimalism. I am not yet a minimalist, but I am actively working on it.
A new recipe
Blogging
The newborn baby phase. Am I the only person who loves this phase? I might be.
Personality quizzes
Traveling
Handwritten letters
Being outdoors
French fries
Mountains. I had always wondered if living in a place with mountains would make me immune to their beauty… and I can say that after 18 months, the answer is still, nope!
Chatting with a good friend
Slippers or comfy socks
Self reflection
Doing taxes (I'm crazy, I know.)
Reading
Getting to know my girls' unique personalities
Being intentional
Road trips
Stephen Colbert
Surprises
Taking photos
Learning about people's lives
March Madness. And football.
My daily coffee
Raw cookie dough and brownie batter
Neutral color
Living in cities
Rainy days
Shopping at thrift/consignment stores
Cheese
And Valentine's Day wouldn't be complete without mentioning my husband and our two girls! I love that Tim is silly, kind, generous, and loyal. I love that Clara is independent, smart, goofy, and joyful. I love that Isabelle is squishy, determined, resilient, and cuddly. And (because self-love is important, too!) I love that I'm intentional, witty, motivated, and friendly.
I hope you had a wonderful day celebrating love!