I can't even remember the last time I did a 'currently' post, but I'm bringing it back and plan on doing it semi-regularly!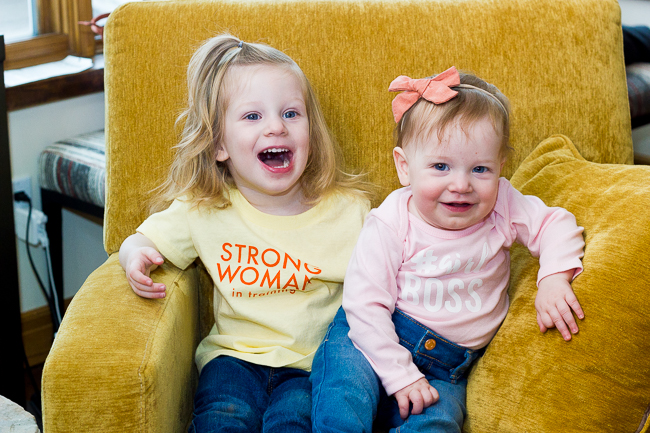 My little strong-woman-in-training and #girlboss.
At this moment I'm…
// Working on: Hydration! And organizing my house… that's a never-ending project, it seems! I'm a minimalist at heart but I have so much dang stuff (somehow)!
// Eating: A lot of carbs. Whoops. I'm also feeling kind of crappy lately, so I think I need to get my diet back on track.
// Drinking: Tea! And LaCroix. And some lattes.
// Reading: Gilead. But I must admit I'm feeling guilty that I just don't love it so far. The beginning seems slooooow. Does it get better? So many people recommend this one and I just don't see the appeal so far.
// Wanting: To take some good hikes! I can't wait for spring to get into the mountains and on the trails! Although, for now I'm very satisfied being able to ski in the mountains this season.
// Listening to: I'm getting more and more into podcasts (again). Right now I'm listening to the FiveThirtyEight political podcast and it is really good stuff.
// Planning: Summer vacations and adventures! I hate coming back from vacation, so to help with the post-vacation blues, I'm working on planning the next one! This summer I'm hoping to stay in the PNW but take quite a few driving adventures to explore the areas surrounding Seattle.
// Loving: Corrine from The Bachelor. She's still my favorite BY FAR. Everyone else just seems so boring! She will 100% be on Bachelor in Paradise this summer, so I have that to look forward to (since I'm sure this is going to be her last week this season).
// Feeling: Overwhelmed. Maybe it's hormones, maybe it's that I actually have too much to do, maybe it's our negative political climate… I'm just feeling completely overwhelmed lately. Is anyone else feeling the winter blahs? I'm also feeling tired. I'm blaming breastfeeding because I remember feeling like this at around 9-10 months with Clara, too. I just feel like I can't keep up with my body's demands and am feeling really drained all around.
// Watching: Scandal! Although I will say that season 4 went downhill in a hurry… I've heard it gets better, so I'll continue watching! Plus, I just love seeing what Olivia Pope wears. Total outfit goals.
// Looking forward to: Another mini-vacation next weekend (to go skiing with friends, again)!
What are you up to?!