There is almost nothing I love more than traveling to a new place, so I was thrilled when the chance arose to travel to Park City, UT! I had never been to Utah at all before, and now I can't wait to go back.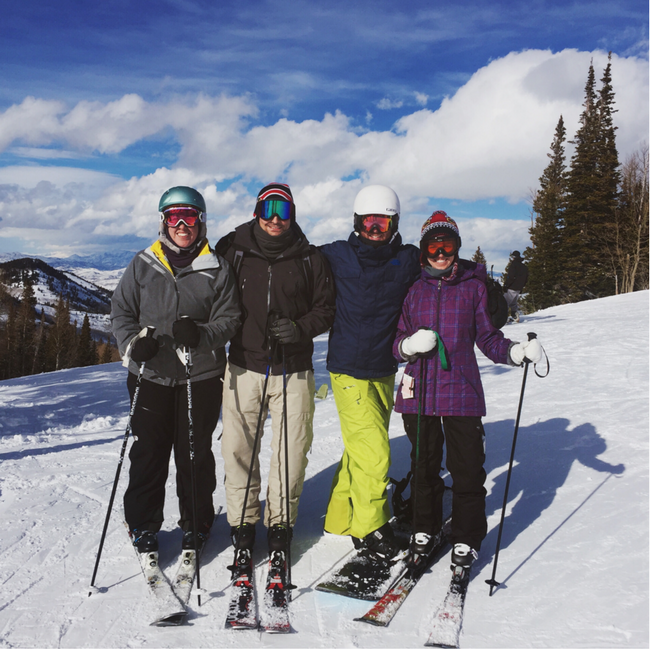 We found ourselves in Utah after our friends invited us to go skiing, which just so happens to be one of my favorite activities! We stayed in a gorgeous house a few blocks between Park City Resort and downtown Park City, and the location couldn't have been better.
During the day we arranged for Clara to be in the resort's daycare and for Isabelle to stay with our friend's parents, who were on the trip as well. To be honest, I was very nervous leaving both of them. As a stay at home mom, I hadn't been away from my daughters for more than 8 hours since Clara was a 14-month-old only child… which was over a year ago! However, my anxieties quickly disappeared once we dropped the girls off and hit the slopes and I remembered how nice life is without listening to whining and crying and general chaos.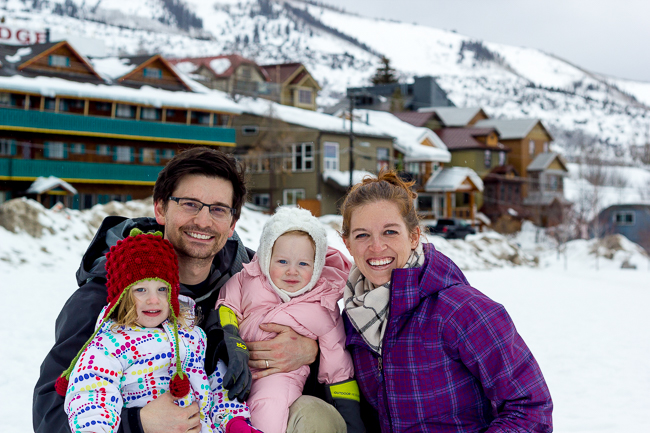 We hadn't been skiing in five years, but after a few easy runs, I felt really comfortable on the slopes. I'm not an expert skier by any means, but I can ski at an intermediate level and that's enough to get me down the mountain! I had a blast!
Tim and I had so much fun with our friends and I only wish we had decided to do a ski vacation earlier! We had been intimidated about a lot of the logistics of planning a trip like this with kids, so I wanted to share some tips with you.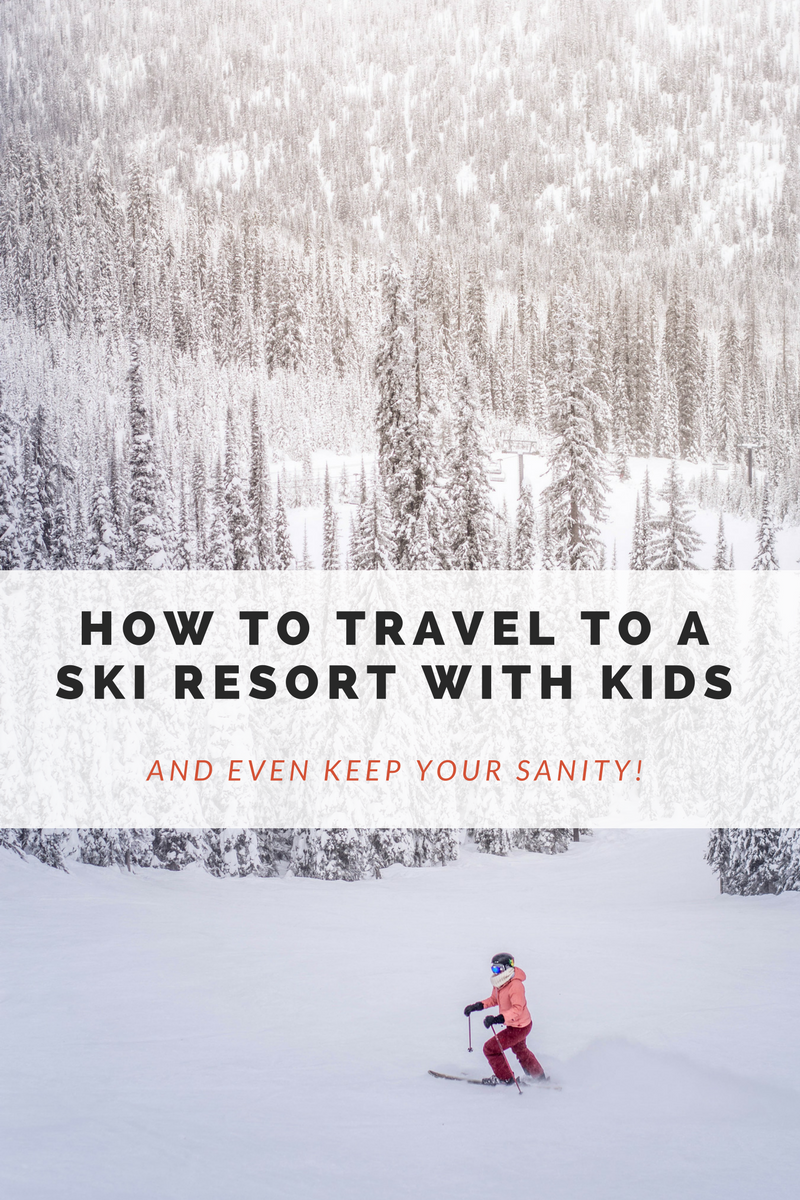 Here are my thoughts on traveling to Park City (or any ski resort) with little ones:
Rent a house. I'm so thankful that Airbnb and other rental housing options are popular now, because with two kids I'm doing everything I can to avoid hotels. To make renting a house cheaper, gather up some other families and split the cost! Also, with a house comes the option of buying groceries and cooking meals. After long days of skiing and being active, sometimes it's nice to either order in food or to cook something quickly for the family to enjoy. I find both of those options preferable to going out to restaurants every night with kids, but we did go to one restaurant (Yuki Yama Sushi) on our trip, and it was excellent!
Location is (even more) important. We were lucky in Park City, because we stayed in a house which was walking distance to both the ski lifts and the restaurants downtown. With kids it's easiest to be able to walk out of the house and get to where you need to be without dealing with carseats. One of the reasons I love Park City is because the houses are so near to the mountain. We didn't need to spend our time driving, and that means we were able to spend more time skiing!
Look into childcare. Usually I enjoy vacationing with my children, but when the vacation involves downhill skiing and your kids are 2.5 years old and 9 months old… it's necessary to ditch them with other responsible adults. And I was so impressed with the child care options at Park City! Sure, it was expensive, but it allowed us to take this vacation – so it was worth it! The daycare that Clara was in took the kids on a gondola ride partway up the mountain so they could play in the snow. It turns out that Clara doesn't like snow, but she loves gondola rides! She also ate lunch and napped and had a snack and couldn't wait to go back the next day. I was thrilled about the entire thing. (My girls are too young to ski, but once the girls are old enough they'll be in ski-school instead of daycare.)
Pump on the mountain. Until this year I thought ski trips would be impossible because I didn't know how I could pump without it being a huge hassle, and the last three winters I've either been breastfeeding or pregnant. Fast forward 2 years… Isabelle is a breastfed 9-month old and it ended up being really easy! I simply carried around a pump in a backpack (rather, I put a pump in Tim's backpack so he could carry it around) and pumped once at lunch. Although, I will say that it was really awkward trying to pump in public with a bijillion layers on. The next time I do this I'm going to wear looser base layers, but this time I still made it work by wearing my jacket backwards and pumping like normal.
Plan some snowy adventures. Especially if you don't live in a place where there's a lot of snow, make sure you take the kiddos out to enjoy the snow as well! Clara loved riding the gondola and sledding down a very small hill and building a snowman, and Isabelle loved… well, nothing about the snow. But that's okay, because I have a picture of them in it and that's all I was really after! When the girls are older we'll take them skiing, snowmobiling, tubing… but I'm not rushing time. Right now they're at a very fun age because everything is new and exciting!
Adjust expectations. A ski trip with kids is not the same as the 'old days' of skiing sans children. It takes longer to get out of the house in the morning, less sleep is had by all, there is less free time to relax, and there are more logistical demands. Plus, our toddler frustrated us by spending hours asking to go sledding, 30 minutes putting on her own snow gear (because she has to do it "all by myself"), then 10 minutes walking slooooowly to the tiny hill/mound-of-snow, only to sled for literally 3 seconds. She seriously sat on the sled for mere moments before demanding we all go back to the house again. I recommend carving out extra time in the morning to ensure you have all of your ducks in a row (children fed and dressed and packed with lots of extra layers) so that you don't start out your day stressed out and frazzled.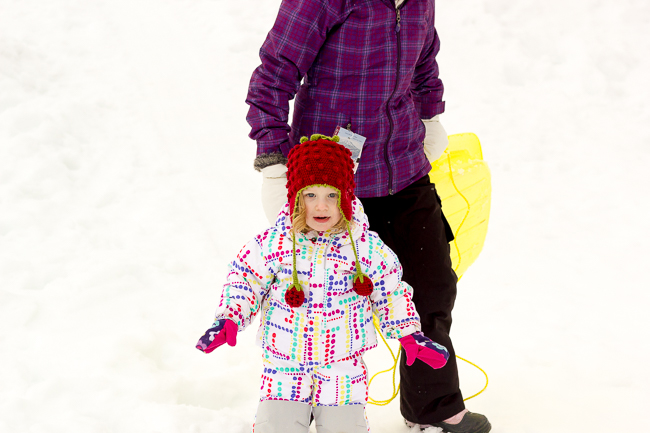 I also want to add that I think we're at a sweet spot for flying with the girls, because at 9 months old Isabelle can sleep on the plane, and at 2.5 years old Clara absolutely loves airplanes and can also be entertained by Daniel Tiger for quite a bit a time.  The 2.5 hour flight was perfect for us.
Now for the bad stuff… 
The girls didn't sleep the entire trip. Every single night it felt like one or both girls were up from 12-4am. I'm not joking… it was awful. Tim and I couldn't figure out how to split up to take care of both girls and/or to ensure at least one of us could sleep. The whole sleep thing was a disaster and I'm not sure what to blame, although I have a feeling the altitude may have played a factor (since Tim and I both felt nauseous at night, maybe the girls did, too). Does anyone have any thoughts on kids and altitude?
I think trips like this can be intimidating, but they are so necessary for my soul. I am really glad that Tim and I decided that we were going to go on a 'big' ski trip this year – and that we all had a blast (sleep deprivation and all)!