Over the weekend Clara blew her nose directly into my hand, so at that instant I knew it was only a matter of time before I got sick. And sick I am. Although, thankfully, I tend to only get 48 hour colds, so I'm fighting through the end of it and I have full confidence I'll be back to full-speed tomorrow.
Hopefully. (But famous last words, right?)
Because there is nothing worse than being sick and stuck at home with an energetic toddler and a clingy baby and dishes piling up on my counter.
In other news, I wrote my last currently post about a month ago, so I'm back at it again.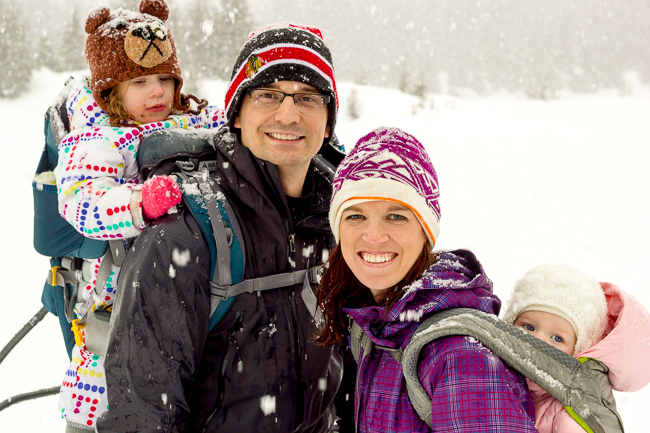 The definition of insanity is me thinking it's a good idea to go snowshoeing with my children. Again. More on this in a later post when I've recovered from the trauma.
At this moment I'm…
// Working on: Getting rid of all of the clothes and jewelry I don't wear anymore. It's more of a task than it should be as I decide what to sell and what to gift and what to donate. I'm probably overthinking all of this.
// Eating: Those darn Girl Scout Cookies that keep finding their way into my house.
// Drinking: Champagne. And lattes. I make one every morning and now Clara makes her own little (imaginary, obviously) lattes, too.
// Reading: I just finished "Today Will Be Different" but I prefer "Where'd You Go Bernadette" (same author).
// Wanting: My old butt back. But alas, I haven't been in the gym enough to make that happen, so instead I finally bought a new pair of jeans in a size that will be much more flattering. Because it turns out that wearing too-big jeans with a belt just isn't a flattering look. (I bought my new favorite jeans from ThredUp for about $30 and am in love. Use this link for $10 off your purchase!)
// Listening to: The Modern Love podcast. I love it.
// Planning: I don't think I'm even planning anything right now! How is that possible?! Tim's brother and his girlfriend were just in town so I planned that weekend, and now I'm relaxing my brain before thinking about the next adventure.
// Loving: How social I've been lately! So many playdates and a few nights out and seeing friends and family in town… I've loved it! I feel most like myself when I'm with loved ones. (There's not an introverted bone in my body.)
// Feeling: A little bit sick and drained and tired of being tired. Do you know the feeling? I don't like the unenergetic and unmotivated version of myself!
// Watching: A dang pregnant giraffe. C'mon April, you need to have this baby already.
// Looking forward to: March Madness! It's one of my very favorite times of the year. Bring on round one!
What are you up to?!