I'm sure you already know this, but the new season of the Bachelorette starts tonight! I know I can't be the only one who still watches this show, right?! Tell me some of you are going to be watching it, too. And if you don't watch it, just skim right over this post – I'll be talking about parenting/mom related things again soon. But right now, this is where my mind is.
I just spent today's entire naptime going through all of the Bachelorette contestant bios to select my final four men, who I shall cheer on throughout the season. And then I realized that the fantasy league I'm in might let me change my guesses all the way into the finals so maybe this 'research' was a bit premature and unnecessary. OH WELL. I'm still considering this to be time well spent.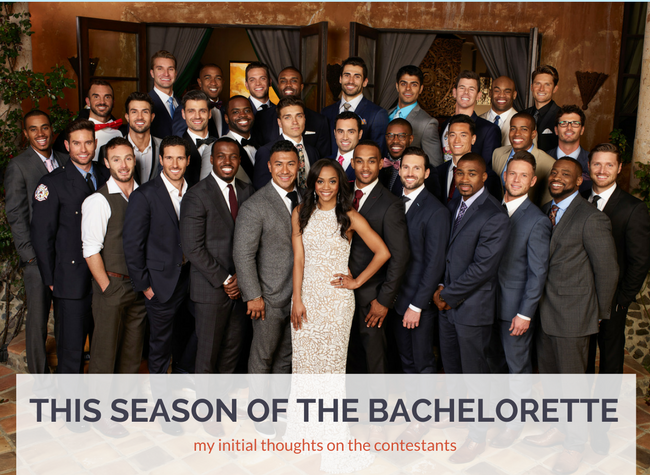 (Original photo from ABC)
In case you're wondering my thoughts on these men based solely on their internet bios…
Here's the rundown of my initial thoughts for The Bachelorette contestants
Adam – A threesome was his most romantic gift? SAY WHAT? No sir.
Alex – One of his worst attributes is 'unapologetic', which I don't think is going to go over well. Oh wait, he once ate a live salamendar?! NO. Next.
Anthony – Education software manager from Chicago? So far I like where this is going! OK nevermind, he chose his mom as someone he would like to be for a day. I'll put him as a 'maybe'.
Blake E. – An aspiring drummer from Southern California? Next. (Also, engaged to a 'crazy girl' for 48 hours?! What the heck?)
Blake K. – This is the second contestant who has mentioned 'The Rock' in his bio, and I'm only to the letter B… strange. And another nod to a mom. I mean, I like moms and all, but in a Bachelorette bio? It's a non-starter for me. Moving on. (Sidenote: When he says his ideal mate is "Great smile long and fit" what does that even mean?!)
Brady – Male model. NOPE.
Bryan – He's a bit older and he's a chiropractor and his answers contain actual words and sentences and make sense… maybe.
Bryce – He caught a girl's hair on fire when he was having sex. And he's a firefighter… so that's extra questionable. He can't form a coherent sentence so I'm not even reading this entire bio.
Dean – Well I guess he's allowed to mention his mom since she passed away. But… this guy is boring so he won't be making my team.
DeMario – This guy clearly has a lot of personality and LOVES pop culture, as there are like 15 celebrities mentioned in his bio. I'll put him as a 'maybe' because he'll probably be fun, and to be honest, I'm beginning to think I'll never get 5 good guys out of this cast!
Eric – He's a personal trainer which means he must have great abs. I already like his chances. He wants to go to New Orleans during Mardi Gras which I think was where Rachel and Nick went for one of their dates… right? Maybe this is a sign of good things to come. Or a disaster. He's a strong maybe.
Fred – Well, he really had me interested until I saw that his biggest date fear is having his card declined and he also loves it when his date pays for herself. Nope, nope.
Grant – He seems full of himself, but maybe that's a good thing on this show, at least to get through the first few rounds. He's a maybe.
Iggy – Consulting firm CEO? Is it a successful firm?! His answers aren't TOO strange and I actually think he's probably pretty smart. Plus, his question/answer to: If you were stranded on a dessert island, what would it be made of? Banana float… get it?? made me smile. I shall think about keeping him.
Jack Stone – An attorney! I feel like this has to be a plus. OK, I like all of his answers because I'm also a John Grisham book fan and he isn't going to share the wildest thing he's done in the bedroom BECAUSE WHO WOULD SHARE THAT?! (Some of these men, apparently.) I'll keep this one on my list o' favorites, too.
Jamey – Well he doesn't have female friends and his ideal mate looks like a model. Nope.
Jedidiah – He has a Bible verse as a tattoo and we know Rachel is a Christian so maybe this is a good sign… Wait, he built his parents a 5000 sq foot log home?! WHAT?! I want to see this on the hometown date! Gosh this guy seems interesting. Is he going to be too weird or outdoorsy or boring, though? Time will tell…
Jonathan – He's a tickle monster as an OCCUPATION?! No.
Josiah – An attorney? Tell me more… Oh AND a Bible tattoo. I like where this is going. He seems to have good values, so strong yes on this one.
Diggy – It seems like so many of these contestants are from Chicago! I love it! But… he seems a little too party-ish and pretty immature so I don't think he'll get too far.
Kenny – Professional wrestler? Another mention of 'The Rock'! What the heck, guys?
Kyle – "Gluten? Not really sure what it is or what food it lives in" Is this actually a question? How is the word "Gluten" a question?!
Lee – Meh, boring answers. I feel like there's always a wannabe-musician from Nashville as a contestant.
Lucas – Occupation is 'whaboom'? What? I don't think I want to know.
Matt – I like him! He volunteers, he likes Wedding Crashers, and he admires his parents' marriage. He's officially drafted to my team.
Michael – Another scripture tattoo and a (former) professional athlete! Wooohooo! Also, Denzel Washington is another fan favorite of these guys. This guy seems confident but not arrogant so I'm picking him for sure.
Milton – "What do you hope to get out of participating in this television show? Real answer? Discovered." At least he's honest! Moving on…
Mohit – Tabasco is his answer for wildest thing done in the bedroom? That sounds painful.
Peter – Another business owner, which I like. Plus, we have the same favorite TV show (Modern Family) and he's competed in some Ironmans… OK, he's drafted.
Rob – A law student, hmmmm. I'm not sure I love the 'student' part of this. Gosh I actually like his answers except that he wants the woman to pursue him which is kind of not going to happen on this show. I'm not sure if I'll draft him.
Will – He won't be someone's second choice for love, which isn't good because on this show he could pretty much be someone's 30th choice..
Overall impressions
Are these guys all from Southern California or Chicago?! It seems like it! There are a lot of guys who just want to be famous in here, which is what I think of everyone from SoCal or Nashville. I  just can't believe this is the best they could come up with for Rachel. PUH-LEAZE. They all love Denzel Washington and The Rock and most of them can't even write in full sentences. I don't understand why they don't have better bios! They know this stuff is going to be online, right?! All things considered, I had a hard time narrowing it down but…
For my top 4 contenders I'm going to pick:
Josiah
Matt
Michael
Peter
If I could pick a bigger team it would include Iggy and Jedidiah and Jack Stone, for the record.
Do you have any favorites?! The first episode airs soon so I'll have to update you with my thoughts after the introductions!