What a busy week this one has been! It seems like the lead-up to a long weekend is always hectic, and this has been no exception. Plus it's just that time of year. School is ending, the sun is out, and a ton of programs are on their final weeks before summer break! Am I the only one who feels like they're celebrating (the end of) a bijillion things?!
It's busy. But super fun.
Here's a round-up of what I've been doing this month. (This was what I was doing last month, but then I corrected myself here.)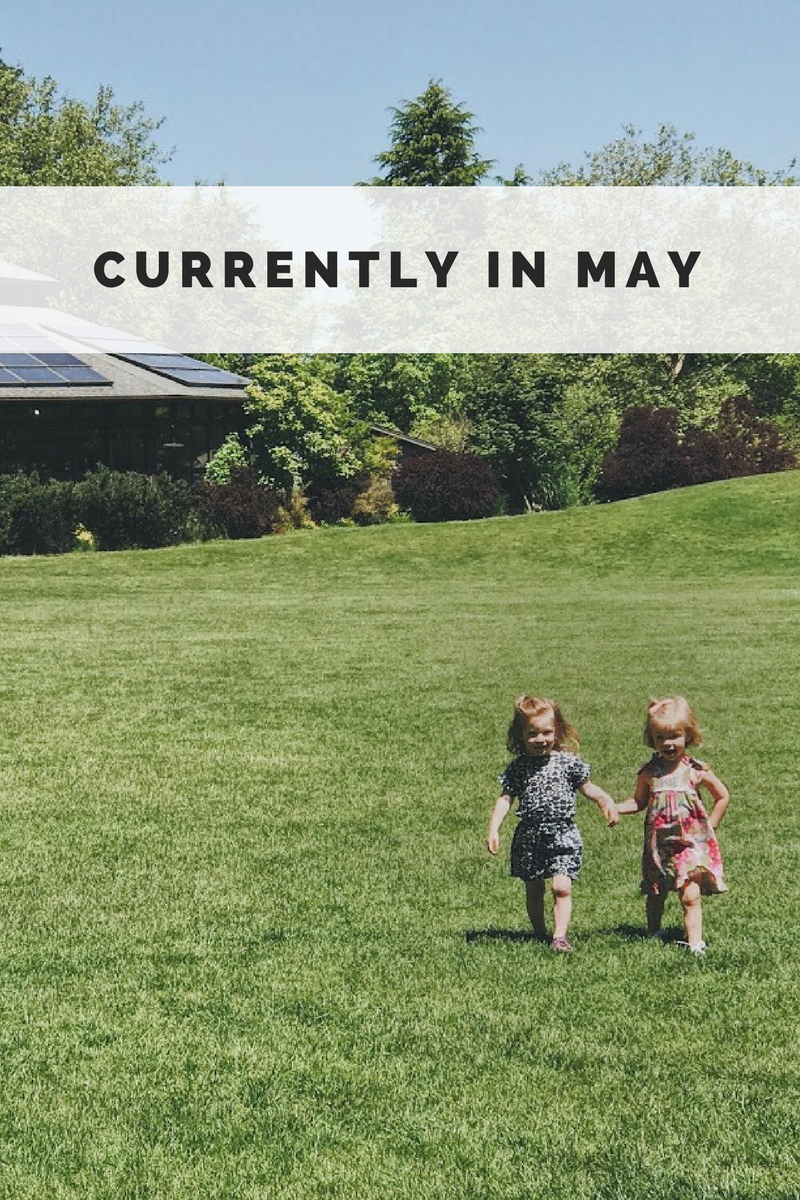 Currently I'm…
// Working on: So many things!! I'm doing a lot of volunteering for our local MOPS chapter, we're working with Isabelle on weaning/sleep training, we're working on Clara with potty training (more on that topic later…), and I'm attempting to be a more consistent blogger so I have an outlet away from whining and tantrums and clingy babies… And just, you know, life stuff! I feel like I've been running around like a chicken with its head cut off, except the chicken that somehow just keeps going and going and going.
// Eating: At this very second I'm eating greek yogurt mixed with peanut butter, granola, and blueberries. Have you ever tried yogurt + peanut butter? It's delicious, plus it's higher in protein and lower in sugar than 'regular' flavored yogurt.
// Drinking: Lattes and LaCroix. But not mixed together. I'm not that nuts or sleep deprived – yet.
// Reading: I'm reading this one (The Shoemaker's Wife) and I'm only on the first 100 pages, but I think it's going to be good!
// Wanting: I just bought myself this (a Gathre picnic mat!)  as a belated Mother's Day present, so I don't have a wishlist item right now! Actually, I bought two – one midi size and one large size.
// Listening to: Lots of podcasts! I'm keeping current on Up and Vanished and am loving getting caught up on Dear Sugar and Modern Love.
// Planning: Our summer to-do list! But I'm also trying to stay relatively unplanned / unstructured this summer so we can say 'yes' to more playdates.
// Loving: I said the same thing last month, but the sunshine we've had in Seattle lately is a total game changer. I even let both girls skip naps the other day so we could go to two playdates, one of which was to the zoo! I had the best day with so many mom friends and the girls had a lot of fun. When the sun's out for the first time in forever we need to (literally) soak it in!
// Feeling: Energized and a little bit overwhelmed! My to-do list still seems pretty long, but I'm trying this new thing (half-joking) that involves checking things off of it quickly. I tend to put off unpleasant tasks and keep writing the same things on my list day after day, which is mentally exhausting. Now I'm trying to really do the quick (sometimes mundane) tasks right as I think of them, instead of putting them on a list that I have to keep thinking about.
// Watching: The Bachelorette! Which you know if you read the last post. I'm not sure how I feel about some of the guys this season, though. And I picked Michael to win it all and he's already gone soooo yeah, I have no clue what's going to happen! I agree with Rachel's first impression rose, though!
// Looking forward to: So many things. Honestly, I can't wait for summer and to be at the playground and eating outside and just spending time with the girls in different settings. It's so great to be able to get together with friends and have the kids play in yards and at water tables and on trampolines… my mama heart is so happy. More of this, please! Last summer was really hard because I had a newborn and she was so.freakin.fussy (especially in the heat) so I'm optimistic that this summer will be better. Now Isabelle just needs to learn to walk to give her knees a break!
Wow, I wrote this entire post during naptime, after I had already cleaned the kitchen, did some volunteer work, and made myself a snack. I am feeling great about this day! (Which is an improvement because this morning was NUTS and I put the girls down for naps two hours early! Yes, it was that bad.)
Shoot, just as I typed that sentence, Isabelle started yelling. I totally jinxed myself!
Do you have any plans for this long weekend?! How has your week been?