I've been MIA from this blog for 2 weeks – which seems like forever! I miss writing on here. Let me just recap what has been going on in our life with one word: sickness.
We haven't all been healthy in our house since the beginning of the year. And I am so tired. So drained. So over it. Earlier this month I was sick for about two weeks with a terrible cold. Most recently, Clara's tummy has been bothering her… for a week and a half. We just found out she isn't contagious – PRAISE THE LORD, but has been suffering from secondary lactose intolerance, caused by a virus she had earlier this month. The same virus that gave her some sort of eye infection… ugh. WILL IT EVER END?
I have been spending so much time cleaning all of the things.
BUT, I'm happy to report that the family was all healthy (and not contagious!) enough to take a trip to Vancouver & Whistler this past weekend!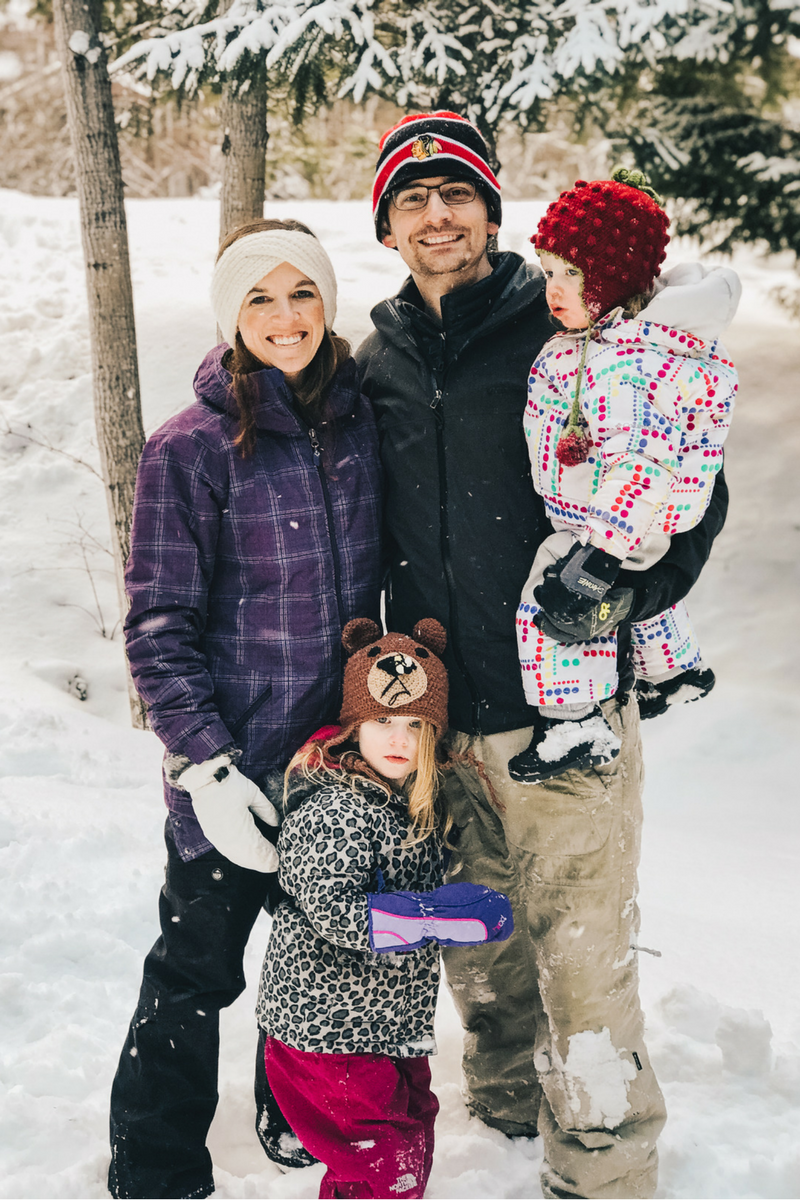 These girls were having more fun than it may appear. Probably.
A quick recap of our trip:
We spent two days last week in Vancouver. We stayed in an Airbnb* on the 18th floor, and it made me miss our high-raise urban pre-kids lifestyle.
Bonus: the condo building had an indoor pool!
We walked around downtown Vancouver, ate delicious Asian food, walked across a suspension bridge, and generally enjoyed exploring a new (to us) city.
On Friday we drove the 2 hours to Whistler to meet our friends at a huge house we were all sharing. There were 12 adults and 9 kids under 3.5 years old. It was the best kind of chaos.
We hung out in the hot tub, shared meals, played with toddlers, and (most importantly!) went skiing!
The snow conditions were outstanding and it snowed each night we were there. Two days of skiing just weren't enough!
We explored Whistler Village and the kids went sledding and played on the playground.
All too soon, it was Monday morning and we were packing up to head back to Seattle.
The car trip home was not enjoyable. I had  big dreams of listening to podcasts and talking to Tim, but alas, the girls had other ideas. We left at naptime hoping for the best, but Clara chatted away for 2 hours straight. I swear she didn't even stop to breathe. Then she fell asleep and within SECONDS (I'm not exaggerating), Isabelle woke up and started screaming. For 2 hours. By the time we pulled into our driveway, we hadn't had even a minute of peace.
And now we're home.
There's laundry to be done and a million things on my to-do list. Actually, I'm so far behind that I don't even have my to-do list written yet.
Wish me luck.
And health.
In the next day or two I hope to have a post written about how to survive a ski trip (in Whistler) with toddlers. Until then, here's a post I wrote last year after our ski trip to Park City, Utah.
*Use this referral code to Airbnb to enjoy a $40 discount on your first rental!
I hope your week is off to a terrific start.