June has been a fun and crazy month! Every once in a while I think, "Oh I really want to remember to blog about…" but then I completely forget and move on to something else and before I even realize it, it's been a month and everything I wanted to write about is no longer relevant!
I'll work on that.
The past few weekends have been fun.
Philly
A little over a week ago I flew out to Philly to celebrate one of my best friends at her bridal shower and bachelorette party. I flew into Philly on Thursday and the rest of the weekend was a blur.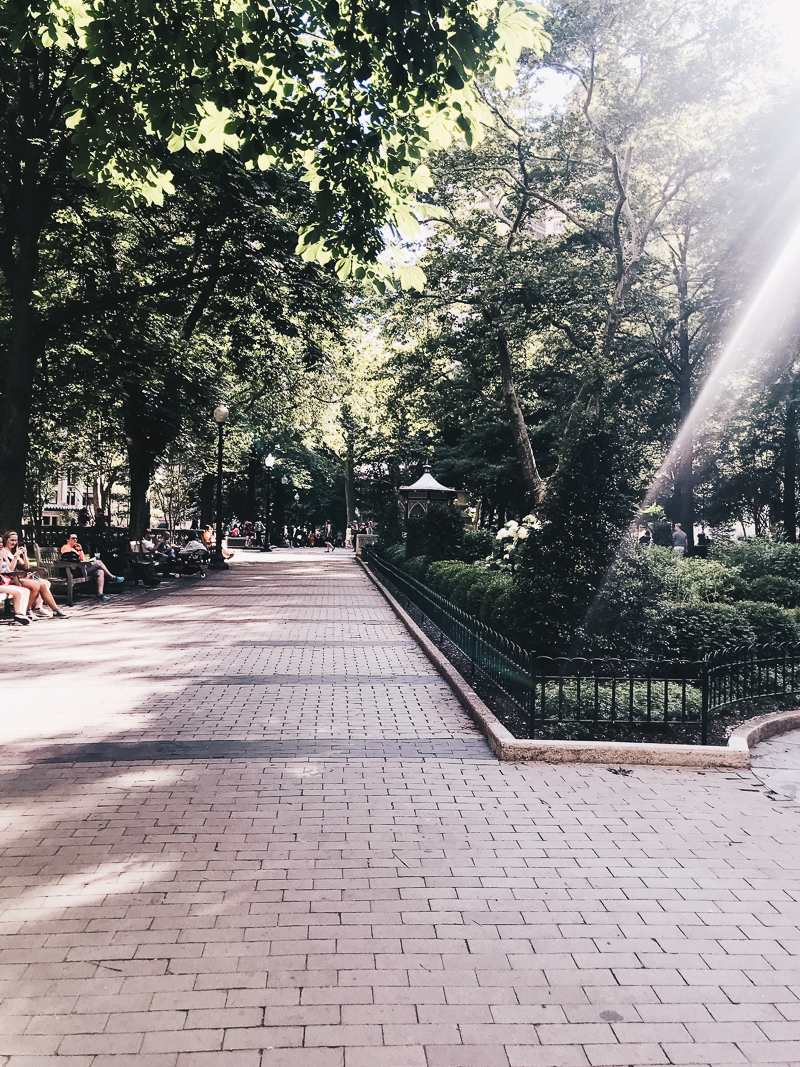 Highlights included:
Eating late night Thai food with just the bride-to-be. I'm so glad I arrived in Philly days before the event so we could catch up. I hadn't seen her in over two years, which is way, way too long!
Getting manicures the day before the bridal shower. I love getting my nails done and almost never spend the time (or money) to get a proper manicure. I really need to make this a part of my routine.
Eating at Bar Bombón in Philly. It's a vegetarian restaurant and everything we ordered was beyond delicious.
The bridal shower at La Stalla in Newtown, PA. It was a great venue and we loved the Italian food. Plus, everyone just had a lot of fun! The other bridesmaids and the mothers of the bride & groom did a wonderful job planning all of the details.
The bachelorette party! We went (via limo bus) to the Dave Matthews Band concert at the BB&T Pavilion in Camden, NJ. I thought the venue was pretty awesome – because we had sunset views of the city and there were so many people all singing along to the songs. It was a fun place to watch some live music.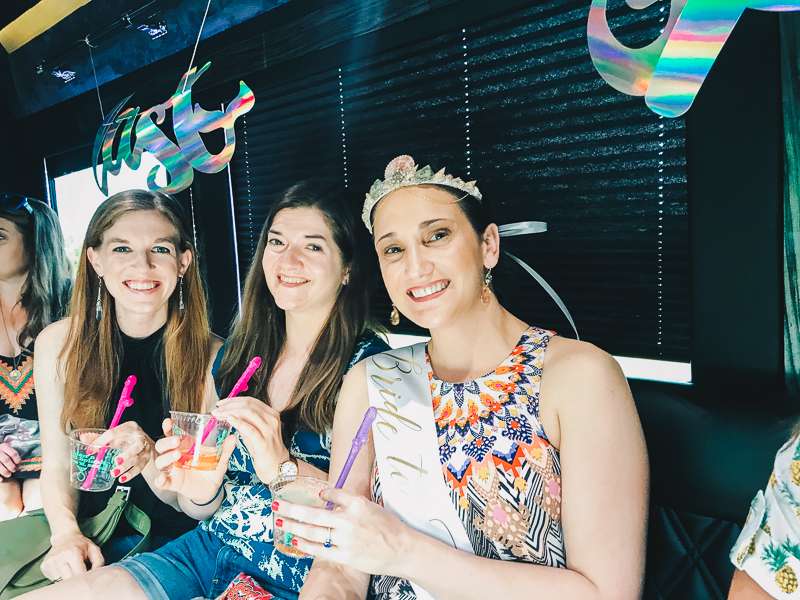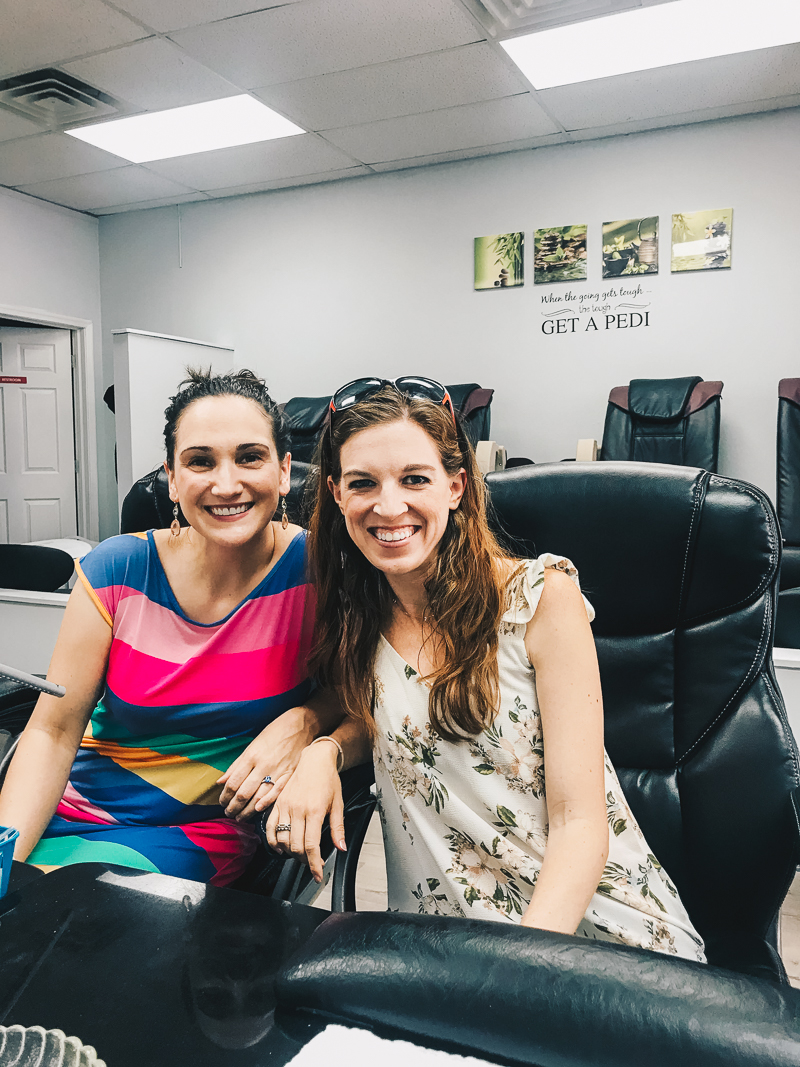 House Renovations
Have I mentioned we bought a house? We bought a house. I haven't actually wrapped my mind around all of it yet, but we closed last week.
The house doesn't need much work, but we are completely re-doing the kitchen, all of the floors, all of the paint for the walls/ceiling, some of the bathrooms… and whatever else we have the energy/money for. It's turning into a bigger project that I had anticipated, but we're moving right along with it! This week we're making several huge decisions, and I'll feel so much better once the ball gets rolling and out of the 'planning' stage. Demo gets underway next week and we hope to move into the house early August! (Famous last words, right?! Everyone keeps telling us how over-schedule these kinds of projects get.)
(This blog's focus will probably be more on renovations than on parenting over the next month or so… but on the positive side, at least I'll be writing about something! Haha!)
Weekend highlights:
Picking out the most perfect piece of granite for our kitchen island (and maybe the bathrooms).
Painting paint samples on all of the walls so we can pick out colors. (Sidenote: we should not have attempted this with both toddlers in an empty house, while also trying to meet with our contractor simultaneously. It was legit CHAOS for hours and hours.) Also, we learned that it's very hard to use this method when the walls are already painted crazy colors. How do I pick the perfect color pink when I'm painting samples on a lime green background?! I cannot. So to Pinterest we go for that particular decision…
Celebrating a little friend's second birthday at her adorable party.
Enjoying Sunday night dinner with our small group. It was perfect weather here in Seattle, so we grilled burgers and let the toddlers run around… it's the ideal way for us to all spend time together in this phase of life!
Hiking at Denny Creek. Clara and Isabelle both walked over a mile to the natural water slides, and it took (no joke!) around 2 hours. We stopped for a picnic lunch and then carried them back in our hiking packs. The walk back to the car took about 20 minutes! Hiking at a toddler pace is making me a slightly more patient person, that's for sure! I mean, we can't go on the big adventures I would normally choose, but it is fun to see everything through their eyes. Plus, they feel such a sense of accomplishment when they can walk by themselves and carry their own backpacks!
Watching The Staircase on Netflix. I just watched one episode so far. Have you seen it?! I'm dedicated to watching it because my fav podcast ever (True Crime Obsessed) will be covering it.
I'll write a post this week about our decision to buy a house and the process in general, for those of you who are interested in that sort of thing!
I hope you had a wonderful weekend!