I mentioned a few weeks ago that we bought a house here in Seattle – which is the biggest commitment I've made since getting married. Or maybe since having kids… but we may be in this house longer than our kids live with us! (OK, that's probably not true, I can't imagine living in one place that long!)
The housing market in Seattle, especially when we bought the house a few months ago, is crazy. It was actually the hottest housing market in the country for many, many months (years?).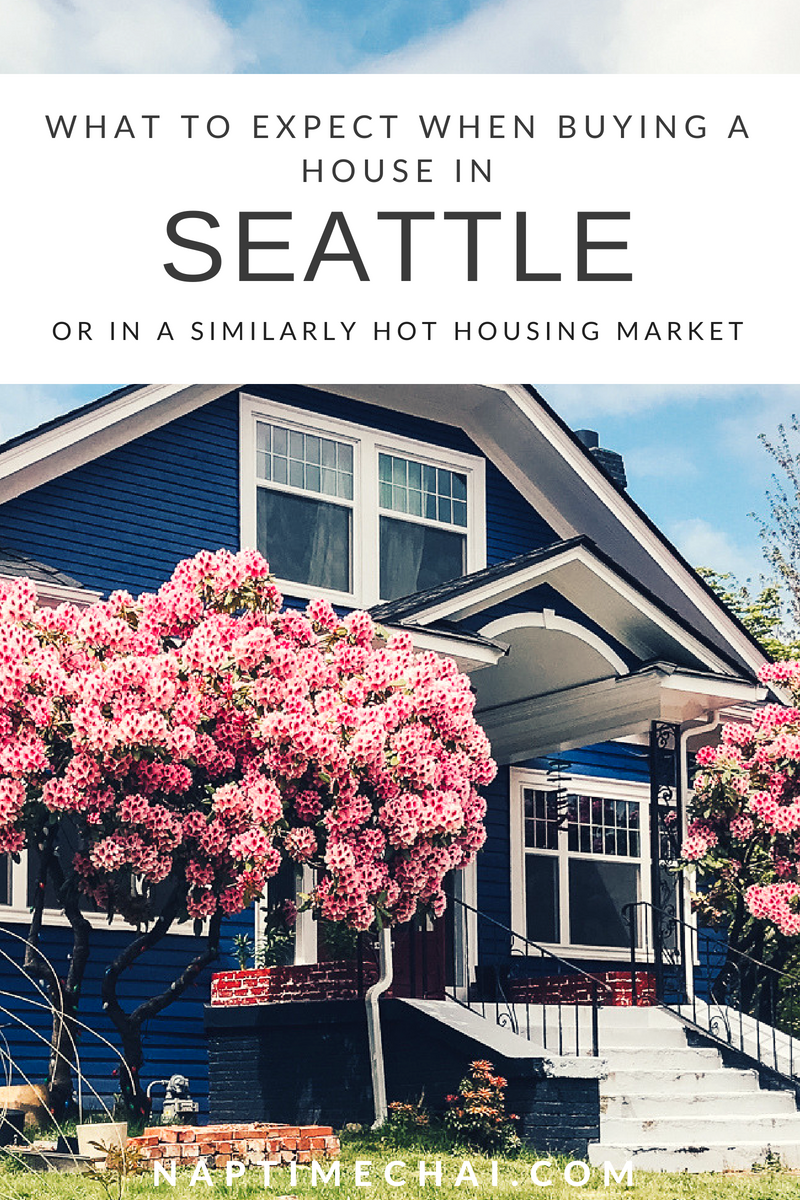 Let me give you a brief synopsis of what you can expect if you're buying a house here (or in a similarly hot market):
Waived Contingencies
To make a competitive offer, most prospective buyers in Seattle waive all contingencies: finance, inspection, and title.
Pre-Inspections
Of course you don't want to buy a house without having an inspection done, so you can expect to schedule pre-inspections for every house you want to make a bid on. These run you a few hundred dollars, and you may need to do quite a few during your house search. Sometimes buyers also have inspection reports available for prospective buyers to peruse, but of course, you probably want to have your own inspection done.
Quick Decisions
Houses here are usually on the market for less than a week, and sometimes they're only listed a few hours before the sellers accept an offer.  This means that as soon as a house is listed on Redfin, Zillow, or a comparable site, prospective buyers need to figure out that day how to see it. This allows enough time for one visit to the house, a pre-inspection, and an offer within a few days.
We visited one house the day it came on the market, and there were quite a few other people walking through it. It had an inspection already done by the buyers, and we knew it would go quickly (and for way over asking price) so we decided to draft an offer. Our realtor got a call later that day saying that the sellers were reviewing offers in two days (originally they said they would be reviewing offers five days from when the house went on the market). Then, as we were trying to decide whether we really wanted to make an aggressive offer, the realtor called back and said they were actually reviewing offers the next morning because they had received such a strong offer. Bottom line: We decided not to make an offer, but if we would have wanted to get the house, we would have had to offer $100k over the asking price with all contingencies waived.
Bidding Wars
I have friends who put offers on 5-10 houses (that's a lot of money in pre-inspections!) before they finally got a house. There are just that many people out there bidding on good properties! Or even not-so-good properties! This means that no one offers asking price on a property unless it's  been on the market for quite a while. Prospective buyers always include escalations in their offer to go well above the asking price. It wasn't unusual, for a while, (I'm not sure if it's still the case) for houses to go $100-200k over asking price.
A Time Intensive Process
We were only on the hunt for a house for 3 weeks, and then we basically decided we needed to buy a house ASAP before we went completely crazy. I would look at houses with our realtor at least 2-3 days during the week, and we'd always go at least one day on the weekend. Since we don't have family living nearby, we had to drag our 2 & 3 year olds with us to practically every showing. I would go see a house during the day, and if I loved it, we'd all go back with Tim in the evening. Basically, this schedule was not sustainable for us… who has this much time to search for housing?! Not us! Not anyone! Plus, we cast a wide net of neighborhoods we'd consider, which meant that we were driving all over north Seattle and I was trying to research a bunch of different schools/school districts/crime reports in my 'free time'… if you have bought a house recently with the intention of raising kids there, you know how it goes. It all takes a ton of time.
Stress
All of this makes buying houses a super-stressful process. Needing to make a quick decision about something so major is difficult, plus, with waived contingencies, it really makes it hard to back out of the offer if you change your mind. For instance, if the bank comes back and says the house is worth $1M instead of the $1.2M you paid for it, guess who needs to pay the $200k difference in cash?! The buyer, of course. Hopefully a good realtor will be able to tell a potential buyer what the bank will probably appraise the property at, but the idea of paying much more for a property than it's worth (and needing to cover the difference), is stressful. And then there's the risk of buying a property without an inspection contingency… it's all a lot to consider.
… And I won't even go into how expensive houses are here in Seattle. In the past few years the prices have risen about 13% a year, which means houses we could have afforded a year or two ago are no longer in our price range. That's a hard concept to handle and it puts even more pressure on potential buyers to buy a house quickly, before it, too, drifts over the affordable price range.
A lot of my friends have been buying houses here recently, so it can be done! And then the home renovations start, since almost no houses here are affordable and move-in ready! As I type this, our 'new' kitchen is being put in! Work on the bathrooms start next week. Our hardwoods are already down. And at some point painting is going to happen… but I'll talk more about that later. We're planning on moving in about 3-4 weeks. Wish us luck!
Do you own your house?! What was your house hunting experience like?!