When we first moved to Seattle, we were clueless about hiking. CLUELESS. As in, we didn't even own hiking pants. Tim wore jeans, I wore yoga pants. We didn't have proper kid carriers, we didn't know anything about the 10 essentials, we didn't know how to even find good hikes, but I did know that I wanted to learn all of the things and that I loved hiking – based on our very limited experience hiking in Colorado when we had visited the RMNP.
One of the first things we did when we moved here was to find a hiking trail. We asked Tim's coworker where a good place to hike (with a toddler) would be and he responded "Poo Poo Point!" (Yes, that is its real name.)
Well, little did we know that this man was not a hiker. Nor did he have a toddler. Plus, we actually got on the wrong trail that led to the same place but was steeper… So after walking 1.5 miles up the Chirico Trail, that eventually led to Poo Poo Point, and still not reaching the top, we gave up. The switchbacks were not for us. Our toddler was screaming and my pregnant body was exhausted. Our first hike in the PNW was a failure.
Since then we have learned the errors of our ways! We have done a lot of hiking since then, and it has been a much better experience, although there is a learning curve.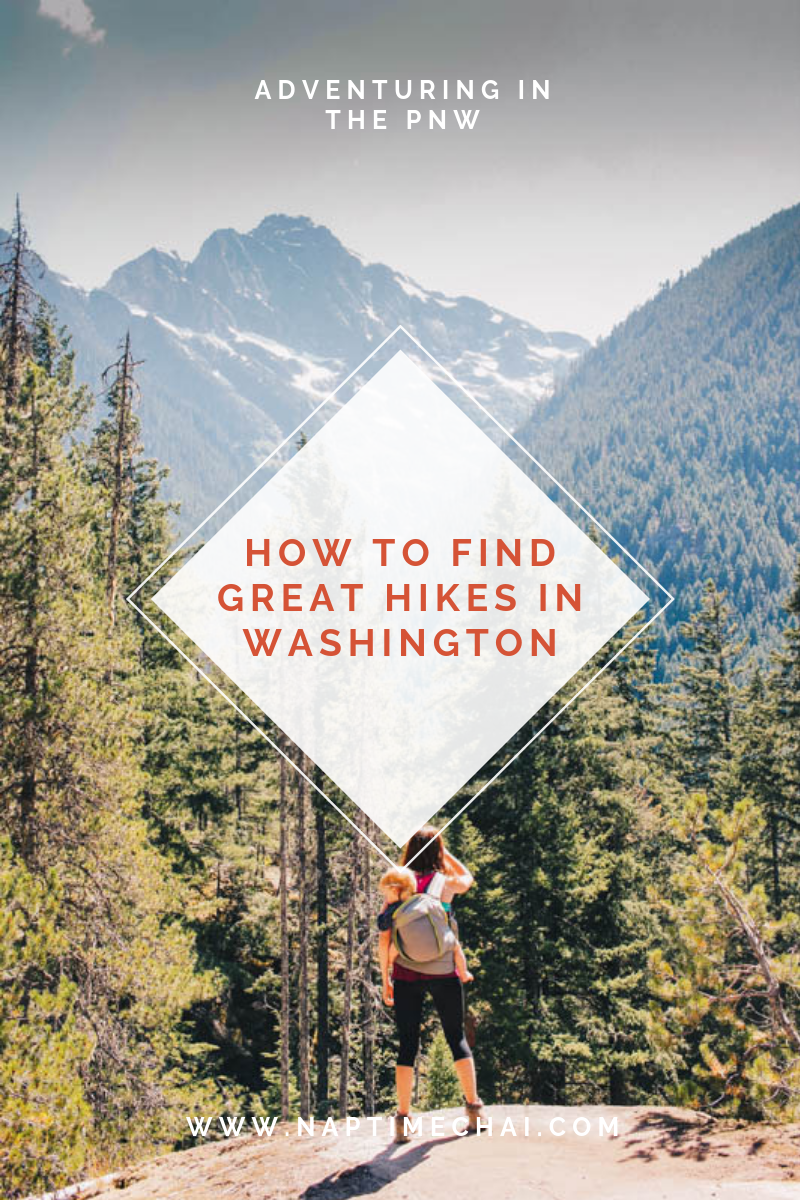 The hike in this image is Thunder Knob in the North Cascades
If you're just starting out, here's my advice on how to find great hikes in Washington:
Washington Trails Association
Every time I consider a hike I always check the Washington Trails Association website. Specifically, I read the description, check the mileage of a hike, look to see if I need a parking pass, look at the trip reviews to see if the conditions are ok, I look at the elevation gain, and I screenshot the directions to the trailhead in case I don't get signal when we arrive close to the location.
Hike It Baby
If you're hiking with a young child, Hike It Baby is a useful way to find hikes. Whether or not you join the groups that are going out, which I only did a few times, it is a great resource for learning about hikes that are easy enough for moms and babies to do. I recommend finding your local branch on Facebook and joining it!
Best Hikes with Kids: Western Washington (book)
There are a bunch of hiking books out there, but I like this one for finding easy hikes with kids! I also own Pacific Northwest Hiking, which I picked up in a used bookstore. Older hiking books are generally still good, but I always recommend buying newer versions if you aren't going to fact-check online, because some hikes change, trailheads change, etc. and you really want to have current information.
AllTrails
The AllTrails site is another good site to find quick facts about hikes, and sometimes I check it out when I'm researching a hike. I also like that you can add hikes to lists and keep track of what you've already done. I'm sure there are many ways to use this website, but it's not my go-to so I haven't familiarized myself with all of the functionality. I know there's also an app, which seems like it'd be useful if I was someone who did a ton of hikes and wanted to keep track of everything. (I just write them down the old fashioned way for now!)
Other Facebook Groups
I hesitate to recommend Facebook Groups in general because there is so much negativity/craziness on all pages, but honestly I hear about so many hikes on these groups! I'm part of Washington Hikers and Climbers, Adventure Mamas of the Pacific Northwest, and PNW Outdoor Women. I don't participate in these groups, per se, but I do get some hiking inspiration & trail ideas from them!
Of course, it's always best to ask your friends their recommendations, too! Just make sure that your friends actually hike and don't just send you to a trail they may have heard about.
Happy hiking!