At the end of last month we traveled to Winthrop, WA and had the best time! We had been a few years ago, but wanted to go back and explore areas we hadn't been able to see the first time around. (Read our first trip recap.) Winthrop is one of the best weekend trips from Seattle, in my opinion… especially for families! It has things to do in every season, but winter is actually busiest because of the cross country skiing trails it's known for. We've only been to Winthrop in the summer and have loved it!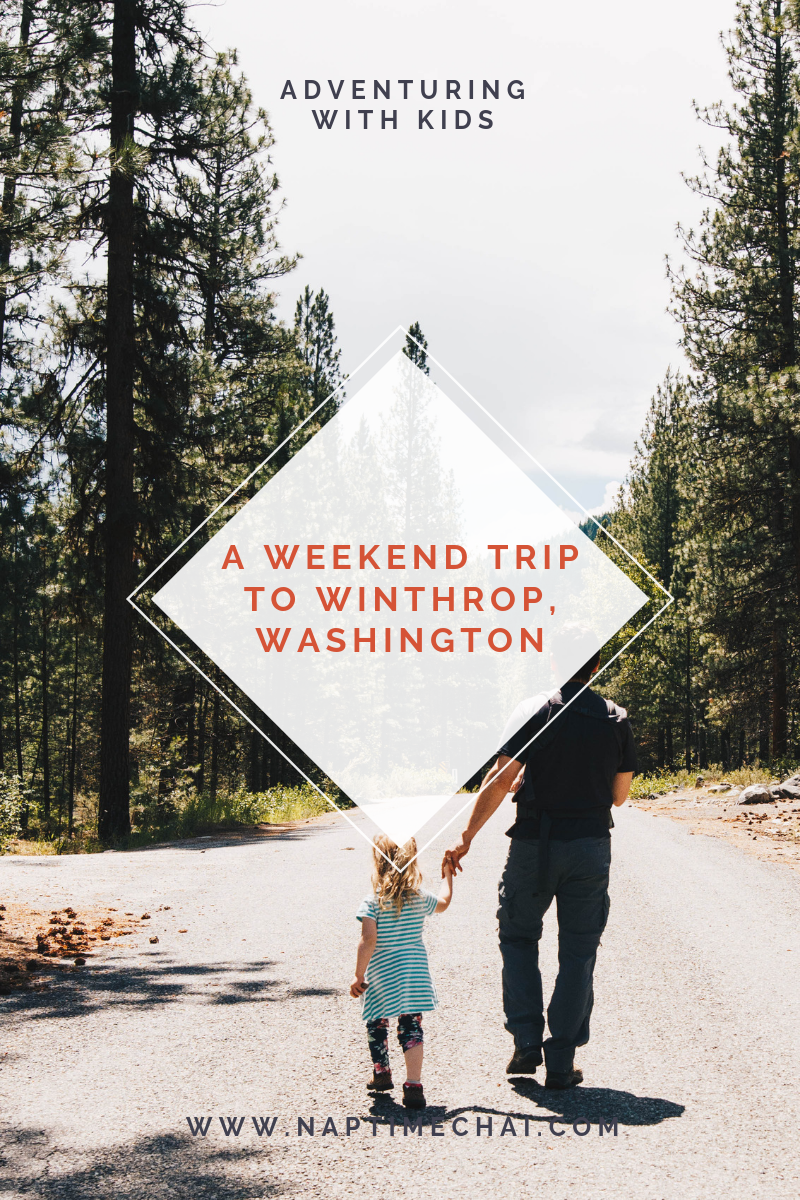 Here's what we did:
Put our feet in Pearrygin Lake and enjoyed a picnic on the beach there. The scenery was gorgeous. This is a must-do if you're in the area!
Bought outdoor gear from one of the many shops in town.
Drank coffee from Kind Grinds. I also loved the superfood bowls and bought them for lunch every day. Perfect post-hike fuel!
We also drank coffee from Rocking Horse Bakery and I enjoyed some of their quiche, but I thought Kind Grinds had better coffee.
Hiked to Falls Creek Falls. This is a super-short 'hike' to the falls, but you can go miles further than the falls to see more pretty scenery. It got pretty tricky for little legs before we eventually turned around!
Ate ice cream at Sheri's Sweet Shoppe – because how could we not?! So many flavors!
Also went mini-golfing at Sheri's. Sidenote: Don't do this until kids are like… 15. 4 & 3 is too young! I mean, the girls had a blast, but if the course had been more crowded we would have had a line of like 80 people behind us!
Ordered pizza from East 20 and ate it at our campsite. (Delicious!)
Swam in the pool at the KOA Campground we were staying at.
Shopped and ate at the The Mazama Store. We ate lunch on the picnic tables outside. Get the baguette. (Is it a French baguette? I'm not sure. All I know is that it's warm, soft, and sprinkled with sea salt and I'm willing to drive the three hours just to buy it again! So-freakin-good.) Last year we stopped here and road our bikes along the roads surrounding it… gorgeous scenery.
Other fun things to do include going to see the fish hatchery, spending time seeing the views and exploring the area around Sun Mountain Lodge, going to farmers markets in Twisp and Winthrop, mountain biking on local trails, rafting/kayaking on the rivers, fishing, horseback riding… there are so many possibilities!
If you're looking for a weekend trip from Seattle (with or without kids), put this one on your list!