I honestly never knew how controversial breastfeeding was until I had Clara. Even when I was pregnant, I really didn't read many things about breastfeeding (because I was too busy preparing for labor and delivery and reading all of the controversy surrounding that)!
To me, it was always a matter of, 'well, I'm going to have a baby and she's going to need to eat so I'll breastfeed her.'
Simple, right?
What I didn't realize is that there can be quite a divide between women who breastfeed and women who use formula. (Honestly, I never knew that women used formula for their babies from birth, because my mom had my brother when I was 14 and I always saw her breastfeeding and I just assumed that's what everyone did.)
For me personally, breastfeeding is 'easy'*, so we haven't even thought about supplementing with formula. Would I be disappointed if I had to supplement with formula? Yes, I probably would be. But do I think mothers who need to use formula are bad mothers? Absolutely not. (Although, if moms use formula without ever attempting to breastfeed, I would wonder if they had been educated about all of the benefits breastfeeding has.)
* I actually kind of hate using the word 'easy' to describe any part of motherhood. Nothing about motherhood is easy, but breastfeeding seems to come easier to Clara and me than it does other moms. I never had bleeding nipples, it was never painful, I have no problems with supply, I'm able to feed on demand, and Clara has had a great latch from day one. I credit some of this to the lactation consultants who gave us great advice in the hospital after we had Clara.
But actually, this blog post isn't even about breastfeeding vs formula – it's about another 'debate' that I didn't even know was an issue: Nursing in Public (NIP).
Evidently there are a lot of women and men out there who do not believe women should nurse their babies in public (especially without a cover). Now, if you're like I was before I actually had a baby, you might be thinking 'Well, duh, just use a cover and don't flash your boobs to the world. It's not that hard, moms!'
Ohhhh if only I had known then what I know now.
Here's the thing, being a mom is hard, and I refuse to make my life any harder than it needs to be in order to make other people (not including my baby, of course) more comfortable. This doesn't mean that I'm a completely inconsiderate person, but when it comes to nursing my baby how babies are biologically meant to nurse, I do whatever makes Clara and I the most comfortable and that's the only thing I worry about.
In theory, I could pump for lots of minutes every day to get some extra milk and then pack bottles every time we're out and about so that Clara could eat from those, instead of allowing her to drink directly from the tap (my boob).
The problem with this is I do not want to pump that often. It's not comfortable and it requires too much planning! Figuring out how many bottles I might need for every outing would be exhausting. Cleaning pump parts is exhausting. Pumping takes time, time I do not want to spend being milked like a cow. I do pump when I feel engorged or when I know we'll be leaving Clara with a babysitter, or when we're going somewhere where I know I won't want to breastfeed, but 99% of the time, I bring Clara and my boobs and know that she'll be taken care of if/when she gets hungry.
A lot of people wonder why moms can't simply wear a cover over the baby if they must breastfeed in public. Once again, this is an extra step in my life that I just don't want to worry about in order to make other people comfortable. I totally get that some moms don't want to expose their breast(s) in public and would rather use a cover – and I think that's great! Moms should do whatever they feel most comfortable with. But I do not believe it's my responsibility (or any mom's) to cover up so that other people don't feel uncomfortable. Plus, some babies will pull the cover off and not eat under a cover at all (it can get hot in there)!
… And here's where I could (and will) go on a bit of a tangent, because I've heard the argument made that 'I don't want to see a boob at a restaurant if I'm out with my husband on a date!' 'I don't want my husband to see boobs that aren't mine!' 'I don't want my kids to see boobs!' And here is where I must point out that boobs are not sexual and feeding a child is not sexual. Our society has made breasts sexual, but there is nothing 'dirty' about feeding a baby, or boobs in general. I would rather not see billboards of models in lingerie (which is blatantly sexual) or commercials with the same, etc etc, but I really can't shield myself nor my husband (not that I honestly care if Tim looks at women in underwear…) nor my kid(s) away from it because it's everywhere. There are plenty of women wearing low cut shirts with cleavage that show more skin than I show when I'm feeding Clara. If I flash an accidental nipple while breastfeeding – whoops! I'm sure if anyone sees it, they'll recover with a minimal amount of therapy.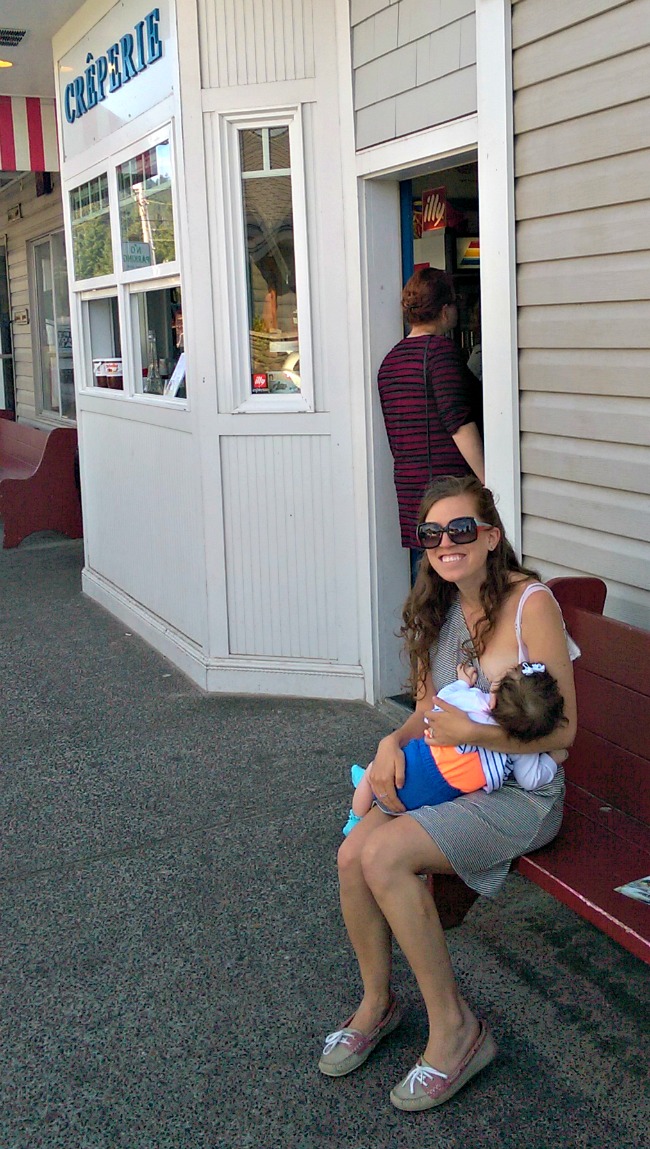 Tim snapped this photo of us in Oregon to preserve the memory… or something. I probably could have staged another picture for the blog that would have been 'prettier' but this is more authentic! This is also the most skin I've ever shown breastfeeding (I think). I wanted to wear a dress to the beach in Oregon, and of course couldn't lift it up or pull it down, so I had to take the entire shoulder off. Usually I wear strapless dresses so I can just pull them down on one side or I wear a tank-top under a shirt so I can pull one up and one down, leaving no skin exposed.
In the beginning, I felt uncomfortable breastfeeding around certain people (especially my brothers). But do you know why I felt uncomfortable? Because they made comments about it that made me feel uncomfortable Comments like 'I don't want to see your boob, you're family!' Sigh. Well, do you know what I ended up doing a few weeks after Clara was born? Feeding her in front of whoever was in my apartment. I mean, if people are going to visit a newborn, they should expect to see a newborn get fed and be changed and cry and do what newborns do. I was tired of leaving the room every time Clara wanted to eat, so I just fed her wherever I was when she started fussing. I wasn't trying to make a point, but I was trying to act like a normal mom and human being in my own home, without feeling an ounce of shame about it.
I assure you, no one has stopped visiting us because of my decision to breastfeed.
I figure that if people don't want to watch it, they can avert their eyes – and I generally try to be as discrete as I can be. When it comes to nursing Clara in front of my brothers (or Tim's brother) I hope that instead of feeling awkward about me nursing their niece, they are learning a bit about the best way to feed a baby and will become breastfeeding advocates when they have children, and can then support their wives if they breastfeed – especially in public.
I know that the more that women breastfeed in front of others, the more desensitized people will be to it, and the more supportive we can all be of moms and families. In other countries, breastfeeding is absolutely not seen as a big deal (no matter where it's done) and the moms in those countries breastfeed way longer than we do here in America (which we knows benefits the babies). I can only assume that their breastfeeding relationships last longer because they feel supported by their community, but it also probably has something to do with their longer maternity leave.
Here are my observations after about 3.5 months of breastfeeding in public:
I've never had an awkward experience or a negative encounter.
It is much less distracting to feed a baby than it is to deal with a screaming baby because they're hungry and aren't getting fed fast enough (immediately).
The more I nurse in public, the easier it gets.
If I don't act like it's a big deal, no one else does either.
People have made very positive and kind comments to me while I've been nursing in public – including men.
Places I have fed Clara in public, without a cover, include: parks, gardens, benches in front of restaurants, an airport bar, airport gates, airplane seats, a vegan fest, in our car, in stores, at yoga class, at our mom/baby classes, at church and in my women's small group at church… I mean pretty much any place I've gone in the last 3.5 months with Clara.
The point of this post is this: I hope if you see a mom nursing her baby in public you recognize that breastfeeding can be difficult and this mom is actually taking the 'hard road' when it comes to feeding her baby, and she's doing it because she feels it's important – she isn't doing it to make you uncomfortable. I hope you react without shock or disgust. I hope that if your husband or kids or even other women around you have a reaction to it, you can gently remind them that boobs were made by God to feed babies and the women is just doing exactly that. Walking past a nursing mom and offering a 'congrats' would be a wonderful thing to do, and I'd encourage you to do just that!
We should all be supportive of one another – but moms and women should definitely be supportive of other moms and women. And if you're reading this and are afraid to nurse in public because you're afraid of what other people will think or say – I think you should try it out! Only if you are comfortable doing so, but it's amazing how liberating it feels to be able to feed your baby wherever you are without fumbling around for bottles or a cover.
Cheers!

( Bloglovin' | Twitter | Pinterest | Instagram | Facebook )