Hello from Seattle!
Today was a day filled with every emotion in the book and I'm so glad that we're finally here and settled in the PNW.
Let me tell you, moving across the country (well, halfway across the country, if you want to be technical) with a toddler is no joke.
We woke up at 4:50am, because that's when Clara decided to wake up. Let me tell you, this time zone change is going to be quite problematic, because if she decides to wake up at the 'same' time here, we'll be up at 3am for the day. YIKES. Anyway, we had to be up that early today anyway because Tim's parents picked us up for the airport at 5:30am.
We packed 7 pieces of luggage (yeah, it was excessive) and Ozzie and his crate and Clara and her carseat and me and Tim (plus Tim's parents) all in a car to head to the airport… and we barely all fit.
The first traumatic experience was dropping Ozzie off at the cargo building. I guess in Chicago (at least for United Airlines), pets need to be dropped off in an entirely separate building, 2 hours before the flight. Poor Oz had never been crate trained until we found out we were moving (2 weeks ago) and bought a crate to help him adjust before the flight. Let's just say he didn't love the experience and we felt awful leaving him with strangers in his tiny crate, to be put in the belly of a plane.
Also, remember how I said not to read pregnancy message boards online? Also don't read message board posts about airlines and dogs. Just trust me on this one.
We dropped Oz off exactly 2 hours before our departure time and went to the departure terminal, checked our luggage at the curb, said our (heartbreaking) goodbyes, and headed inside the airport. We had Clara's carseat with us (she got her own seat on the flight this time!) and we put it on one of these wheelie things to get it/her through the airport. It was great.
Even though United gave up our original seats (booooo), because we have an infant and they don't want to subject another passenger to that kind of torture, the desk attendant worked her magic to get us seats together – phew!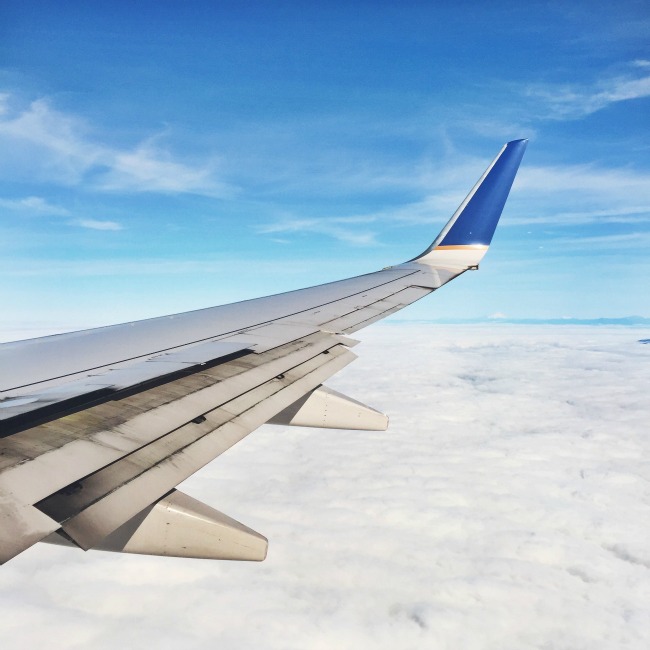 Getting on the plane was an entire hassle in itself. I had Clara in one arm, a diaper bag in another arm, a garment bag in another arm that I didn't know I had… seriously, I don't know how I was carrying all of this stuff. Suffice it to say that I pissed off half the plane because passengers were getting whacked by one of my bags or being kicked by a gleeful Clara who wanted to swing her legs at everyone she passed. Tim was ahead of us, leading the way down the aisle with the carseat held over his head.
(Sometimes I can't believe how easy we traveled before Clara came along. My former self looks at my current self and goes, really, Lisa? This is your life now?!)
If you can believe it (I still can't), Clara was perfect on the 4.5 hour flight. She slept for 2 hours, stared at the TV screen for a few hours (we didn't pay for channels so she was just watching the United Airlines logo on the screen and was still impressed), and played happily for the rest of the time. Yeah, I still can't believe it.
We arrived in Seattle, grabbed a huge minivan for our stuff, picked up Oz (who didn't seem traumatized but was very happy to see us), and now we're in our temporary housing in Seattle!
I still can't believe we're actually here, which I'll write about later in a gushy post when my brain isn't so tired.
OH, but a few random coincidences happened today, too:
An old coworker was on my flight so I was able to talk to him.
A woman came up to me in the Seattle airport and said I looked familiar and asked if we went to high school together… we did! She was on our flight, too.
An old roommate was in town so we were able to grab dinner together.
Tim's buddy was working near our temp housing so he stopped by to say hi.
Suffice it to say, it was great to see so many unexpected familiar faces in a time of so much uncertainty and emotions! I feel like it's definitely God's way of looking out for us and ensuring we feel taken care of, which is certainly a big answered prayer.
So that's how our move went today. I can't actually believe it even happened.
Now I'm off to sleep in case Clara wakes up in 5 hours. Wish us luck with helping her to adjust to this new time zone…! (Advice welcomed!)