Over the past 2 years I have used Stitch Fix three times: When I was pregnant with 'Bumpy', when I needed new summer/spring clothes for my new 'mom bod', and most recently as I'm pregnant with 'Baby Beni'.
The first time I used Stitch Fix for 'maternity' clothes, they didn't even offer a maternity selection! However, my stylist completely nailed what I was looking for during an upcoming trip to Europe and I ended up with (non-maternity) clothes that worked really well for my growing bump.
This time I was really, really excited to see what they would come up with for me, now that they do offer maternity clothes.
Let's get to the goods, shall we?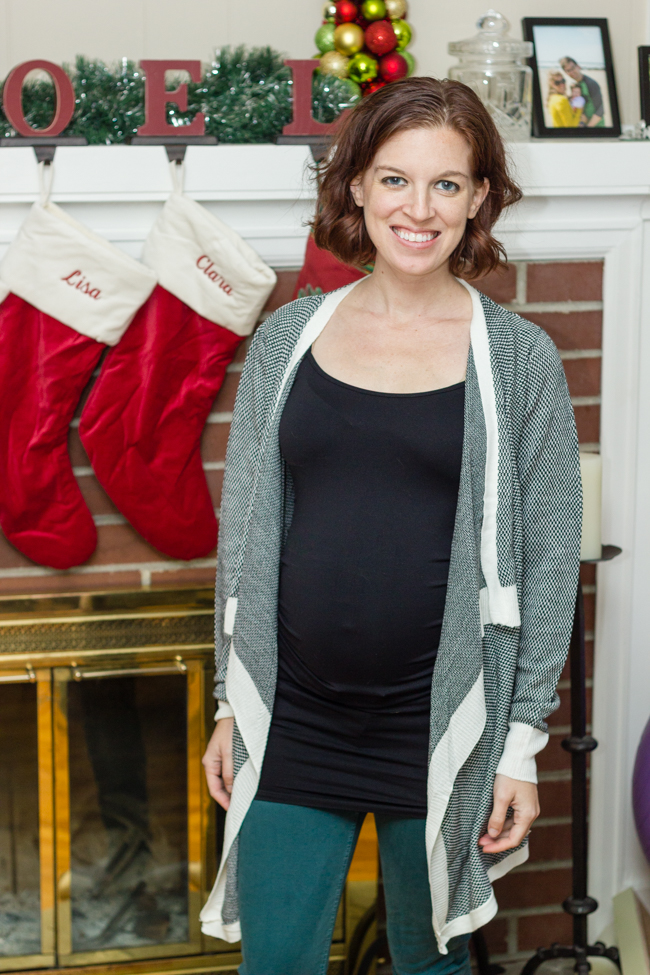 First (and Second) Item: RD Style | Vivianna Open-Draped Knit Cardigan ($68) & Stitch Fix | 3-Pack Maternity Cami ($44)
Kept/Sent Back: Kept (both)!
Thoughts: The cardigan was the item I was least certain about, because it's not a maternity top and I actually own a long cardigan. But, the other long cardigan I own is a completely different color and style and this one is incredibly soft, so I had to keep it. I know I'll wear it while nursing and even in future years, too. On the other hand, the maternity camis I am obsessed with because they fit perfectly and are a great length. I somehow made it through my first pregnancy without these types of camis and now I'm not sure what I was thinking – these are the best and I've already worn them a ton.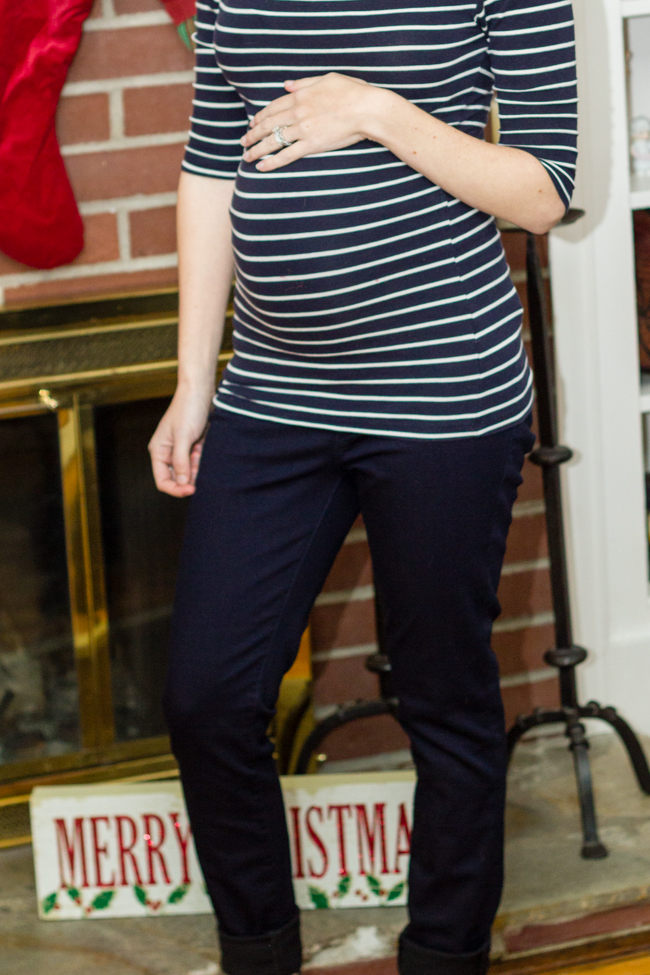 Third Item: Mavi | Colette Maternity Skinny Jeans ($98)
Kept/Sent Back: Kept!
Thoughts: I will admit that I tend to be very frugal when it comes to maternity clothing, especially bottoms, because I know I won't be able to wear maternity pants when I'm not pregnant so they have a limited lifespan. That being said, I took these out of the box fully anticipating wanting to send them back. Then I tried them on… Oh gosh, the softness, the fit, the everything. I am obsessed. OBSESSED. I got these a few weeks ago and have worn them almost every single day and really don't plan to take them off for the next 4 months or so. The length was a bit long but I cuff them and they're perfect. I am super, super glad I received these in my box. (Plus, during my first pregnancy I only bought one pair of maternity jeans and they are not nearly as awesome. I am now a big believer in buying high quality, soft maternity pants.)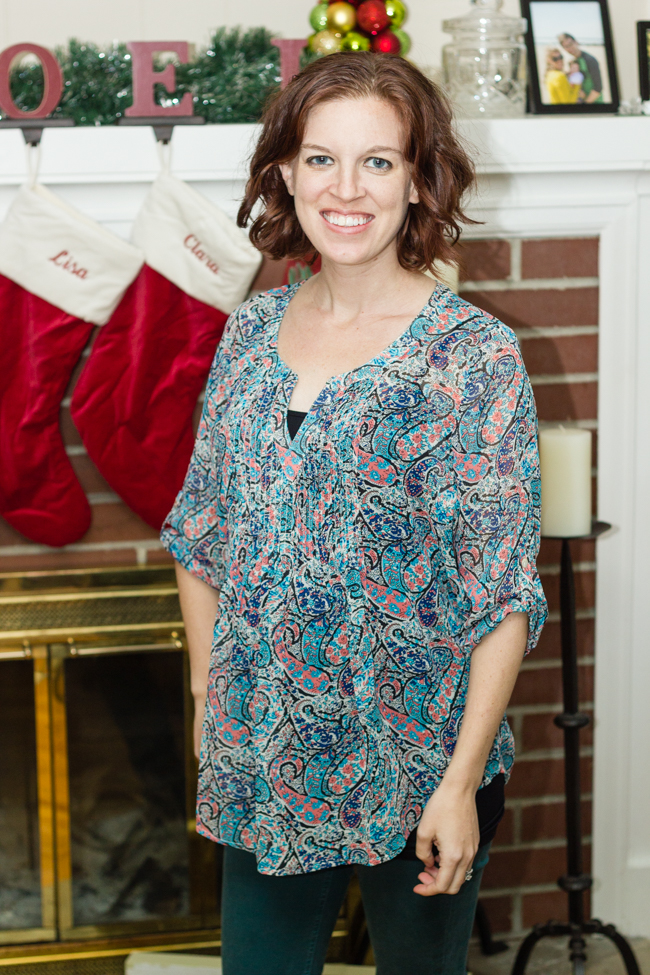 Fourth Item: Daniel Rainn | Pistacia Split Neck Maternity Blouse ($58)
Kept/Sent Back: Kept!
Thoughts: I was happy to see a blouse that had a pattern and was also a looser fit to hide my growing bump. I mean, usually I love showing off my growing belly, but sometimes it's nice to hide it a bit! This was actually Tim's favorite piece, so it was an easy decision for me to keep it.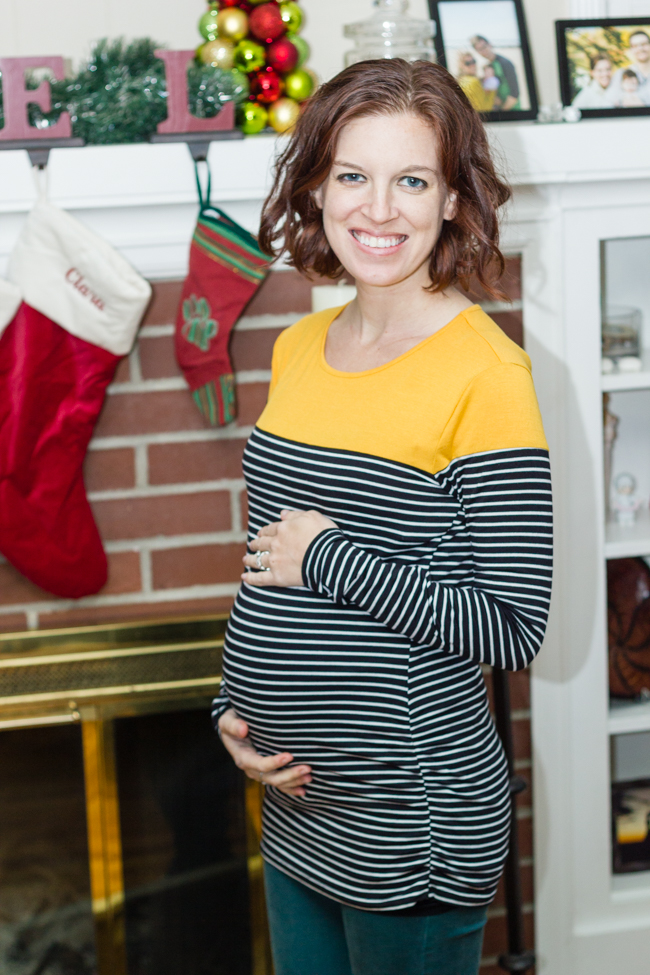 Fifth Item: Loveappella Maternity | Arnie Maternity Knit Top ($54)
Kept/Sent Back: Kept!
Thoughts: Can I say 'no' to a navy, white, and mustard top… especially one with horizontal stripes?! No, of course I can't. This was totally and completely my style and it was love at first sight. Another easy decision.
Confession: Out of the three Stitch Fix boxes I've received I have kept all 5 items each and every time. And, I don't regret any of my purchases! All 10 previous items always make it into my (season-appropriate) closet, even as I attempt to minimize through a capsule wardrobe. I have been working really hard to identify my personal style and only adding things to my closet that fit my sense of style and also fit my body in a flattering way. Because I've been working intentionally at this, I was a little wary about trying out Stitch Fix again (because I knew I was going to need to be pickier this time around to stick to my new 'rules') and I still couldn't send anything back!
(It didn't help that I asked Tim to pick his absolute favorite items so I could send the rest back and he responded with, "Why? Can't you just keep them all?" FINE, Tim.)
If you want to try Stitch Fix for maternity or 'normal' clothes, I'll get a small bonus if you use my referral link, but they did not sponsor this post in any way. Also, if you would love a specific item I received, pin the image and let your Stitch Fix stylist know about it!
Happy post-holiday shopping!